Windows 10 Anniversary Update SDK released, desktop apps accepted to Windows Store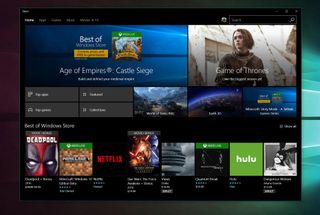 Microsoft has released the final, non-preview, version of its Windows 10 Anniversary Update SDK, allowing developers to make apps that will run on the newly updated version of Windows 10.
Officially, this is build 14393 for the new SDK tools, and Microsoft stated that it contains 2,700 improvements to the UWP (Universal Windows Platform): They include:
Windows Ink: A pen is a natural choice for apps that depend on analog input, such as sketching, animation and even signature capture. Now, with just two lines of code you can bring Windows Ink into your apps through the news InkCanvas and InkToolbar controls.
Cortana APIs: There is no easier way to interact with your computer than to talk to it, and Cortana brings you powerful features that you can use in your own apps. With the Windows 10 Anniversary SDK you can go further than simply adding voice controls to your apps, now with Cortana Actions you can drive increased user engagement by registering actions with Cortana that she will use to connect users to your apps at just the right time.
Windows Hello: Biometric authentication brings the magic of vision to apps and now with the Windows 10 Anniversary SDK, web developers can use Windows Hello in Edge to authenticate users with just a glance.
In addition, the Dev Center is now accepting apps for the Windows Store that support the Anniversary Update. As previously reported, that includes desktop apps that are converted to work in the Windows Store with the "Project Centennial" bridge tools. Microsoft stated they will work directly with those developers to get those apps in the store.
More Resources
Windows 10 Tips, Tricks, and How-tos
Windows Central Newsletter
Get the best of Windows Central in in your inbox, every day!
Fiiiiiiirrrrrrrrssssssst to comment!!!

Is this a thing that we still do? I though the internet collectively out-grew "first".

Are those desktop apps able to run on mobile?

No. The Win32 apps can not run on a Snapdragon (ARM) processor. Porting them to the Store via an APPX container just makes them easier to distribute, install, and uninstall. And I believe they run just as modern Windows Apps - in their own sandboxed container, which makes them more secure for the rest of your system. It's a win all around. But they still need an Intel architecture processor to run.

So freakin' RELIEVED I can now install apps from the Store on my PC!!!

I doubt converted desktop apps will ever be allowed on xbox still though it's good to see a bit more flexability in the windows store with win32 ports.

When will we be getting updates for windows 8.1 Nokia devices!!
Windows Central Newsletter
Thank you for signing up to Windows Central. You will receive a verification email shortly.
There was a problem. Please refresh the page and try again.