Disney's Wreck-it Ralph game now available for Windows Phone, nearly a year after the movie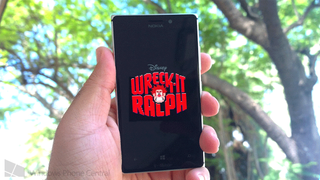 Beggars can't be choosers. So even though Disney's Wreck-it Ralph came out in theatres nearly a year ago, we're happy to see the game adaptation finally appear in the Windows Phone Store. It's nearly identical to the iOS game that's been out for quite some time, so let's go check it out.
Have you seen the movie? You should, it's pretty good (this coming from a 25 year old man). If you like video games you'll probably really enjoy Wreck-it Ralph. The game plays off the "Game Central Station" theme found in the movie. With Wreck-it Ralph on Windows Phone you're basically getting a bunch of addictive mini-games inside one game. Here are the mini-games:
Fix-it Felix Jr.
Hero's Duty
Sweet Climber
Turbo Time
Flight Command
We won't dive into what's unique about each mini-game (we'll save that for Paul's review), but quickly let's look at a few of the mini-games.
Fit-it Felix Jr. could be considered the "main" game inside Wreck-it Ralph. Ralph runs around breaking windows and you as Felix Jr. will be responsible to repair the building. The 8-bit graphics are pretty awesome and might give you a little splash of nostalgia as you play.
Sweet Climber is a fun take on the "Doodle Jump, but it's been Disney-fied. You take control of Ralph in the endless climbing game as you jump from candy cane branch to candy cane branch. You'll be using the accelerometer inside your phone to power the tilt controls.
You'll need to unlock the other mini-games by playing the Fix-it Felix Jr. game.
Disney is offering the game for $0.99 for Windows Phone 8 devices. There is no free trial, but it's hard to go wrong for just a buck.
Grab it in the Windows Phone Store, use the QR code below, or swipe to the right in our app.
That was a funny movie my niece loves it.

I agree this is absurd, again when it comes to the app store we are so far behind with windows phone.

Nope. Too little, too late.

Can I wreck it, if my name is not Ralph?

Sorry but NO, get your name legally changed to Ralph...lol...

Played it on iPhone months ago... For free...

You know, I thought about this. Some WP games/apps that we have to pay for on WP are free, or cheaper, on iOS. When I bought my iPhone 4 on Verizon when it first came out in Feb 2011, I paid $200. However, when I bought my Lumia 822 in Dec 2012, I paid $0. So, if I have to pay extra for a few downloads on WP, I am more than happy to do so because I didn't also have to pay for an overpriced, overhyped phone to download it to!

That's a smart way to look at it.

I like the way you look at it! +822

Limited time free? I find it on Appstore for $0.99.

Glad to have it on board; games like this are played by kids long after the movie goes to DVD. Better late than never; I will be buying it!

Excellent, buying it right away!

While I hate both the time it took to get this and the no-trial option, it's nice to see that Disney is looking seriously at supporting the Windows Phone platform more. Maybe we'll see them start to produce some Star Wars mobile experiences (outside of Angry Birds)?

99 cents is cheap, but I still would like the opportunity to "try" before I buy

I'M GONNA WRECK IT!
My family loves Wreck-It Ralph. Bought immediatley for both mine and my wife's phone.

Wreck it Ralph was cheated out of Oscar. I still don't understand why Brave got it.

Feminazi have big influence nowadays.

That was such a good movie for gaming nerd like me. "I crush man's skull, like sparrows egg, between my thighs!" says Zangeif. Lol!

Popular games like this should be Xbox Branded.If you agree with me people vote for my suggestion so that it can be heard! http://windowsphone.uservoice.com/forums/101801-feature-suggestions/suggestions/4163745-windows-phone-xbox-live-more-something-like-gamece


I agree with you wholeheartedly that these games should be Xbox branded. Microsoft is missing a huge opportunity to increase the popularity and appeal of their Windows Phone and Windows RT devices by failing to fully leverage their Xbox clout. However, I vehemently disagree with the petition that you linked to in that it suggests delinking the Xbox achievements from Windows Phone, Windows 8, and Xbox 360/One. They should not be delinked. That defeats the purpose and appeal of unification. What they need is more unification and more Xbox games on Windows 8/RT and Windows Phone. Not a 'red-headed step-child' version of Xbox mobile games. Use the brand to its fullest. This game and many others should come with the Xbox brand on it. If it had, I'd already have purchased it. I don't buy games that are not Xbox branded (and I know there are a lot of people like me).

I mean that the Xbox Achievements must be simply categorized.In your xbox account have the Xbox360 , Xbox One, WIndows , Windows Phone section but have the same gamerscore.Maybe i wrote it bad cause my english are horible!

It did make it seem like you wanted separate Gamer Scores per platform, which would be a bad idea in my opinion. If you go to the gaming app now and view other friends' achievement scores it clearly lists which games were on Windows Phone, but I guess having that overall Gamer Score be able to filter more easily by subcategory is an all right idea.

Other than not buying non-Xbox games (your choice), I fully agree with your comment.

WHERE IS CANDY CRUSH???!!!

I'd love to try that game! I can only do it through windows phone..

I saw this movie twice! Had to buy it. I recently bought it on Saturday and I was thinking to myself when will the game from IOS come here. Here it is! And it's only Tuesday-- BAM!!

I guess we are getting games all be it slooooooooooowly!!

Did anyone watch the roast of James Franco last night? When Jeff Ross was roasting Sarah Silverman and said' "after men Wreck it they Ralph" talking about her junk.

I feel like having the "beggars can't be choosers" attitude is the wrong thing to have in the WP community. I think we need to be more aggressive and loudly voice our opinions, so we're actually heard. If we just wait for developers to toss us "beggars" a half-assed port of a game/app, what's the point?

should of had a Sugar Rush game on here ><

having purchased it I will give my own review. Fix it felix was definitely the most enjoyable of the games, although turbo time was enjoyable too as both games were the same as their movie names. The hero's duty games were very disappointing, less so the flight command one. Didn't even try the sugar rush game, but this should have been the racing game included in my opinion and not some climb game or the turbo game...alas it's only 99c and I guess worth it.

Beggars? Is that how one describes us WP8 users? I never thought I'd move to Android, but I don't want to be a beggar anymore.

Great news!

Can anyone please educate this guy http://www.imangistudios.com/ the difference between Windows Phone Store and Windows 8 Store? Windows Phone 8 has 3 out of 4 title (except for Temple run 2) and Windows 8 has only 2 (missing Temple Run too). But this guy has just written Win, for only twoWindows Phone titles and no mentioning of Windows Store!

The correct status is:
Temple Run 2 Buy (iOS / Android / Amazon)
Temple Run: OZ FREE (iOS / Android / Amazon / Windows Phone / Windows)
Temple Run FREE (iOS / Android / Amazon / Windows Phone)
Temple Run: Brave Buy (iOS / Android / Amazon / Windows Phone / Windows)

Temple Run Oz definitely isn't free on Windows 8. I agree though, it's annoying when devs conflate the two platforms.

They should have added Sugar Rush, that was the biggest part of the movie.

No achievements ? No thanks, free I might try/play it but, with out achievements, I'll skip over this one..

Not avalable in South Africa :(
Windows Central Newsletter
Get the best of Windows Central in in your inbox, every day!
Thank you for signing up to Windows Central. You will receive a verification email shortly.
There was a problem. Please refresh the page and try again.