Disqus Windows 10 UWP app open beta is 'coming soon'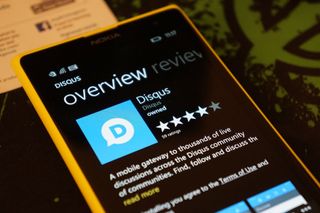 The developer of the upcoming Windows 10 UWP app for Disqus says that an open beta test is 'coming soon' and also posted an image of the app via Twitter.
Ryan Valentin, the developer of the Windows 10 Disqus app, confirmed that it was "coming together quickly now". He also confirmed the Mobile version will be made available at the same time as the PC Windows 10 app:
Disqus, which offers a comment system and online discussion platform for websites, launched its first mobile app for the Windows Phone platform, ahead of its Android and iOS counterparts, way back in 2013. It has added a number of features since then and is now on version 3.0.
Thanks to Windows10Lover on Twitter for the tip!
Download Disqus for Windows Phone (opens in new tab)
UWP thing gives me hope about getting apps.

Yes, still hopeful also, though some apps are dropping off. Maybe those will be replaced by UWP versions one day.

Yeah looking at PAYPAL.... Posted via Surface Pro 4 or Microsoft Halo Phone

Apps are raining, dancing, singing, hugging,rapping and during windows Hololens and surface are the secret

One of my favorite apps of all time!

But time has not ended yet!

Love the app and use it all the time. Glad for this.

It still surprises me that Disqus launched first here down to this day :) Was and is a nice change of pace and i sincerely thank the devs for giving us a shot.

UWP is working... it's bringing the apps to the mobile devices... This was a brilliant move from MS. Windows phone is far from dead.

Great, Windows 10 UWP plan getting somewhere.

YAAAAAAS i just want inline images and gifs, right now we have to click the thumbnails and wait for them to load which kills part of the fun bitchiness of some blogs I read lol. Let's ramp up the sassiness

I LOVE THIS APP
Thanks devs for the support and for the Great UI+performance of this app
I just wonder why Mobile Nation doesn't add support for Disqus in the comments section

I hate Disqus. Its worst commenting system ever.

I love Disqus. The best commenting system ever!
Windows Central Newsletter
Thank you for signing up to Windows Central. You will receive a verification email shortly.
There was a problem. Please refresh the page and try again.