Do the silliest walk in Monty Python's hit game, now available on Windows Phone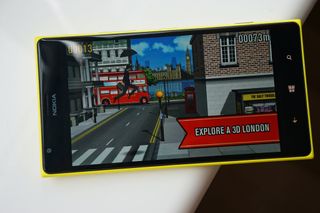 The Ministry of Silly Walks is the new funny game now available on Windows Phone. Already loaded on both iOS and Android, the title is based on the hilarious Monty Python sketch. We previously looked at John Cleese confirming the release of Ministry of Silly Walks on Windows Phone and today's the day, thanks to "silly demand".
There's nothing new about the gameplay that hasn't been done already, but it's hilarious to play regardless. Players are tasked with taking John Cleese on the longest silly walk, collecting coins and avoiding obstacles. If you're a massive fan of the Monty Python series, you'll definitely want to grab this for your Windows Phone.
So who will be picking this title up?
Windows Central Newsletter
Get the best of Windows Central in your inbox, every day!
Rich Edmonds was formerly a Senior Editor of PC hardware at Windows Central, covering everything related to PC components and NAS. He's been involved in technology for more than a decade and knows a thing or two about the magic inside a PC chassis. You can follow him on Twitter at @RichEdmonds.
I'm about to spend more than this on a large coke and it doesn't come with a free trial either.

Using your analogy, I can get a free coke on Android....but on Windows Phone, I have to buy the coke - and can't even check the taste before I buy it!
I don't mind app developers asking us to buy the apps (I prefer not having adverts). But I will never blindly buy a game...
(Developers that don't trust their product enough to put out a free trial won't get any money from me)

Except that its $1.68 on Google Play :-). Regardless my point was we piss away money on things all day but wont "risk" $1 or $2 on a game. Its worth it on popular titles like this just to support the platform.

I forget the statistic, but somewhere in the region of 800 million people live on less than $1 a day...
I would rather not piss money up a wall. I do support the Windows Phone platform because I reckon it has potential to bring smartphones to people at much cheaper price points.
However, I won't throw money at a dev that doesn't use the store tools available to them.

Yeah! Unfortunately mostly of them reside here in India. :(

Which shop / retailer do you do your grocery shopping in? Never heard of anyone letting people drink a bottle of coke off the shelf before buying it :P.

Which you know will be an ok purchase because you've treated coke before and you know what you're in for. If it was a completely new drink you may think twice.

There's a trial on windows store(& its universal)

No trial? 88mb? Sorry, nope :)

You've let the me down, you've let the Prime Minister down and god forbid, you've let the Queen down!


Maybe if I don't see anything that's on sale worth buying this month I'll pick it up

Guess there wasnt anything to buy this past month

Would've loved this when the contest was going on....High score got tix to one of the final Python shows. Cleese was even teasing it to WP users back in July. Now? Meh....maybe.

I'm waiting for WATCH_DOGS on Windows Phone

Looks like shit!!! And we have to pay for it!!

You'll be waiting for a long time...

I'm a big Python fan BUT isn't this free on Android?
With no trial and at 1.29... I'll have to think twice on this...

Then "real" one from Boondoggle is $1.68 on Google Play right now. An odd price, probably due to a currency conversion.

Ok, then if it isn't free anywhere else it's fair.

Bought blindly. It's MONTY F'N PYTHON folks!

I'm also a big Python fan BUT to me it's a "no go" just because they forgot to mention the Windows Store ate the end of that video. It's a shame. We need to show to all the androidians out there that the Windows Store at least has some games...

I take your point, but if people don't buy it then they'll think it was a waste of time developing it for WP and next time we won't get the game, let alone a mention in the promo video. So if you are a Python fan and a WP fan then support both and buy the game.

While I understand your sentiment, I think its unfair to leave the onus all up to us to make sure the WP platform is thriving. I get that we play a big role. But its silly to suggest we should buy or download every popular game/app. MS and developers have to meet us halfway.

Agreed. But I believe this video was released before they announced a WP version is on the way (we used the same video in our previous article).

I was wondering how long it would be before some else caught that...lol

That's his real name, but changed it to Cleese

Props for knowing that also :)

Not working on my 520 : (

Not working on my 625, no wonder there's no trial!

So this is an endless runner where you collect coins and pay for upgrades Does this just use in-game coins or am I expected to use actual money to upgrade? This is the only thing putting me off buying it without a trial

What about the fish slap dance! Lol the first time I saw that I cracked up laughing so badly I ended with pain across my sides. http://www.youtube.com/watch?v=b8e7bo0Y_Zk Just like when I saw this paraody... Ahh they don't make comedy like they used to.

Doesn't even load avoid buying

Oh hell yeah!! Take my money.

Pretty crappy game, but good to have one that was only on the other platforms. Honestly though, play Jetpack Joyride, you'll have more fun.

The game is also available for Windows, play it on your Tablets guys! http://apps.microsoft.com/windows/en-us/app/6acae53f-f56c-44a4-9824-889eb9b8c3f1