Doctor Who pack for Minecraft released for Xbox 360, Xbox One version coming soon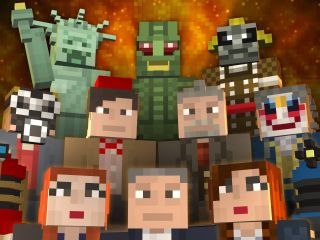 Xbox 360 owners of Minecraft can now purchase and download the first of what will be a series of skin packs based on the long running BBC sci-fi series Doctor Who for $2.99.
This first skin pack allows Minecraft players to create characters that look like the First Doctor (William Hartnell), the Fourth Doctor (Tom Baker), the Sixth Doctor (Colin Baker), the Ninth Doctor (Christopher Eccleston), the 11th Doctor (Matt Smith) and the current 12th Doctor (Peter Capaldi). There's also the War Doctor (John Hurt), who has so far only appeared in the final episode of the 11th Doctor's final season and the 50th Anniversary Special. Sorry, fans of the 10th Doctor (David Tennant); he doesn't show up in this first skin pack.
Other characters that are a part of the pack include many of the Doctor's companions, including Rose Tyler, Amy Pond, her husband Rory Williams and the current companion to the 12th Doctor Clara Oswald. Of course, many of the Doctor's enemies are part of this skin pack, including the Daleks, their creator Davros. the Master, the Weeping Angels and more.
Players of the recently released Xbox One version of Minecraft won't be able to get this new Doctor Who skin pack immediately, but Microsoft says, " ... we'll have more to share on Doctor Who in Minecraft: Xbox One Edition soon." What do you think of the Doctor mixing it up in the Minecraft world?
Source: Xbox Wire
Get the Windows Central Newsletter
All the latest news, reviews, and guides for Windows and Xbox diehards.