Use DocuSign Ink to sign important documents on Windows Phone 8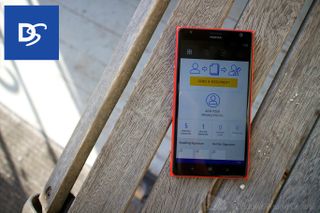 DocuSign, the leading eSignature solution in the market, has just released their official app for Windows Phone 8. Over 40 million people and enterprises use the service. With DocuSign Ink for Windows Phone, you can electronically sign, send and store documents from anywhere at anytime. There's no need for printing, faxing, scanning, or overnight deliveries.
You need an account to start using the app. You can sign up for free using your existing logins from Microsoft, Facebook, Google, Salesforce, or Yahoo.
To become familiar with DocuSign Ink, they have included a few sample documents for you to sign. There's a rental agreement, permission slip, and a bill of sale. Select a document and click the sign button to get started. You can insert your signature, initials, name, date, textbox, checkbox, company, and title. You can draw the signature and initials, while the textbox allows you to type on the document. The name, company, and title can be preloaded in the settings, so you don't have to type them every time for all documents.
To send a document, click the yellow button in the main screen or swipe twice towards the right. You can select a document or image from your photos, camera, or even SkyDrive. The next step is to add recipients. You can add more than one person and even require them to sign in order. Before the document can be sent, you need to place at least one tag. Tap anywhere on the document where a signature, initial, name, or date is needed.
Once you have sent the document, you can view its status. You can see if they have received and/or signed it. Recipients can sign your document using their browser, or other platforms. It is also available for iOS, Android and Windows 8 (opens in new tab).
DocuSign is a free download at the Windows Phone Store. Have you used the service before? Let us know what you think of the app in the comments!
Windows Central Newsletter
Get the best of Windows Central in in your inbox, every day!
Great service, great App. So glad so many of these Apps are finally coming.

Neat. But I use Office with its built in inking for contract signing and invoicing. And then sending the inked document via email as a pdf is also built-in to office. No middleman required, no account signups required on either side. 90% of my clients will not have a Docusign account and that would be a deterrent to my business. Though I can't ink on my phone, I wouldn't want to anyhow, its painful to read and fill out a contract on a phone. But I am still happy this has arrived. The more stuff WP gets the better! Thumbs up!

Docusign doesn't require the signer to have an account. Just wanted to point that out. :)

Exactly, it sends a link to the signer via email (designated by you) which they click and open, sign, intial etc (and complete what ever fields you put into the document before sending it off to them ). The account creation is optional for the signer.

It's not really free. I was actually just looking into this about an hour ago, coincidentally. After 30 days you have to pay for the service.

Finally another app I missed from myiOS days. If Citi bank puts out one.. I am set:-)

Switch to Chase, like I did.

We use Docusign at work for both customers and employees. Customers sign new business applications and employees sign HR type documents. I used Docusign to sign some of my mortgage docs a year ago. Great service. And the other person signing doesn't need an account to sign docs.

I love Docusign, and your clients do not need an account to sign documents. However, Surface Pro 2 gives you the ability to sign documents. Now, it is not as comprehensive as this program, but just an FYI.

This is sweet and great news for those of us who use docusign for work. Having just briefly used it now for a few minutes, for version 1.0 the app is pretty good. Now i can manage the docusign on the go. Also they have a win8 app as well.
Windows Central Newsletter
Thank you for signing up to Windows Central. You will receive a verification email shortly.
There was a problem. Please refresh the page and try again.