Don't discount Microsoft's new video editor because it's web-based
Clipchamp is a web-based video editor, but that isn't a bad thing.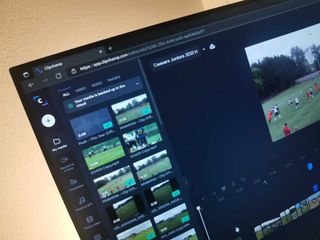 (Image credit: Windows Central)
In the latest Insider build of Windows 11, Microsoft rolled out Clipchamp as the operating system's video editor. The tool is now an inbox app, meaning it will come preinstalled on PCs. Not everyone is happy with Microsoft moving to a web-based app for its video editor, but I think being a web app is the right structure for Clipchamp.
For those unfamiliar with Clipchamp, it's a web-based video editor that aims to allow complex editing without requiring high-level knowledge of video production. It has a multi-layer editing interface, but it is easy to get into. The app integrates with cloud storage services such as Dropbox and Microsoft's OneDrive. It also has a large library of stock images and videos, though how many you can access depends on the plan you have.
Microsoft acquired Clipchamp in September 2021. Shortly after the purchase was announced, I reviewed it while creating a highlight reel for my American football team.
"Clipchamp is a solid video editor for creators and business professionals who need to make videos," I said back in September. "It's basic enough to jump straight into but has enough features to make more complex videos. Its integration with cloud services, stock libraries, and graphics options make it easy to bring in the content you want for your videos."
I've seen some around the web discount Clipchamp because it's a web app. The thought process is that native applications are inherently better than web-based ones and that Microsoft should have gone in that direction for its video editor. With Clipchamp being an inbox app, some argue that it should be a native app that uses the same design language as the rest of Windows 11. This is the approach that Microsoft took with the Photos app and some of its other inbox applications.
While I'm as much of a fan of "true" UWP apps as anyone, a lot of the criticism I've seen doesn't take into account how far web apps have come in 2022. Web apps are powerful, versatile, and a valid path for app development for the modern web. Clipchamp wasn't perfect in my testing, but it was perfectly fine for basic video editing. I ran into some syncing issues and the app's free plan limits exports to only 480p. Despite those limits, it's a fine video editor and is something I think Microsoft can build on.
When I reviewed the video editor, it hadn't received any secret sauce from Microsoft. I expect the service to get better over time as it gets integrated into Windows 11. I also hope that Clipchamp's higher plans will be included with Microsoft 365 at some point. At the moment, the video editor is overpriced for what it is.
Microsoft doesn't care which type of an app a program is, as long as it can do the job. Clipchamp was built with the web in mind and integrates with other web services, like Dropbox, OneDrive, and even GIPHY. It makes sense to take something that already worked well and to improve it without starting over.
Clipchamp isn't going to beat Adobe Premiere Pro, or even some free or cheaper alternatives like OpenShot or DaVinci Resolve, but it is a fine video editor. Most importantly, it's an improvement over the current video editor on Windows 11.
News Writer and apps editor
Sean Endicott brings nearly a decade of experience covering Microsoft and Windows news to Windows Central. He joined our team in 2017 as an app reviewer and now heads up our day-to-day news coverage. If you have a news tip or an app to review, hit him up at sean.endicott@futurenet.com (opens in new tab).
I don't even care that it's web-based. I care that the free plan gives you 480p exports. 480p!! What content creator, especially one just starting out, wants to have their videos in 480p? 720p should be on the free plan. They're outta their mind with this.

It's web based, meaning you need a microsoft account(or other) and you need to upload and download for it.
We have the photos app video editor that works just fine, they could have just improved that but they instead opted for a cloud only editor. Yes it's simple and powerful, but it has a monthly subscription which isn't that good in general. Offline processing will always be better than online, especially when we have stuff like intel quick sync and accelerated encoding. The only advantage is having it online and processing on their end. I know they have a asset pool of music and stuff but even then it's just not worth it's whopping 9$ a month for the cheapest option.

nobody concerned about privacy in 2022

Privacy hasn't been a thing you had since 2007 at the latest.

I don't use the legacy video editor in Windows. I use Nero Video and it satisfies all my video editing needs. And, quite frankly, I don't always have access to the internet, so relying on some clunky web-based solution isn't anything I'd consider using. I want my apps installed on my device.

I have no issue if some people don't want a web-based app but when they start inserting things like "clunky", you know that they're just trying to make it seem worse than it is in order to justify that position.

I'm really hoping for broad support of codecs, but given the history of Windows and Windows Media Player I don't know what to realistically expect.

Plenty of free and better editors around for Windows even simple ones like openshot, Kdenlive, if you want to get more advcanced, then there is Hitfilm, Davinci resolve, lightworks and others.
No need to use this Clipchamp thing on the web.

No need to run after this poor Clipchamp ! Not a champ at all ! In the free range, less powerful than the great Davinci Resolve Standard but with an easier learning curve, you have : VIDEOPROC VLOGGER 4K realtime video editing with multitracks editing, transitions, effects, audio editor, speed editor, color editor with LUT import, motion effects editor, export up to 4K... No watermark, no time limit in usage, no limitations at export, no options to pay (like Clipchamp beyond 480p exports), no monthly fee... About video editing, Microsoft is always in the last wagoon, not ahead... Compare dear Sean, it's night and day !

It is laughable that the free plan only allows you to export 480p.

500mb of RAM only to show the start screen... Is it fine for you? ROTFL!

I think web app is somehow the best option for most apps. Look at Figma, no-one believed that Figma will outperformed sketch and adobe xd which are native apps but they're all wrong. Web app is best for collaboration and easy to pick up from any device. That's why adobe is pushing photoshop and illustrator for web. Take a look at EVMUX alternative to OBS and you'll be blown away.
Windows Central Newsletter
Thank you for signing up to Windows Central. You will receive a verification email shortly.
There was a problem. Please refresh the page and try again.