Don't expect Google's Chrome browser to come to Windows 10 S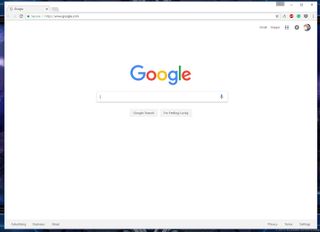 When Microsoft debuted Windows 10 S at an event last week, it billed its inability to install apps from outside the confines of the Windows Store as a security feature. Unfortunately, that's also inevitably going to cause some limitations, one of which is a likely restriction on browser choice.
Technically, Microsoft notes that any browser can come to the Windows Store. And in theory, that could also include Win32 browsers like Chrome and Firefox. However, a provision in the Windows Store Policies (opens in new tab) recently spotted by ZDNet would effectively deter that:
In a separate statement provided to ZDNet, a Microsoft spokesman said:
It's a restriction that's similarly seen in iOS, which requires browsers to use their rendering engines. Google's Chrome OS itself is restricted to using the Chrome browser. It's entirely possible that Google could opt to build a separate UWP browser built around the rendering engine found in Windows, but, as ZDNet points out, Google's track record with Windows apps makes that unlikely.
Thanks to Malcolm for the tip!
Dan Thorp-Lancaster is the Editor in Chief for Windows Central. He began working with Windows Central as a news writer in 2014 and is obsessed with tech of all sorts. You can follow Dan on Twitter @DthorpL and Instagram @heyitsdtl. Got a hot tip? Send it to daniel.thorp-lancaster@futurenet.com.
btw you cant run edge on other OS

No big deal anyways. Edge is now the best browser going. It was not for a long time, but now it is.

Many would disagree with you there. But choice is never a bad thing. Windows 10 S effectively limits that choice, it seems, to Edge or some much smaller third-party apps like we already have in the Store.

Windows S also limits possible malware from chrome extensions. If you want "choice" upgrade to Win10Pro for $49. Jeesh

And yet people think it is rediculous when Apple charges $49 for a dongle after removing ports. Isn't Microsoft doing the same thing here - removing functionality and then charging you to get it back?

No, they are not, because if the machine came with Windows 10 Pro to begin with then it would already be more expensive because the price would include the licence fee for Windows 10 Pro.


That's is the same exact argument... If Apples computers came with more ports, they would cost more. Quit fanboying. Taking choice away is a bad thing. Quit defending things that hurt consumers, simply because it is done by the company for which you wave a flag.

Except Apple's previous devices didn't cost more. The cost of adding ports is a few dollars. Windows licenses have a set price. OEM's can't do anything to lower them.

Except right now you can upgrade for free. I wouldn't pay $50 for a dongle no matter who was selling it.

Windows 10 pro if free until December 31, 2017 for 10S users.

I don't think Google would have a problem in making a Windows Store version if the market share makes sense. It seems they are more worried about data mining than they are with product deployment. So number of users would drive their decision, I believe.

Monument Browser is also very good on pcs. Terrible on Xbox though. Lol

one or two weeks ago here on this site was an article about praising Windows S and the future in which the Microsoft Store will have Chrome and other popular apps available for download and use. I have written a negative comment about it because for me its clear that both Google and Microsoft will do anything to block such app on their platforms... but the article writer deleted my comment just because it was NEGATIVE now this article is online, hmm... :-D

I must have missed that article. Google will never build an app for another platform unless they are forced to. Their track record speaks for itself.

If my notebook is plugged, Chrome is ok, if not, Edge. Chrome is a power hungry monster...

Google doesn't give you a choice of it's apps on windows mobile ,so I say block chrome

I disagree. It's slowly getting there, but I still have some websites that don't display correctly when I try Edge. For example, my school website does not work in Edge, but it works fine in IE, Chrome and Firefox.

Imho that's probably not Edge's fault... If a website is properly built, it should render just fine in all major browsers... Admit that in the days of IE that didn't good true but with edge it should.

Key word is "should." If it works in all other browsers but not Edge, it's something with Edge.

probably they don't make an update so the page to work on the new browser. The problem is that they still don't care to take care the new browser too... I have the same issue with my site of my work :(

I would't make that leap. It is entirely possible that the others, over time, have succumbed to supporting non-standard site language to stay competitive, or compatible. It's kind of like driving 10 miles over the speed limit because everyone else is and you don't want to get run over. That doesn't make the guy obeying the law wrong.

Thank you. A lot of people make this assumption that the popular browser is following standards which they might not and they just get supported more of the time because they are the popular choice. Not saying that's bad, but just don't blame the guy isn't actually doing anything incorrectly.

But who's at fault if an OS pushes out an update that breaks apps? Is it on the app developer to update accordingly?

I work in a major game studio (4000+ employee). Some internal tool / sites / web app run OK only on IE...
And I injected my own script to fix it, now OK on Chrome and Edge.
They just don't bother to update the old html/js.

Actually not that long ago on this site I had to switch to Chrome to post comments. Yes it may have been the fault of the site, but in the end as a user my experience was that the browser did not work with the site.

Agreed, it is getting there slowly. I still can't use it as my main browser for everything, but I'm using it for more today than prior to the Creator's Update. It will be nice when Redstone 3 is released, and Edge becomes a standalone store app that can be updated more frequently. The biggest problem with Edge right now is that it is tied to the OS, and not getting updates fast enough.

Agree, it should be a Store app.

I'm going to try Opera again. 😁

Ahahahahahahah you're deluded, mate.

True. Soon, Edge will be move to Store, will get regular updates like any other browsers. More features and improvement will come.

Lol you really mean that?

@Steve Adams
Unfortunately it is not the best. With the creators update, you can no longer sync your favorites on a domain joined PC. I had to switch to Chrome. So if you are a consumer, you are fine. If you are an Enterprise end-user, it is now a no go.

If MS has a store policy that requires other browsers to use their rendering engine, that's fine, as I can understand the reasoning. Apple does the same thing and I think it makes for a more consistent experience. However, MS needs to do the same with Edge on competing platforms. Edge needs to come as a wrapper on iOS at the least, otherwise the benefits of platform syncing are gone, since essentially everyone has a non-Windows smartphone. I have come to find enormous value in browser syncing, and that makes Edge a non-starter for me.

The chances of Edge coming to iOS and Android is far greater then Chrome coming to Windows 10S.

In that case, I'll abandon Chrome. I now use both cause Chrome is a battery eating monster if my NB's not plugged.

Who expected it actually?

And ? So not in the store, it's easy to do a GOOGLE search for "Google chrome download" and install it. It's a known thing, Microsoft hates google and google hates Microsoft, this has been a long time issue. When Microsoft starts trying to block NON-STORE stuff, that will be a problem.

Except you can't do that on Windows 10 S. That's the entire point of this post. Windows 10 S by default blocks all non-Store apps.

Google hates Microsoft look almost Microsoft service are on google, but google even call out Microsoft to remove YouTube... So Google is the hater here

Google called out Microsoft and blocked the YouTube app because their YouTube app violated Google's terms of use. Specifically, Microsoft reverse engineered the YouTube APIs to remove ads, circumvent restricted videos and let users download videos for offline storage https://www.theverge.com/2013/5/15/4334030/google-demands-microsoft-remo...

Then google should have built the app it was that simple, why they didn't? Because Ms is a threat.. Oh by the way MS YouTube app was really good

Because why dedicate engineering resources to a platform with very few users and very little chance of payoff?

Anyway third part YouTube apps are more cool that the official app, and these small user are using them and they keep on improving.. Is like Snapchat didn't want to make app for Windows 10 mobile because has small users, but now we small user happily using Instagram and WhatsApp which now the new features has more users per day than Snapchat

Windows few users? If you said WM10 yes but Windows user as a whole is large

People really need to know there is totally different between Windows 10, Windows 10 mobile and windows 10s.. And to stop Generalize..

The Windows app store has few users. No need for it on desktop.

The YouTube app was on Windows Phone 7 and 8.1, not 10. Even then, a vast majority of desktop users will just use a browser to get to YouTube and won't bother with an app.

That's no longer a valid argument with Windows 10.

I have a hard time buying that the reason was because of the removed ads. Almost every third-party YouTube app I've tried on Windows phones have been ad-free and play the selected video with no interruptions. Some third-party apps even allow downloading YouTube videos for offline playback - apparently another way that the Microsoft app violate YouTube's policy. If what Microsoft did was so bad for YouTube, why doesn't Google come after all these other third-party apps that do the exact same things that they accused Microsoft of?

I think it was more that Google was saying there were technical issues with building a WP app, as their official statement. So MS built it as a "no it isn't" statement, and Google got pissed because they were busted. They will accept third party minor players showing them up (if they are good enough they might buy them), but the big three weren't supposed to do it to each other.

Totally agree. I still love myTube! by the way on my Desktop/SP4/950XL. I'm using the official YouTube app on my S7 Edge as well, and ugh the amount of ads is so desperate and sad.... the app literally has a banner ad under the video, a video ad before the video, and sometimes ANOTHER banner ad overlaid ontop of the video. It's literally an ad-app with a tiny video player lol.

I think that makes Microsoft look badass. Lol

They did that as a stunt to try to force Google to actually make an app and generate attention around the fact that Google wouldn't, I don't think it ever was supposed to be the real YouTube app. Plus the double standard is that other developers make YouTube apps that do the same, but because it's Microsoft they are calling them out.

So scroogle can create a version of chrome to work in the store, they will need to follow Microsoft's terms of use.

I think this will fail as hard as RT if people without knowing that they have to pay extra so that they can use stuff they like like chrome, spotify, VPN provider and other usefull tools like paint.net, colorpic, filezilla, etc And no, I don't see open source developers and paid products coming to the store anytime soon. I didn't happen before and it won't happen now

That's why there is pro to upgrade to, w10s is for Ed and public Institute that want security so people won't add things randomly..

Only difference is that with RT you couldn't switch to non-RT. 10 S is cheaper that the full version and if you want to,you can buy the full version too (free for this year i've heard)

You think people are going to be happy when their new computer immediately tries to shake them down? You think that is going to be a good experience and create love for Microsoft/Windows?

"People" isn't MS's primary target. It's the educational segment they're trying to get back from Google

We will see if that is what happens. I don't see schools adopting this. Chromebooks are popular not just because they are cheap. Google also has easily accessible services and does not require an IT department to manage ChromeOS. Office isn't that accessible and Microsoft doesn't have the cloud services to create a fully functional device that can be easily picked up and signed in by anyone. It will still be more work and cost to implement a Windows device into schools.

...and as a decision maker in K-12 education, I can tell you making Chrome a non-viable choice in education just immediately removes the possibility to use 10 S in education. Microsoft just does not ever learn apparently. Teachers will not re-write all of their lesson plans around edge, and schools do not have the funding to pay for applications that can be had for free via chrome extensions. Its a non-starter...and probably the last chance for Microsoft to regain share in education before Google completely devours them for breakfast.

"You think people are going to be happy when their new computer immediately tries to shake them down?" That's on the consumer for not researching what they buy. It's not any different than Apple products and the numerous lightning adapters you would have to buy. Consumers need to know what they are getting into.

Blame the consumer. Great customer service right there. Microsoft is really setting themselves up for success.

That is what scroogle has been doing for years, shaking people down, forcing chrome with any number of other application updates, using the chrome browser as nothing but an ad delivery system.

Funny, I have ad-block, and I have no ads whatsoever that I am forced to see...on the other hand, Microsoft, even though I've already authenticated myself to the machine, re-confirmed my identity through a PIN to the store, am then still required to re-enter my password. Give me ease of use with ads that are blocked via ad-blocker (Chrome/Google) over ridiculous interference with work flow and a lack of understanding of common sense usability (MS). I am heavily invested in the Microsoft Platform. I manage a school division that is one of the only jurisdictions that fully supports both Office 365 and Google Apps for Education (both have their place, absolutely), but I can tell you this, I am very tired of seeing the same bone-headed approaches and lack of delivery from Microsoft. I can see why most other school divisions around me have already gone all-in with Google and Chromebooks. I was up early to watch the education event live, and let me tell you this: 10 S is a non-starter (even the promised boot times are still slower than Chromebooks). IF Microsoft had released this BEFORE Chromebooks came out, it might have had a fighting chance of success. Here is why: It would have been the only platform choice that was an improvement on 2 minute logon times for shared devices. However, since, as usual, MS is late out of the gate, everyone has seen what ChromeOS can do, how easy it is to maintain, how viable it is for teachers to build effective lessons around it without re-working all of their existing lesson plans they have worked very hard on and fine-tuned over the years, and finally how cost effective it is on cash strapped technology budgets in schools. Then you have MS touting 10 S, and then trying to sell the new Surface Laptop in the same event...talk about just not getting it...the audience at the event was educators, ed-tech integrators, and network managers in education. Of the many I have talked to about the event, not a single one thought it made any sense, and were actually turned off by the introduction of 10 S and then the suggestion that the Surface Laptop made sense with it. It was just another demonstration of adding that extra layer of stupidity on top of their product line that already turned everyone off of them for user-facing technology. That said, every one of us loves MS for back-end infrastructure. Its the student facing technology that is just getting further and further separated from reality for MS.

Unlike RT, people can now install desktop apps (as long as they are submitted to the Store). they already announced some big names such as Spotify and that popular 3D health app that are currently desktop apps, being available through the Store soon. That's a huge difference too and will bring Store growth as well. More devs will submit desktop apps to the Store now.

As someone that banishes Edge and installs Chrome at the first chance he gets, I don't personally see this as a big deal. Edge is slowly but surely improving. The real egregious part is that users can't change the search engine. On ChromeOS, I can change the search provider to Bing, DuckDuckGo, etc.

You can change the search engine on edge, both desktop and mobile. Mine's set to Google.

Just set your home page to google, done.

Edge is indeed improving. I actually use Edge about 80% of the time. Although I use Bing, I wonder why they locked the search down.

Finally... Now I wont have to worry about my parents getting tricked into installing this.

If Chrome is available on iOS with the same limitations, I don't see why it should be a problem on Windows 10 S. They can use Edge rendering and chrome user profile sync. It's only a matter of will, and we know Google have none of it.

It's more a matter of marketshare than anything else. No users, no point in building a crippled app.

No user? you think this is W10M?

How many desktop users primarily use the Windows Store instead of downloading apps the normal way?

Well done store apps tend to be easier to use than their desktop or web counterparts. Look at Netflix for example. You can't tell me that the experience is better on Netflix.com. By being in the store I will at least try it to see if the experience is better.

Assuming that this would be the main OS version for consumer PC's going forward, wouldn't the point to be for Google to reach the same users that they currently reach with Google Chrome browser for Windows?

If that was the case, Google wouldn't be constantly updating their regular Chrome browser on Windows desktop. If they want Chrome on Windows 10 S, they simply have to do what they do for iOS... change the rendering engine to the OS's but keep their Google sync engine for profile sync. And then submit it to the Windows Store. It'll be interesting if they do that.

I was thinking the same thing.. Anyway it's google always have negative thing about Microsoft

Microsoft can't handle the competition? Isn't this the same thing they did to Linux for years?

It would be fine if not ideal if Google "kept it's ball and went home" and didn't play nice. This is because Win10S will be very successfull in the intended scope and in a few years really help bolster real UWP apps (powerful ones not html-phone-like apps) for Windows. Ultimately Chrome just loses marketshare, ad revenue, etc. by doing so.

I like your thinking but Microsoft has to go aggressive

yes but aggressive in windows store apps is most crucial. Having one "store" that can install apps on PC, xboxOne then "mobile" via win10arm. The store fragmentation is a disaster for developers and consumers alike. We'll see what MS says at build but either way Google is on the wrong end of this if they stick to Win32 exe only. Likewise, people will just not use itunes instead of worrying about installing an .exe from the web.

My daily experience on browser, edge and opera is user friendly and awesome for me. I don't like chrome ui.

And this is why no sane person will keep Windows 10 S(hitty). Most people in the world use Chrome and they won't change to an inferior offering like Edge just because Microsoft wants to try to make the wasteland that is the Windows Store a thing. Windows 10 S is absolute crap and it will prove a failure akin to Windows RT. (And yes, you can upgrade to Pro. And for each person that does, it just proves further the failure it is).

Most people use Chrome because it is spammed on every major website and it auto-installs with hundreds of other software downloaded from the internet, in the same fashion of a malware. Most people don't know and don't choose their browser, as they simply don't care.

Most people use Chrome today because it proved to be a far superior experience years ago. It has become a bit bloated. , but the experience is still great and it syncs across platforms. If Microsoft wants people to use Edge, gimmicks aren't the way to go. They need to create a superior experience and make it so people want to use. Forcing them is not a proper strategy.

No, it's because people still fall for the "advice" from "IT experts" that tell them "You must use chrome, it's the best" while completely ignoring current browser results and actual understanding of chrome being a resource hog and not the very ultimate best browser. It's like that day old broken record "Microsoft is the devil" attitude...

What other browser syncs between Windows, Android, iOS, Mac and Linux while integrating with your Google account? Chrome is certainly the premier browser today. If Microsoft wants to change that, they need to create something superior.

I don't use Chrome because it uses way too much resources.

School children don't think bout that.. those Edge browser actually might be their first browser on desktop environment. Heck they will use Store first rather than out in the wild app or software..They might never know app or software is exist outside store until someone told them.

In case you didn't know... iOS has the same policies. So Google made their Chrome browswer on there use iOS's rendering engine. They can easily do the same on Windows S.

They can and will, if the market is there to make it a worthwhile investment. Cracks me up that people think Google is afraid of MS, but for some reason they're not afraid of Apple. And never mind that Google already makes a Windows browser. It is clear they don't care where their ad revenue comes from.

Stop being naïve. When was the last time you saw Google actively bring their services to Microsoft devices? How's that YouTube app for Windows Phone going? Good? Yeah, exactly. Google has no reason to bother with Windows S(hitty). Most Windows users are on Windows 7 which doesn't even have apps. Then you have everyone else on normal versions of Windows 10 which also can run normal win32 programs.

chrome is just a resource hogging ADVERTISING delivery system for scroogle, but keep thinking that is is something special.

If you think Windows 10 "as a service" isn't the exact same thing, you either didn't read the Terms & Conditions or you're just downright stupid.

Never expected it to anyway

I didn't install "S" version. Option was available when I did clean install last week. I have W10Pro - 1703. I have noticed that Chrome is not functioning well on latest build. It freezes and close down randomly...many times pages are not loading. I have feeling that MS is making it to malfunction.

More likely Chrome hasn't addressed something that changed. Chrome is notorious for having issues they don't address (just look up the battery draining bug). Google is a bad player, forcing websites (via their market share) to use webkit specific language in their code, even after it is rejected by the standards boards.

Just buy a regular PC from the start, install what you want then enable the restriction to store apps only in settings. Only delusional Microsoft execs and fanboys think this Windows 10 S(stupid) edition is worth buying.

There have been numerous articles and people here explaining the benefits but you seem to be too stubborn to understand.

No. There have been numerous pathetic attempts are justifying a sh*t version of Windows. Problem is, you can already achieve that level of lock down with normal Windows. But you seem to be too stubborn to understand.

I am fine with that. I do prefer to use Chrome on my Win7 PC, but if they really want to be that hostile to competing platforms, so be it. I go to great pains to avoid using any Google services, where possible, due to their attrocious behavior and policies.

Google can afford the same policies in Chrome OS because Chrome is very popular and people are OK with it. It is not he same with EDGE/IE

ChromeOS is actually more open because users can change their search provider. Not so with Windows 10 S.

You mean they can't just set their home page to google, oh wait that would be too easy.

Again with the work around...thats the problem - there should not be a need for a work around if the product were designed properly.

In that respect Microsoft has the same problem as AMD. It simply does not matter what the facts are. AMD has - and had for a long time - the better price/performance for the huge majority of gamers (who never will buy a Titan X) and has repeatedly shown that their cards age a lot better than nvidias but since 99% of half-informed buyers have bought into the huge mind-share that NVidia has built and therefor go: graphics card = NVidia, all else = bad. Edge is consistently more resource efficient than Chrome and is at least on the same level in terms of compatibility nowadays, but ask any average "would-be advisor for IT questions" and you will get "edge is full of issues, incompatible and all around a bad browser, don't even try it". Perception, mindshare and marketing are everything and that is where Microsoft always falls flat, their marketing department seems to be staffed with dyslexic overexcited monkeys. There is no other explanation why the initial (and since it was an MS browser: to be expected) flood of clickbait articles about how bad it supposedly was could build up such a persistent negative view.

It may not matter how much marketing is being done when "tech experts" are pushing their agendas.

Firefox I would actually miss if it never came to the Store. I use it to seperate my work life (FF) from private live (Edge). But Chrome? I kicked that resource gobbling snail of a browser out over a year ago after it consistently slowed down my whole system (with next to no addons installed too) unless I restarted it on a regular basis. Neither Firefox nor Edge had this issue (though Firefox likes to use a lot of resources too). Edge has come a long way. It had compatibility issues in its first release and was a problem to use until it got addons but now with a number of adblockers available (and yes windowscentral I use those - tried your page a few months back without one for 5 minutes and was tempted to claw my eyes out from all the clutter and bling) it is on par with the other browsers out there when it comes to useability and features and uses less resources and battery at the same time.

As said in content, iOS has exactly the same restriction. It only means that web browser is limited to Microsoft's rendering and scripting engine. UWP Chrome could still have its UI, extensions, Google intergration, apps etc.

Yeah, Chrome on iOS, which many users don't realize, is actually using Apple's Safari engine under the hood. This does still leave a lot that's Google-specific. You can see this if you look at a function like streaming audio or video -- bugs and function track just like Chrome on Windows, not like Safari on iOS. HTML rendering is important, but it's certainly not everything.

I don't have a problem with the idea of banning Chrome but Edge had better keep improving. The only time I find I can't use Microsoft Edge is when I visit here and attempt to edit comments or enter comments. Beyond that, Edge is pretty phenomenal but it has to keep improving.

I don't care, I use Edge anyways

So Chrome on iOS use apple rendering engines?

Yes, but prior the the development of Blink by Google both platforms have been using the Webkit engine.

I haven't used chrome ever since I installed Windows 10

It would be a dumb move to allow it. Personally I don't see a need to ever use Chrome, some people might but they're just brainwashed into Google's ecosystem. It never was such a good browser.

Windows 10 S is not just for EDU, it is truly Microsoft's attempt to bolster the apps available in the Store and thus the Windows ecosystem, because Windows 10 has the market share. I imagine that Windows 10 S will come preinstalled on all Surface devices going forward, with the 6 month free upgrade window offer in place from time of purchase. I personally see this as a positive thing, for too long Microsoft let Google sneak it's way into people's lives with first the search engine, then the browser. By eliminating choice for the search engine and the browser in what will likely be the most popular version of the OS in 3-5 years (because it is free and helps OEM's build a less expensive, more secure experience for the general user) then Edge and Bing will claw back some of its market share. Google would be nothing had MS had a Windows 10S before Google built its search engine.

Microsoft won't find success by *nagging and annoying* the end user; it's a road to failure.

Fix Edge so that it can do the things Chrome does and all will be right with the world.

What does Chrome do that Edge can't? There is several things Edge does that Chrome doesn't..Namely reading mode and web inking which will both be useful for educators.

Reading mode: there's an extension for that. Web inking: yeah...because SO MANY PEOPLE use that... Here's something Chrome does that Edge doesn't: it's available on my Android phone and syncs everything flawlessly accross devices.

chrome is just an ad delivery system for scroogle but people haven't figured that out.

So is Windows 10. Your point in moot.

Since this is for the education mkt. I don't think it matters. School will use whatever browser they have (whether Chromebook or W10s.) It won't be a big deal.

The problem will be, when Microsoft and OEMs try to push W10S at retail, which is inevitable (note: the $1000+ Surface aimed at college students). It's going to land with a thud.

Windows 10 S being aimed at the education market is just a first step. Microsoft has been working towards having everything come from their app store. That's why AAA games are in there that can't be installed on traditional tablets or phones. When Microsoft flips that switch on everyone (hopefully in 5+ years) Chrome will have no choice but to offter their browser in the Windows app store. Windows OS dominates the consumer and business market, so to not have their browser in the store would shut them off from most of the world. I could see Apple doing the same thing eventually on MacOS since it has had an app store for a while now, and iOS already has Chrome in their app store using iOS rendering engines.

You can already install Chrome, Firefox or Opera on any version of OSX. In fact, I like Macs because you can also run Windows, whether you want to dual boot it, or via Parallels, run it in a window inside the Mac OS, and it runs perfectly.

You can already dual boot OSX and Windows 10 on a PC right now.

Really? I didn't know that was possible on a PC.

"If people would like to access apps from other stores and services, they can switch to Windows 10 Pro at any time. " This also means no iTunes, one of the most popular media stores and management of iOS devices.....on Windows. No Chrome and no iTunes, for devices meant to appeal to kids or older people, once it hits retail shelves, means Windows 10S is a zombie; it's never going to get off the launch pad.

Why does anyone need iTunes??

Um, because you need it to manage (software updates, device restore, device backups and transfer content to) an iPod, iPhone or iPad. What are people going to buy instead? A Zune?

Only those with Apple devices use iTunes. While the majority of Windows users are probably on Android and have no need for iTunes.

And they only use it because they are forced to.

I'm fine with that. I understand that a lot of people like Chome, but I prefer Firefox at work and Edge at home. Chrome is a secret resource hog. Opening one Chome window creates 7-9 Chrome processes. Firefox has one process perwindow, so at work I have one regular window and one private window. I do have some extensions that make Firefox use more resources than its default, but I need those. I'm going to keep avoiding Chrom for as long as possible. However, when all versions of Windows 10 go app store only Chrome will have to be available in the app store. They won't have a choice just like on iOS.

Edge is Far better than any browser in Creators Update!

Ya know... ya can't run Edge on a Chromebook or a Mac... so what's the big deal that ya can't run Chrome on 10 S?

Of course you can run Edge on a Mac; I did it just yesterday using Parallels, running Windows....in a window, on Macbook Air, just like another application.

Of course you can run Edge on a Mac.

As long as Opera will, I'll be just fine. Are they? It is Chrome without Google forced down your throat and is capable of running most Chrome addons through an extension :)!

Who still uses Chrome? Several sites no longer work on it. Including Sky Go. Been using Edge ever since Chrome support has weakened.

Majority of people use Chrome. Edge is only like 5%. https://www.netmarketshare.com/browser-market-share.aspx?qprid=2&qpcusto...

Shocked. So many websites simply don't work on Chrome now. It's so slow. Alot of people I know have ditched Chrome.

I haven't had any compatibility issues with Chrome and do not know anyone that has switched. Most of the people I know use Macs and iPhones though. They can't use Edge for some reason.

Would never use it anyway 💁

They just need to do the same thing they do on iOS: build a browser wrapper around EdgeHTML that supports Chrome bookmark syncing.

That's why MACs are so popular with students. They start on them at school. And, schools have them because Apple sells the schools their products at about half price.

Not a single school near me has anything Apple. And anyone I know with A Macbook has installed Windows. And dual boots it. Apple have dropped to a meat 6% market share in pcs as of March this year. So I doubt all these kids as you say are using macs.

Just follow the rules scroogle, just like when Microsoft created a youtube app for the Windows phone and scroogle screamed bloody murder. chrome could be available if scroogle wanted it to be.

No loss for me. I've been using Edge only lately. In fact, in latest clean install I didn't even install Chrome. I haven't missed it tbh.

Google forbad Microsoft to develop its own youtube app in Windows platform, so what's the big deal not allowing Google Chrome entering Windows Store?

Why one would expect that? Lol
Windows Central Newsletter
Get the best of Windows Central in in your inbox, every day!
Thank you for signing up to Windows Central. You will receive a verification email shortly.
There was a problem. Please refresh the page and try again.