Doodle Jump has landed on the Marketplace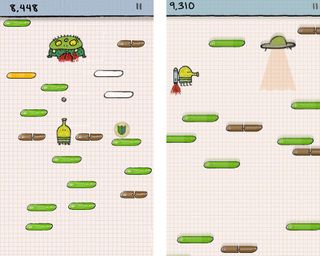 The 6 Weeks of Must Have Games is in full effect. Following on the heels of Hydro Thunder Go comes this week's Xbox Live release, Doodle Jump. It's out now on the Marketplace.
Doodle Jump is the progenitor of the jumping game subgenre. It distills the essence of platformers – jumping onto platforms, avoiding death by falling, and defeating enemies – into a simpler game. Here players control the Doodler by tilting the phone. He's always jumping, so you only need to worry about where you're going to land, collecting powerups, and tapping enemies to kill them.
The Windows Phone version of Doodle Jump (like Pocket God (opens in new tab) before it) contains the main game but loses a bit of content. Namely, a few themes are missing. Each theme changes the appearances of Doodle Jumper and his enemies as well as completely changing the background. Five themes are currently included on Windows Phone: Original, Halloween, Christmas, Jungle, and Space. For those keeping track, indie clone MonsterUp (similar if not better in quality) only has three themes right now, so Doodle Jump still has the leg up there.
Doodle Jump is a monster hit on other platforms. It's extremely cute and easy to play. The Windows Phone version costs $2.99 and there is a free, short trial. Jump on it here (Zune link) on the Marketplace.
Windows Central Newsletter
Get the best of Windows Central in in your inbox, every day!
Paul Acevedo is the Games Editor at Windows Central. A lifelong gamer, he has written about videogames for over 15 years and reviewed over 350 games for our site. Follow him on Twitter @PaulRAcevedo. Don't hate. Appreciate!
its £2.49 in the UK, its 59p on iOS, i think ill give it a miss at that price

Yeah I just heard that. I also heard it gets boring quickly even at 59p. Drop the price MSFT.

I'm going to agree with you guys. I don't think there's anything wrong with the game, but it's very, very limited. It's the true essence of a $1 game. $3, cheap as that is, is a bit much for something that's amusing for maybe 3 minutes at a bus stop.

Can someone explain to me why this game is laggy (low framerate?) on my Omnia 7?I compare the character jumping on the menu screen with an iPhone 4 and it is much smoother on iPhone than on WP7, unfortunately :(1) Something is wrong with my device2) Bad port/bad XNA code from DoodleJump crew3) Performance isn't enough with Qualcomm CPU4) General problem with XNA?5) Because WP7 is limited to 30 fps (does iOS use 60 fps?)6) General problem with WP7 as an OSI hope that this will be handled better with Mango and/or new hardware specs later this year.

Is pretty smooth on my Optimus 7. I'm not gonna buy it now that I hear it lacks features. Why do I have to pay more for less?

It runs great on my Samsung Focus. Hmm...

Same here with my Focus. I'm not thinking this is the same kind of disparity we saw with Hydro Thunder either.

Monster Up is so much better!!! I wish it was Live Integrated instead

What do you prefer about MonsterUp exactly?

Graphics, style, gameplay modes, sound... Everything!

Can't argue with you there! I like both games though. Doodle Jump feels a bit different due to its enemies and unique hazards and platforms.

All my comments are being flagged as SPAM...I don't think I'm using any banned language...Let me try my post again as an edit: Am I wrong in thinking this whole class of games is dumb?

That is unnecessarily dismissive. Not that you have to like it, but Doodle Jump is popular for a reason.

Definitely choppier when compared to the iPhone version. Still playable, but I'm debating a purchase. However, if you don't have this game already, it's worth getting.Paul, this mode is also missing 2 costumes, 'Bunny' and 'Ooga.'
Windows Central Newsletter
Thank you for signing up to Windows Central. You will receive a verification email shortly.
There was a problem. Please refresh the page and try again.