Download Tom Clancy's Rainbow Six: Vegas for free if you're an Xbox Live Gold member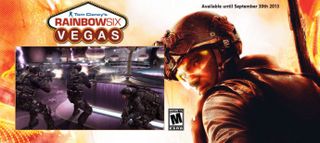 We've been covering Games with Gold from Xbox Live since it started earlier this summer. Aren't familiar with the program? For the remainder of the year, Microsoft is giving Xbox Live Gold members two free games per month. Usually the titles available are a little older, but still great. We've seen fun games like Fable III, Assassin's Creed II, and more over the last few months. Today you can now download Tom Clancy's Rainbow Six: Vegas for your Xbox 360.
Rainbow Six: Vegas came out way back in 2006, about a year after the Xbox 360 came out. It's the fourth game in the Rainbow Six series and worth playing seven years later in 2013. On Metacritic it averages 88 out of 100 for the Xbox 360 version.
Fancy third-person shooters and have Xbox Live Gold? Head to the Xbox Marketplace (opens in new tab) and get your download on, which clocks in at 6.60 GB.
Wonder if there is ever going to be another Rainbow...

WHAT DOES IT MEAN!?!?!?!?

I applaud you for your Lux reference.

The Division looks awesome to me!

Heck yea!
I want that and another Ghost Recon game...with more detail and support than the Future Soldier game had.

Butterfly in the sky
I can go twice as high
Take a look
It's in a book
A Reading Rainbow I can go anywhere
Friends to know
And ways to grow
A Reading Rainbow I can be anything
Take a look
It's in a book
A Reading Rainbow
A Reading Rainbow

Solid Snake knows a thing or two about the Patriots.

Patriots? Them and the eagles (possibly chiefs for the reed vs chip rivalry) in the playoffs would be awesome

Can you download, install, and run games off a USB drive? Otherwise, us Black Friday folks that got the 4 gig Kinect Bundle a couple years back are screwed.

Youre not screwed. You can always pick up a hard drive! But yes, USB's do work.

Yep you can. I just completed the first level of this game running it off a pretty slow 16gb USB drive (xbox warned me it would work but didn't meet the recommended specifications so might be laggy). Ran as smooth as on a disc. Download is 6.something GB.

It seems to give that warning no matter what, I got the best 32 GB USB I could find and it said the same thing. Never had any problems of course.

You have a SanDisk? I discovered their 8 GB drives are the fast ones, but they skimped on speed for the higher capacity drives in the same line. My view of SanDisk hasn't been the same since.

You need a high quality 16gb min USB 2 stick. It needs to run at 15mb/s i think.

I haven't tested running the games off my thumbstick (which is actually a 16GB Micro SD in a USB adapter), but what I've done is moved things that I don't yet want to delete but yet never seem to play to the thumbstick to make room for the main hard drive.

Sitting here outside blockbuster in Hereford U.K waiting for gtav, only 20mins to go!!!

Thats solid committment. Hope it is everything you want it to be, enjoy fellow hardcore gamer!!!

Mind relaying some graphics details? Also, do not install the play disc, fucks with the game!

Yeah heard earlier, i don't like not installing heard it slows everything texture popping?? On way home now anyway!!

Installation is mandatory - you need 8 GB and yes you can use an external hard drive or USB .
http://forums.xbox.com/xbox_forums/ambassadorchat/f/2424/t/1583752.aspx
Installing the game and using your disc should actually speed it up.

Installation of the installation disc yes, but the play disc is the one that messes shit up yo

There are still Blockbusters?

And I thought all the blockbusters were dead

Amazing game, can't wait to kill some terrorists!

damn, its now not available outside in the US? i was available to download Assassin Creed 2 when it was free, then I cant download anymore using my Philippines IP address? boo Xbox live!

Available to me in the UK.

I think different games hold different regional restrictions. As an example, while I was vacationing in UK, I was able to download Dead Rising 2, but not DR2: Case Zero from the website (Xbox Support confirmed the only reason had to be regional restriction). I was fortunate enough to have someone back home I could call, and I walked them through the process of getting Case Zero for me on my Xbox. Nonetheless, there are proxies you might be able to try, I've heard people have been using them to great success to get things outside of their region.

I thought it was gameloft's rainbow six coming to windows phone.

Glory days are over dude. RIP WP XBX Games

One of the best games from early in the 360 lifecycle. Bet a lot of gamers missed it.

I did, I played a couple of the older ones and wanted to check this one out but forgot about it.
I'm playing the free Assassins Creed II right now.

One of the best online shooters ever, in my opinion.

Agreed. Easily among the best shooters. This is a game for big boys. No room for heroics...just skill.

Unless you are a cod spray and pray type player.

Can't wait for madden 06 and Doritos cart racing next month...

Hope XB1 makes another R6 title

I have every game known to man kind for every console, ever. This sucks for me.

I doubt it sucks that bad having every game

Just sucks so far i have the games they are offering for free. :/

Thanks for the heads up Sam I'll be downloading this asap

This game sucks I hate Microsoft I don't want this shit game what a waste of my money ttyl

avoid this game if you care about achievements and completion ratio, you need a specific camera add on for one of the achievements.
Windows Central Newsletter
Get the best of Windows Central in in your inbox, every day!
Thank you for signing up to Windows Central. You will receive a verification email shortly.
There was a problem. Please refresh the page and try again.