E FUN to launch its first Windows 10 notebooks in Q2 2016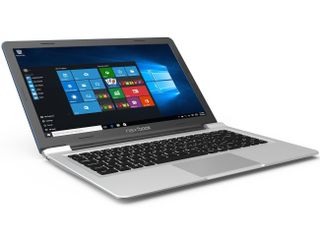 E FUN has released a number of budget-priced tablets over the past few years, but in 2016, it will enter the notebook market for the first time with two new Windows 10 models. Both the Nextbook 11.6-inch convertible laptop and the 14-inch notebook will go on sale in the second quarter of 2016.
The notebooks were announced as part of E FUN's CES 2016 plans. The Nextbook 11.6-inch laptop will have a touchscreen display that can be rotated 360 degrees with its hinge. E FUN says:
Here's what the Nextbook 14-inch notebook will be like:
The 11.6-inch laptop will be priced at $269.99 while the 14-inch notebook will cost $199.99.
We live in a world where 5" phone displays have over 1080p resolutions and on PCs with higher than 10" we have 768p displays.

We also live in a world where production for smartphone displays far exceed those of notebook. Also, it's a full fledged PC for 249 dollars.

Ofc the production is large, how many people with broken screens on PC monitors or laptos do you see, how many clumsy people with broken phones do you see ? :) The companies count on you dropping your phone, it`s good for business.

Well, what I meant was, high production drives the cost down. That is why full HD smartphones have become a commonplace, the same cannot be said for PC displays where 1366*768 is still a very common resolution.

R&D it`s what costs more, and the technology is already here, technically there shouldn`t be any problem into craming a 10" 1080p OLED into a laptop ... they already do this crap on android tablets, what`s the catch that they don`t do it on PC ? Many manufacturers use now generic panels, just to cut down on prices, but when we speak PC, there`s nothing they can do about it!

We also live in a world governed by science. Physics says the distance you hold the screen impacts the size of pixel you can see. Pretty sure you use a laptop at a different distance than a phone. Honestly, if you can tell the difference between 1080 and 768 (outside of quantity of content displayed) on a laptop, I will gladly trade eye balls with you...assuming they are brown of course...my wife digs my brown eyes :) I have a tablet with 768 and it looks the same to me as my 720 phone, 1080 desktop, and 1080 and 720 TVs. Side bar-plenty
of phones still use 720p displays.

I have brown eyes :) and i can tell the difference from my Lumia 930 to my 24" 1080p screen or my 10.1" 768p laptop. True, you can`t really tell the difference when looking a let`s say a picture, but when we talk text or other thing that require pixel finesse, you can clearly see the difference. I can`t tell the difference though between a Lumia 930 running at 1080p vs my wife`s Galaxy S3 Neo running at 720p.

You use laptops at only a slightly longer distance as you would hold a tablet. Premium 8" tablets are at QHD (1440p) already. 720/768p on an 11" laptop isn't bad, but on 13"+ it's horrendous, can tell easily especially with text. Doesn't help that with the race to the bottom most 14" and 15.6" screens are poor quality too, not just low-res. Last year when I was looking for a 15.6" laptop with a good screen for my parents' I ended up getting a refurbished Asus model on ebay because there's a darth of options for 1080p IPS unless I went $1300+ on a premium laptop that had specs my parents didn't need at all. Btw I'm perfectly happy with the 720p screen on my 5" Blu WinHD LTE, I'm not some high-res proponent, but that same res on a laptop is too low!

Wow. It's 2016 and they're advertising that it has a webcam as a major selling point. Just.... Wow

No mention of RAM or processor. These are probably aimed at the 3rd world markets.

Or the market that just wants a simple laptop that works...

Don't they mean 'netbooks'? lol I mean....that's the same price and specs that netbooks had like what....5 years ago???????

If it looks like the one in the picture, then im all in.

These Nextbooks by E FUN are decent. I've bought a couple and the build quality is great for the price. Battery life usually isn't great, but that's all I've got to complain about for the price.

Nice, another Chromebook killer...
Windows Central Newsletter
Get the best of Windows Central in in your inbox, every day!
Thank you for signing up to Windows Central. You will receive a verification email shortly.
There was a problem. Please refresh the page and try again.