E3 2015 Day Zero roundup: Pure Xbox madness
The doors to E3 2015 don't officially open until today, but the traditional pre-event media day was particularly crazy this year.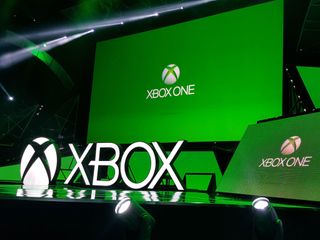 Microsoft was responsible for probably the biggest hits of the day, but with big news from the likes of Bethesda (technically the day before day zero), EA and Ubisoft as well, it was definitely one chocked full of gaming news.
Here's a quick recap of the best bits.
Microsoft's #XboxE3 briefing
Things started off with a bang. Early doors we saw not only some new Halo 5 footage including campaign mode and the new Warzone mode, but Xbox chief, Phil Spencer, gave the best present of all to many long time Xbox gamers; Backwards compatibility with Xbox 360 games. It's available to preview members right now with a big handful of Microsoft titles included in it. It'll launch to everyone later this year with around 100 games supported, with many more to follow after that.
We've since learned that this is being done through software with Microsoft building a full Xbox 360 emulator to run on the Xbox One. All game developers have to do is give their permission and Microsoft has done the rest.
The big hardware announcement was that of the Elite Controller for the Xbox One. A $150 'pro' class game controller that allows custom button mapping and a bunch of other stuff for the more serious gamers to get into. It'll of course work with Windows and Xbox One and it'll be on sale from October.
Game wise, well, where to start. We've already mentioned Halo 5: Guardians, but the Xbox event had many more surprises to talk about. Recore is a new, original IP from the creators of Metroid Prime, Rainbow Six: Siege will coming to Xbox One later this year with Vegas 1 and 2 in tow for free, and we learned that Fallout 3 will be included completely free of charge to Xbox buyers of Fallout 4. And that's without even getting to the ID@Xbox titles, Xbox Game Preview and Rare Replay, a 30-year celebration package of Rare's best, classic titles.
We also got a look at just how Minecraft is going to go down with HoloLens. Microsoft is building a custom version that allows you to manipulate your creations with your hands, play on a wall, or even have it rise out of your coffee table. But the neatest thing of all, perhaps, is how you'll be able to lean forward into your builds and just see inside buildings. More is promised for the upcoming MineCon event in London in a few weeks.
Oh, and Gears 4. How would we forget. Coming late next year we got our first look at the all-new, next-gen version of the insanely popular Gears of War franchise. It's still early, but we'd be lying if we didn't say we were pretty impressed. Not to mention the forthcoming Gears of War Ultimate Edition, a re-mastered take on the original. Beta sign ups are open now for a short time, but the finished product will be in our hot little hands this August.
So, that's a snapshot of just the Microsoft event. The best way to see every little detail is to back and re-live our liveblog or check out our dedicated E3 2015 page here
Bethesda - Fallout 4, Doom, Dishonored 2
Bethesda actually kicked off all the E3 excitement the night before Microsoft took to the stage. We had a good idea of what was coming, but that didn't make it any less impressive. First up is the Doom reboot, and to quote my wife:
That guy was of course a big scary alien thing, but yes, it's Doom, and it is violent. Just how Doom should be. The visuals look stunning, and it certainly set things off with a bang.
Dishonored 2 was also announced at the event for Xbox One, PC and PS4, as was a new Elder Scrolls card game for Windows. But let's face it, Fallout 4 was the star of this show. Not only did we get our first proper look at the game (causing some of the Windows Central writers to lose their minds completely!), we learned a little about the storyline and that there will be a ridiculously awesome special edition coming with a real, working Pip-Boy for you to wear and interact with as you play.
For more on the Bethesda announcements, check out the links below.
EA and Ubisoft
Both companies held their own events last night and both had their own, respective big announcements. EA was up first and after the earlier news that Titanfall and Dragon Age: Inquisition are headed to the EA Access vault, we got a look at some new titles coming this year and next. Mass Effect: Andromeda opened the show with a flashy trailer, and besides the name and the fact we'll get in in the 2016 Holiday season, not much else was said.
Some of the big franchises were represented with first looks at the new Need for Speed and FIFA 16 games, not to mention the announcement of Mirror's Edge Catalyst and new title, Unravel. But the star of EA's show was undoubtedly the gameplay video of Star Wars Battlefront. One of the most anticipated releases of this year, we got to see first and third-person viewpoints, combat with AT-ATs, the ice world of Hoth and X-Wing/Tie Fighter dog fights.
Then there was that battle between Luke and Vader. Star Wars fans (myself included) look like they're in for a treat.
5 minutes of Star Wars Battlefront gameplay rounds off EA's E3
EA details Mirror's Edge Catalyst, coming to Xbox One and PC in February 2016
EA reveals Unravel, a charming platformer with physics based puzzles
Explore a new galaxy in Mass Effect Andromeda, coming in 2016 for Xbox One and PC
EA promises the 'definitive' Need for Speed experience at E3
Ubisoft opened its show by acknowledging the issues so many have seen throughout the past few months with Assassin's Creed Unity. One would imagine the team there has learned some valuable lessons. Speaking of, we got a closer look at the London based Assassin's Creed Syndicate, as well as a new announcement from the South Park creators of their latest game, The Fractured But Whole. Out with the wizards and elves, in with the superheroes.
Perhaps the most exciting announcement was the all new title, For Honor. A multiplayer melee combat game, Ubisoft claims it's actually representing a whole new genre. Find out more about Ubisoft's announcements at the links below.
Assassin's Creed Syndicate detailed in fresh 4 minute gameplay trailer
The new Xbox One dashboard
This came towards the end of the day during the Xbox Daily show. You can catch it every day during E3 on your Xbox console or right here on the site, and the first edition had a treat in store. The Xbox One dashboard and UI is being overhauled later this year when the console gets its own version of Windows 10, and Major Nelson was on hand to show it to us for the first time.
Tiles are gone, sideways scrolling is replaced with vertical, the iconography is very much Windows 10, comparing very well with the current Xbox app for desktop PCs that's in preview. Oh, and Cortana. You'll need a Kinect for the voice activation aspect, but everyone's favorite digital assistant is coming to the Xbox One as well.
Phew! Such a lot of awesome news and we're not officially inside the show yet. Keep it locked to Windows Central throughout the week for all of the E3 coverage you need to know about. To keep up with absolutely everything be sure to follow us on Twitter and bookmark our dedicated E3 page at the link below.
Windows Central Newsletter
Get the best of Windows Central in in your inbox, every day!
Managing Editor - Tech, Reviews
Richard Devine is a Managing Editor at Windows Central with over a decade of experience. A former Project Manager and long-term tech addict, he joined Mobile Nations in 2011 and has been found on Android Central and iMore as well as Windows Central. Currently, you'll find him steering the site's coverage of all manner of PC hardware and reviews. Find him on Mastodon at mstdn.social/@richdevine
Just when I thought everything was fantastic, the new dashboard makes me want to vomit. Its barely different to sony's dreadful PS4 UI. Its just plain ugly, and seems like its going to require a lot of work to navigate if you have a large game library. Seriously, how is it any different to a vertical version of sony's effort except that it shows even fewer titles?

Microsoft is tying everything together with windows 10 so the Xbox is getting a windows 10 makeover.

Totally doesn't need one, nor is it a good fit if what we've been shown is close to final.

Once again, they don't know their head from their ass. XBOX is the best selling HW they have ever offered. AND THEIR DASHBOARD IS COPIED BY EVERYONE.... Oh here is a novel idea. Let's change it into a hamburger menu with vertical scrolling. Morons... And what about the feedback programs??? We all of a sudden throw that approach out of Windows in attempts to fix something that is not broken. I don't care what living room ecosystem you look at, they all look like xbox dashboard rip offs. WHY???? BECAUSE IT WORKS. LARGE TILES LOOK AMAZING ON LARGE HI-RES DISPLAYS!!! The only place a tile actually belongs and you are going to remove it.......... I'll say it again, they don't know their head from their ass.

It reminds me of how the 360 used to be a long time ago.

Yeah, the new UI is atrocious and doesn't look conducive to navigating via Kinect. I really dislike what Microsoft is doing with Windows 10. Windows 8 worked perfectly on tablets, phones, and Xbox. Only desktop PC was it iffy. Instead of tweaking just the desktop PC, they've went overboard again and are now ruining tablets, phones, and Xbox. Sigh.

Vomit? Aren't you a little melodramatic? Maybe you should really try the ps4 UI, and the actual Xbox UI isn't so far better. Both are not even near to be practical. Instead I'm waiting for this new UI that is made with the users feedback. Maybe you should go to Xbox user voice and explain there your complains.

Use Cortana, Hey Cortana play whatever you want. Simple

Nearly the same variety of complaints has been said for each iteration of the X360 and X1 dashboards. Change is not something that is ushered in without complaint, we are creatures of habit. Until we have our hands on the new UI and get a feeling for how it actually works, all that is being said is little more than gut reaction to change and speculation. This is no different than moving from Blades to the NXE on the X360. While I am used to the current X1 dashboard, I have not found it to be the most effective way of navigating around the system. It has been cumbersome and painful at times, this being the case, I am open to a change. It may not be better, but it may be - few outside the development team and those close to them will really know until it launches. Until then, I will keep my opinion and expectations clear, in favor of working from more than simple screenshots.

"Oh, and Cortana. You'll need to live in US, a Kinect for the voice activation aspect, but everyone's favorite digital assistant is coming to the Xbox One as well."
there, fixed for ya

Except you won't have to live in the U.S. Maybe you will at first, but I know I'll be getting it where I am.

You must be living in UK then... Or may be it will come later to Canada/Germany/France/China.. The 6 countries where Cortana is coming on Win10

Don't forget mine, Italy, so I deal with it. At the end Cortana will arrive everywhere, so I don't see what is the problem.

"At the end"? like I said, Microsoft still has not expanded some Xbox One funcionalities to new countries in more than a year, like the Xbox On command, it's like they forgot about the rest of the world. I'm not holding my breath for workaround-free Cortana in my PC, Phone and Xbox. it's for sure not coming this year, MS confirmed it.

I'm still waiting for the "Xbox On" voice command to work here in my country. And Cortana for Windows 10 PCs and Phones was confirmed to be absent at least for this year. Of course, I could lie to my systems, screw my payment options and some regional services to have Cortana, since I can speak English like a lot of people outside US. Or Microsoft could be like Google and all other companies (like Nintendo, the super conservative gaming one) that let you use the language you want in your country. My Google Now is bilingual, no settings change needed.

Makes me want to get an X1. Oh wait, isn't father's day coming up soon? I think I know what I want :)

You're late, fathers' day was yesterday

Wrong, September 6th (in Australia :P)

It would have been great if Xbox 360 games could run on the One directly from the DVD instead of downloading them.

True, but eh blu-ray ey :) I'm fine with downloading tho.

It would only take like 3 minutes to download a Xbox 360 have so no big deal really

But how do you download it if you had a disc for the 360?

Download just means transfer from one source to another. In this case you will be 'downloading' from your 360 game disk to the Xbox One's internal hard drive or an external USB3 drive. It might even be worthwhile to hook up a 3Tb external drive if you have a really big 360 game collection and use it just for 360 games. Any games you bought as digital downloads will show up in your gamne library, any games you have disks for will be copied to the console but you'll need to insert the disk as ownership verification.

Where Sony was rushing and imo kinda disrespectful to the creator of Shenmue by letting a well respected man to do a begging move to get funded like that. Microsoft killed it by dropping BC early and games for THIS YEAR. Microsoft clearly 'won' E3 again. As well showing the nice and smooth looking new Xbox UI with Cortana. Sony's show was a disasters with presentation, even worse than last years besides some debut games. With that, ill be dumping my ps4 for a new 1TB Xbox one. Going all green from now on.

Let's not forget how much fun Plants vs Zombies Garden Warfare 2 looks! I am especially looking forward to jumping into a titan with the imp zombie.

Highwayyyyy to the DANGER ZONE

The xbox show was Amazing, the games exiting and the new UI is really awesome. Can a brand invert the bad reputation about a product launched badly after 2 long years in just one hour and half?Xbox yesterday demonstrated that is possible. Good job Spencer.

If only MS understood this...

I saw the Fallout 4 Keynote and they announced that the pip boy will work on iOS and Android and then saw the fallout keynote in xbox and was expecting some news for Windows 10 Mobile and Nope nothing. This is very Upsetting.
Windows Central Newsletter
Thank you for signing up to Windows Central. You will receive a verification email shortly.
There was a problem. Please refresh the page and try again.