E3 2015: DOOM revealed in full, alongside vast map creation tools for consoles and PC
Bethesda has more than lived up to the hype with its first ever E3 conference, starting with the long-awaited DOOM reboot.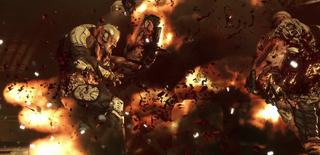 At one point, id Software's latest DOOM instalment was described as being firmly in development hell. Bethesda has since rebooted the project, and thanks to E3 2015 we got our first glimpse at DOOM's impressive gameplay.
The latest DOOM drops the methodical survival horror of DOOM 3, bringing the series back to its violently frenetic roots. DOOM appears to sport the maze-like level structures of the original, adding verticality with the ability to double jump and vault across platforms. Rapid weapon switching, violent and varied melee finishers and utterly insane gore typified the DOOM demos shown at Bethesda's conference.
id Software Executive Producer Marty Stratton described DOOM thusly:
After showing off DOOM's campaign mode, Marty proceeded to discuss DOOM's multiplayer mode, which he described as being fast-paced arena style combat across various locations. Domination, Clan Arena and Freeze Tag have all made the cut as game modes. The most surprising aspect of the brief multiplayer demo was the power-up to morph into one of DOOM's iconic Revenants, allowing you to leap around the map spraying rockets at will. Marty said they would be discussing DOOM multiplayer in more detail in the future, and I expect that those of us who hold beta access via the Wolfenstein pre-order deal will get an early hands-on.
DOOM will also pick up level creation tools with "uncompromising depth" called DOOM SnapMap. These tools will allow players to create detailed maps, and even new game modes across Xbox One, PS4 and PC without a shred of prior programming knowledge. The demo showed off the ability to create location-based triggers for creating custom events, custom enemy AI and whole new game modes using these tools on console. Content created via DOOM SnapMap can be shared instantly online, and activated for play with a single button press.
DOOM certainly appears to have emerged from development hell kicking and screaming.
DOOM launches for PS4, Xbox One and PC in Spring 2016.
Windows Central Newsletter
Get the best of Windows Central in in your inbox, every day!
Jez Corden a Managing Editor at Windows Central, focusing primarily on all things Xbox and gaming. Jez is known for breaking exclusive news and analysis as relates to the Microsoft ecosystem while being powered by caffeine. Follow on Twitter @JezCorden and listen to his Xbox Two podcast, all about, you guessed it, Xbox!
I'm so far beyond ready for this. I love that it's in the spring, away from the hubbub of the holiday big-hitters.

This new Doom I'd off the CHAIN!

Amazing. It's believe its by Mick Gordon who does the music for Wolfenstein and Killer Instinct.

I heard he was making the music too, that's why I asked. I should've known already that it would be amazing. Looking forward to playing.

Looks really good. Had a really cool futuristic vibe while maintaining the gore we expect.

I'm loving the idea of a map editor on the consoles, means we should get a constant supply of new maps.

The business case of paying for DLC for more weapons or characters, and making more maps free is a good balance for creator and consumer.

They said going forward that snapmap feature will be in all future Bethesda titles can't wait for this feature to be in fallout 4 (hoping) or the next elder scrolls game.

I'm hoping those were the console and the PC graphics

Waiting for serious sam 4, loved serious sam 3 bfe& jewel of the nile!

I'd all but given up on that beta access sign-up

Really looking forward to this

In before the "Can it run Doom" comments.

Woah! Its looks so super thrilling!

Can my 486 dx2 66 mhz 8 mb ram run this game even on ultra slim graphic's! - seriously wanting a doom play, doom3 was nice but lacked doom!

This seemed to be 'Doom 3' with mods. I'd actually like to play a new DOOM 2 style game but, I suppose, I'm not sure how that would look. :/

No matter how many sequels are released and how much graphically advanced they are, they can never beat the original DOOM and DOOM II: Hell on Earth.

The original did make its mark didn't it? I remember using a POTS line to connect with my buddy and go after monsters. I didn't care for Doom when it changed that you could now shoot your buddies.

YOu saw that too?! I wanted to see it go off, dangit!

Haha yeah, it was so awesome seeing it powering up at the end and they left us waiting :P

Wow. Doom ain't BS'n this time. If this makes it to a VR headset, it will be atrociously phenomenal..

Screw that i want hololens style. Turn my home into a monster enclave and let me clear out rooms. I got a long hall that would be good for spawn challenges. Then link it up and let you play outside, shooting crap around you in AR. MMMMMhmmmmmm

Nahh, too many meth heads for a game like that.

But honestly spring 2016? That's some way off...

No way they'd launch it too close to Fallout 4

Same wait for the next Game of Thrones episode... faaaaaaaaaark

Im still playing the original 20 years on with new content, this will keep me going forever. Could not have asked for anything better in the console version I thought new wads would have been a pc only thing.
Windows Central Newsletter
Thank you for signing up to Windows Central. You will receive a verification email shortly.
There was a problem. Please refresh the page and try again.