Six Electronic Arts games for Windows Phone games on sale this week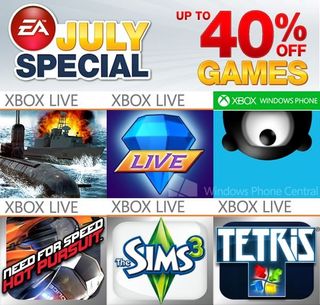 We didn't get a new Xbox Windows Phone game today, a fact that doesn't hurt if you think about fluffy bunnies hard enough. Still, one thing that eases the pain of a release drought like this is a nice sale. At least, Microsoft and Electronic Arts sure think so. Six games from EA and its subsidiaries Chillingo and PopCap are on sale from now until Tuesday, July 9th – that's the good news.
The less good news, some might say, is that every single one of these games was just discounted back during the EA publisher sale in March. In fact, that sale consisted of nine games and this one only boasts six. No discounted Mirror's Edge, Monopoly, or Plants vs. Zombies discounts this time! Many consider Electronic Art's early Windows Phone games to be boldly overpriced as well. These sale prices are essentially what the aging games should cost anyway.
Read on for the full sale list and descriptions!
Battleship (Windows Phone 7 or 8)
Regular price: $2.99 Sale price: $1.99 Download size: 14 MB Store Link
Battleship is an adaptation of the popular board game from Milton Bradley. In the Classic game type, two sides take turns blindly firing at each other, trying to find and destroy the other's ships. Yawn! Salvo mode works much like classic, but moves faster than traditional games because you're allowed to fire as many shots per turn as you have remaining ships. So much better. The new Superweapon mode adds a variety of weapons to the gameplay, mixing up the traditional dynamics.
This was actually the first Xbox Windows Phone game to support online multiplayer. However, said multiplayer is super buggy and the whole game is super slow and takes forever to load. Check out our review for the scoop.
Regular price: $4.99 Sale price: $2.99 Download size: 46 MB Store Link
Bejeweled is the classic match-3 puzzle game that has enchanted casual gamers across a variety of platforms. If you're hungry for a simple puzzle game to play whenever a spare moment pops up, Bejeweled is a good place to look. As our review indicates, the Windows Phone version has three ways to play: Classic, Race the Clock, and Endless. It's also got some tough and grindy Achievements despite being a casual title, but that's PopCap games for you.
If you're a Nokia user, I would strongly suggest you skip this one and buy Bejeweled Live+ instead. It's $3 all the time and a much better game to boot. See our Live+ review if you need convincing.
Contre Jour (Windows Phone 7 or 8)
Regular price: $2.99 Sale price: $1.99 Download size: 33 MB Store Link
Contre Jour is one of the loveliest Windows Phone games thanks to its effective use of light and silhouette, not to mention the haunting musical score. The goal is to get the tentacled protagonist Petit to each level's exit while collecting all the lights along the way. Instead of directly controlling Petit, players manipulate the environment by stretching the ground and activating various gadgets.
Technically this is a physics puzzler, but the bold art direction and unique gameplay puts it in a separate league from other genre entries. The difficulty is pretty steep though. It's still coming to Windows 8 at some point, in case you'd rather play on a larger screen.
Regular price: $4.99 Sale price: $2.99 Download size: 113 MB Store Link
If you're stuck on Windows Phone 7, that means you can't play Asphalt 7, the best arcade racing game around. Well, my first recommendations in that case are the first Need for Speed (Undercover) and Asphalt 5. And if you're a Nokia user who digs simulation-style racing games, Real Racing 2 is also a must-buy.
But say you've beaten EVERY other car racing game on Windows Phone 7 and you still feel the need for speed. Then I GUESS Hot Pursuit would be an acceptable choice. It features the slick presentation you'd expect from EA's console games, with shiny visuals and a handful of licensed music tracks. It allows players to take on separate campaigns as either an illegal street racer or the cops who pursue them.
What went wrong then? The difficulty! You'll have to grind forever and a day just to earn enough money to be competitive; and many events leave no room for error. The loading times stink too, making the repetitive grinding that much worse. See our review for more details.
The Sims 3 (Windows Phone 7 or 8)
Regular price: $6.99 Sale price: $3.99 Download size: 112 MB Store Link
The Sims 3 is another one of those games that's been on sale so many times you wonder why they don't just drop the price and be done with it. Especially now that the sequel is out. But hey, at least it's a dollar less than the March sale.
As you'd expect, Sims 3 is the mobile version of the hit life-simulation game. Players create and customize a Sim and then try to complete various goals with him or her, such as getting a promotion at work and kissing another Sim. It makes for a great game, on PC and consoles at least. But the Windows Phone version doesn't quite match up.
As our review points out, the character customization is extremely limited. Load times are lengthy and frequent and menu navigation is clumsy. On the plus side, EA did update the game for Mango and fix many of its bugs at the beginning of the year. But still, Nokia users might as well get the newer and better The Sims 3 Medieval instead.
Tetris (Windows Phone 7 or 8)
Regular price: $2.99 Sale price: $1.99 Download size: 10 MB Store Link
The Windows Phone version of Tetris was actually quite slick back when it launched in 2010. It's got great visuals and a good remix of the classic Tetris theme 'Korobeiniki.' There are numerous gameplay variants such as Gravity and Radical that add a bit of variety to the game we've all played a million times before.
Some have complained about the touch screen controls (swipe left and right to steer, tap to rotate, and swipe down to drop pieces), but I find them to be natural and effective enough. Many of us older players are basically done with Tetris, having played it to death on GameBoy and DS (the best version) ages ago. But hey, maybe you still need a falling block puzzle game in your life.
Get to shopping!
How do you guys think the EA July Special compares to the Xbox 360's Ultimate Game Sale? And will you be picking up any of EA's offerings during the sale?
Get the Windows Central Newsletter
All the latest news, reviews, and guides for Windows and Xbox diehards.
Paul Acevedo is the Games Editor at Windows Central. A lifelong gamer, he has written about videogames for over 15 years and reviewed over 350 games for our site. Follow him on Twitter @PaulRAcevedo. Don't hate. Appreciate!