EA: New Windows ecosystem is essential for mobile gaming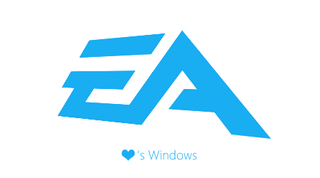 EA Games sees a strong partner in Microsoft
Electronic Arts (or EA - the devil of gaming, as its better known within the gaming industry) is currently in talks with Microsoft to bring mobile games to the next version of Windows (on all platforms). EA sees Windows as central to its handset strategy (so we'll be including Windows Phone too) and have previously worked with both Microsoft and Nokia in getting titles released on the mobile platform.
Peter Moore, COO at EA, had the following to comment on the relationship with Microsoft:
EA is hoping that with the Windows Store, as well as smartphones and tablets running the Windows operating system, the company can further reduce its reliance on boxed retail products. Microsoft has an increased focus on gaming on Windows with its Xbox LIVE service covering not only the popular Xbox console, but both Windows Phone and the not-so-distant Windows 8. This combination will provide distributors and publishers access to a huge, connected install base.
Currently, Nokia and EA have unique partnership which has so far brought Mirrors Edge to the Lumia line of smartphones. There are another 20+ planned EA titles coming to Windows Phone in the future, a lof of which are not timed-Nokia exclusives. (When we spoke with Nokia recently, they told us they are releasing those games as they "come online" for Marketplace approval.)
This is good news for gaming enthusiasts, who can look forward to stronger releases on all Windows products, not to mention regular deals and offers. It's bad news for retailers, however. European video games retailer Game has been fighting a difficult war with the recession and less business flowing in the front doors. The likes of Valve and other means of digital distribution has had its toll on face-to-face purchasing.
Windows 8 will be an interesting release for PC video games. Microsoft will of course introduce further integration with Xbox LIVE on the desktop, but Valve has continuously been against the upcoming operating system. Should publishers and studios look at Microsoft directly, would we be missing much with a lack of Steam? Microsoft would have a digital store in place (and a good one at that), which could be accompanied by regular deals and title offers - much like what we currently have on Windows Phone with the Xbox LIVE Deal of the Week.
Microsoft needs to get not only the release of Windows 8, Windows Phone Apollo and Surface tablets perfect, it has to ensure that its services and cross-platform features are rich and integrated to offer consumers a complete experience. With EA on-board, Microsoft can look to add the big names to a list and push gaming through its software stores. As for Windows Phone, adding new engines, offering more tools and expansion for developers will provide consumers with enhanced titles that are worthy of the larger screens and can put to use the more advanced hardware.
What do you think the future of gaming looks like with Windows 8? Do you believe Microsoft needs Valve on-board? Let us know your thoughts in the comments.
Source: Businessweek
Rich Edmonds is Senior Editor of PC hardware at Windows Central, covering everything related to PC components and NAS. He's been involved in technology for more than a decade and knows a thing or two about the magic inside a PC chassis. You can follow him over on Twitter at @RichEdmonds.
DICE and FROSTBITE 2 BATTLEFIELD 3 :-D

Hell yeah!!!!! +10000000000000000

EA (like Samsung) are smart. They are taking advantage of a new ecosystem instead of lamenting it (like Valve & Sprint)

agreed. It is good for them to be involved so actively in the beginning before other major developers. This gives ea an advantage

Don't forget that the income will be larger too. They'll be making games within the metro ecosystem on both wp8 and windows 8. Two incomes at the price of one.

Is there an Xbox live deal of the week this week? I must have missed it.

youve missed a bunch of times as it on going

Any plans on them bringing Scrabble to WP7? I saw the long list of titles that are in the works, but that's not one of them. It would be nice to actually have a popular Scrabble game that's cross-platform.

Try Words by Post. It is windows/android/apple compatible

Wordfeud is great as well. It does lack leaderboards and rankings, but it has gotten a lot of support thanks to supporting several languages. Think Zynga games including Words With Friends were around the corner, but I guess the thing with execs cashing out and the recent EA lawsuit on top of that could slow things down.

Agreed. That's the one app from the other platforms that I care about. Words by Post, Words with Friends, Words with Enemies, and everything else is useless. It's not the same rules and none of my friends and family are playing it.

Same here! Words with Friends would be better since I have more people playing that, but yeah, its not the official dictionary and rules as the real Scrabble.

I hope this has the possibility to stop the trend of everyone launching their own half-assed services and trying to become the new Valve. Not sure what the ideal future is, but buying services independent from the games seems like something that has some appeal, so that if I buy a game on Xbox for Windows I'd still be able to pay Gabe a few bucks to enjoy the Steam features as well.

me I hope they have a ea games phone even, and they make lots of cash, then all the rest will come with there tails wagging.

"Understand their views on gaming navigation" ??? It is the company building Xbox into the basic OS. What is to understand.

EA is big business. Everything they do needs to be presented in a way that implies to shareholders that it is both strategically decided and full of refreshingly exciting possibilities.

I would argue that it's not fair to call EA the "devil" of the industry anymore. Sure they have some sins from the past, but the past several years has seem them out out better quality games and even giving a leg up to publish games from lesser known developers. I'd say Activison is the guiltier party with their anti-consumer policies and jackasses like Bobby Kotick making snide comments about the gamers that keep them in business.

Not to mention the way they treated Infinity Ward!! and I am not talking just West and Zampella but the other 38 employees. Activision is the devil for sure and even though EA is not much better at least it seems they are trying to get better. Still pissed about the online pass thing!

I'm looking forward to a unified purchasing and updating system that is baked into the OS. Steam can move to Linux.

I love steam right now and use it often but I think it would be great to have XBOX Live on the console, WP8 and Windows 8. Right now I have Borderlands on both steam and XBL. What I hope for the future is that when I buy Borderlands 2 for XBL that I can play it on the console or if I am on the go I can play it via XBL on Windows 8 on my Surface tab. That way I dont have to buy it twice. It would be great to have the same thing with games like Limbo, Braid, or Bastion on WP8. With it all being the same kernel this should be what happens.

Another thing some of you may not be aware of is that EA COO Peter Moore, the guy mentioned in this article, used to be a Microsoft Executive who was in charge of Xbox. So it's to be expected he would want to work with Microsoft.

EA are a major player, but I'm wary that this might have a negative influence.
They are bullies. They don't care for the customer only their pockets. Not only that, but if Microsoft are seen to embrace them a little too much and give them preferential treatment, it may scare off other studios.

It may well have the opposite effect and the deal between Microsoft and EA will spark interest from other studios, etc. Instead of looking at Steam, which is basically an add-on for both OS X and Windows, they can unleash Xbox LIVE functionality into their games. While I use Steam and enjoy the service (the deals are fantastic), I'd rather use Microsoft's backend systems.

There already is Xbox LIVE functionality in PC games in the form of Games For Windows LIVE. Unfortunately many publishers are dropping this in favor of Steam's own Steamworks. And as you mentioned Steam have fantastic sales, which Microsoft never really could/would compete with.

I agree that steam right now is the way to go but right now to play a game on both the console and on a PC or laptop you have to purchase the game twice. It would be great to only have to buy the game once on XBL an play it on the console, Windows 8 and maybe even WP8. I think this is what MS is moving to with teh Windows 8 ecosystem.

Yeah so Steam works perfectly on Windows 8. Stop bitching, Valve, and start developing some WinRT alternative while people make the switch. I'm certain Microsoft is keen on making your business succeed, provided you remove your head from within your ass.

I'm thinking it's the Metro/Windows 8 style apps that are concerned, since they are distributed exclusively through MS Store. Valve could probably offer a Sream app for free and then use in-app sales, but they would be subject to a lot more agreements than with the regular desktop client.

The more games (and other titles) the better. Bring it on. I'll certainly be looking at buying more as they come online.

Hope they bring FIFA and battlefield to wp7

Got a buddy who works for EA Mobile he lead guy on iOS games. He said the WP team is tiny and rarely do much. Hope it's different since last time we talked.

I hope they bring classic C&C and Dune to the new Windows 8 and WP platforms. I love the classics!!
Windows Central Newsletter
Thank you for signing up to Windows Central. You will receive a verification email shortly.
There was a problem. Please refresh the page and try again.