EA teases full reveal of new Plants Vs Zombies game during Xbox E3 2015 media event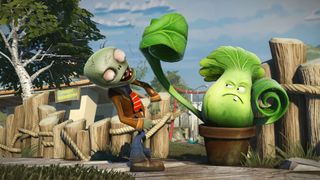 Electronic Arts has already revealed plans to publish a new game in its Plants and Zombies franchise in early 2016. The publisher is now teasing that the full reveal of the game will happen on Monday, June 15 as part of Microsoft's Xbox E3 2015 media briefing in Los Angeles.
Included in the teaser, which was posted on YouTube, is the audio of a fierce in-game battle between what we would assume to be plants and zombies. Unfortunately there is no actual gameplay footage at this time. The tag line for the teaser is simply, "Get Ready To Soil Your Plants."
EA released the third-person multiplayer shooter Plants Vs Zombies: Garden Warfare in early 2014 first on the Xbox One and Xbox 360 consoles, before launching the game on other platforms later that year. The game is now available to play in as part of the EA Access subscription service for the Xbox One. Based on the fact that the reveal of the new game will happen as part of Microsoft's E3 press event, rather than EA's own E3 2015 press conference, it's likely that the game will also be released first for Xbox consoles.
Source: Plants vs Zombies (YouTube)
When is pvz 2 coming to windows?? Have been waiting for 2 yrs now but no news!

Prey it never appears! I LOVED the first game and then purchased an ipad 4 just to play the new one... Free 2 play rubbish, a complete grind of a game, with pretty much all the skill removed to ensure that you eventually spend some cash or re-play levels again and again. SimCity Buildit is another F2P game that, albeit fun, is slowly getting annoying due to EA's efforts making you spend cash.

I played it on my laptop using bluestacks, completed many levels without paying anything! Some plants from first part are paid but the levels can be completed without them! Pvz 2 is much better than 1st part, awesome graphics, new powerups nd plants! I hope it comes soon! Even if its freemium , it should b available!

I agree. Super disappointing after hearing hype for weeks before, expecting the quality of the first one.

Woo hoo! Played more of the original then I care to amit, and Garden Warfare is still my favorite Xbox One game.

The original was god clean fun. No gore, but a good giggle.

What is with all of these pre-E3 announcements of announcements? It is really taking the fun and surprise out of E3. I don't understand why companies are doing this.

I know, right? I chuckled at their teaser headline, but I'd much rather see "Get ready to soil your plants" as a quick tagline before the reveal trailer. I mean, E3 is so close. I'm glad there aren't too many details, quite a bit more is being teased from other companies :/

Would be sweet if this one has some sort of campaign.

Pvz is the best game to pass the time on the Xbox. It's fast, simple and fun. For me, it's the best game currently.

I want it to have offline campaign and 2 player local and online co-op. Also as an added bonus on the co-op mode, one can play and the other can be on smartglass controlling crazy daves rv and dr. zomboss' ship.

Pretty cool, I just hope it doesn't go into freemium land. It was so bad with PvZ2 I stopped playing both.
Windows Central Newsletter
Thank you for signing up to Windows Central. You will receive a verification email shortly.
There was a problem. Please refresh the page and try again.