Plants vs. Zombies: Garden Warfare joins the EA Access vault on Xbox One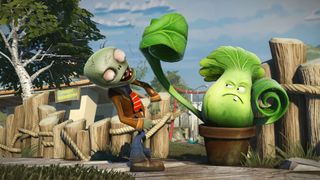 Need another reason to join EA Access on Xbox One? You can add Plants vs. Zombies: Garden Warfare as that new reason for joining. Starting right now, Plants vs. Zombies: Garden Warfare is available in the EA Access vault on Xbox One.
Plants vs. Zombies: Garden Warfare is a third-person shooter and tower defense game. It launched earlier this year for Xbox One and Xbox 360, but is now available for free inside the vault that is EA Access. Reviews from critics have generally been positive for Garden Warfare.
In August, Microsoft and EA announced that a subscription-based service would be offered on the Xbox One called EA Access. For just $4.99 per month you get access to a growing catalog of older EA games on the Xbox One. You also get discounts when purchasing EA games, like FIFA or Madden titles, and can play select games before their official release.
Other games already available in the EA Access vault include Battlefield 4, Madden NFL 25, FIFA 14, Peggle 2 and Need for Speed Rivals.
Anyone with EA Access going to grab Plants vs. Zombies: Garden Warfare?
Source: EA
Windows Central Newsletter
Get the best of Windows Central in in your inbox, every day!
Nope what? Use your words.

Your question was, so anyone going to get this game. He is not. I however am going to get this game. I love EA Access, its such a no-brainer. This coming from a guy who said I wasn't going to give EA another penny of mine.

Gotcha. We just don't like one word comments. We're trying to put in a filter in to prevent them.

Garden Warfare is the best new game franchise released this year. Better than Destiny, Watch Dogs, and even Titanfall.

Sure are right I really enjoyed playing pvz garden warfare..I even told my buddies to get it when they thought it was too kiddish..

It's ridiculous that so many people reject great games because they think they're "kiddish" :/ Wind Waker per chance?

It's good but it's not the "best new game franchise released this year". That honor goes to Project Spark.

Do you guys know if it's out for PS4?

Who cares? I'll take it on the Xbox One at no extra charge (I already have an EA Access subscription) than on the PS4. I'd go as far as to say that EA Access is a killer app for the Xbox One over the PS4.

The game is out on ps4 but its not free. Sony was offered ea access but turned it down. They said it doesn't offer a good enough deal for its customers. All I get on ps4 is overpriced 7 day ps3 rentals lol

Yup.. Going to download it right now.. I pay for the vault.. I'll at least try all of them. :)

I just ended my subscription... Thank god I had 3 hours with NHL, otherwise I may have brought it from just the demo

I didn't think paying monthy was a good deal.. I got all the games for the cost of one game with paying for the year... If I find myself not playing the games I won't buy it next year... But if I am... The value is too good to pass

That's how I feels bruh. I would've never played Need for Speed if it wasn't for EA Access and I freaking Love that game. Been playing it three days straight. Now, I downloads all those games and if me no like, me delete.

Ditto. Never would have thought I'd like Peggle 2, played it because it was part of EA Access which I wanted for other reasons, and now I'm a regular Peggle 2 player and even bought the first two DLC packs (at 10% off). I hope other publishers do something similar!

Dang, I bought it already. Thank goodness I got it on sale.

I love it. But I wish they came sooner, the titles do take a while.

I might have to get the vault now.

Of course! For $30 a year EA Access is an insanely great deal.

Yeah, I don't pay monthly either

Me too. Lots of bang for your buck, I say.

That's all great but when is EA offering something like that on Windows Phone? I'd pay $30/year to play their games on this platform. Contingent on them launching their new games including Plants vs Zombies 2.

Dammm. I bought this game 3 months ago on a sale. I won't buy any EA game anymore. I don't care to play later. Every game will join the vault someday. :)

Nice, was waiting for that.

AWESOME! Been wanting to play this game. Since it launched, EA has contributed one game per month, besides the launch month. Hope they keep it up.

Yes... Just hold out for EA games now... £2 a month is amazing value

This service was 100% worth the annual sub

I'm not seeing it in the vault and going into the Xbox store it just offers me the 10% EA Access discount. (UK member - perhaps this is only available in certain regions?)

That shouldn't be the case. I have the same problem (from Finland) but it's likely just some temporary bug. At least I've only managed to get the 10% discount through Smartglass and website, havnt tried what it says on console yet. But EA Access Twitter says that it should just normally be available, if you can't get it to show up, you might want to contact them or something.

I can at least now see it properly in the Xbox One store. But it also offers you a chance to buy a copy of the game for discount, but you just dont press that and press the Install-button instead.

Just launch the ea access app and click it that way.

EA Access is pretty much the greatest deal ever.

If I were deciding between consoles, EA Access would be a strong selling point for the One.

Just checked the vault before reading this, and I couldn't find it in the vault... Hope it'll be there when I get home from work tomorrow!

Not for me :( It's not showing as a vault game :(

In the vault but only the $5 saving, thought it might be included in the vault for free, will wait, done waiting as it is free now, downloading

Its not showing up free for me..

Yay, very glad I signed up :-)

I've played Garden Warfare quite a bit on Xbox360. Can this be port over to XboxOne?

Your progress can't be carried over, unfortunately.

Still waiting for Plants vs Zombies 2 for Windows Phone.

Yes!!!! Xbox One it's definitely the best place to game on!!!

Yay! I've been wanting to play this game but never got around to buying it. I have EA Access though.

This is great now ill play it

Great game. Highly recommended.

Pvz2 on windowsphone please

EA is putting these games in the Vault quite quickly. PvZ GW is only 7.5 months old. EA Access is already a superb deal, but just think where it will be 2 years from now! I wonder how long it will take for Sony to come crawling back to them telling them they made a mistake and begging them to re-offer having EA Access on PS4.

gonna pick this up...EA access is turning out to be very good investment for the $30:)
Windows Central Newsletter
Thank you for signing up to Windows Central. You will receive a verification email shortly.
There was a problem. Please refresh the page and try again.