Easy Taxi launches for Brazil and other markets. Lets you hail a cab with Windows Phone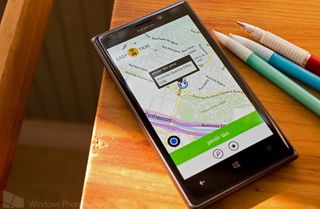 We're a few years from having the 2016 Summer Olympics in Rio de Janeiro, Brazil. But if you find yourself in Brazil before then you'll definitely want to grab Easy Taxi for Windows Phone. You've probably heard of Uber here in the United States and elsewhere. Think of Easy Taxi as the same, a service that lets you use your smartphone to hail cabs. Details after the break.
Easy Taxi joins apps and services like Uber, Hailo, and Flywheel. These are companies that connect smartphone users with rides in cities around the globe. Windows Phone had an Uber app earlier this year, before the company pulled it due to poor user reviews (that's when you get when you do a crappy iPhone port).
In Brazil, Easy Taxi is in position to be the number one cab-hailing platform. This summer, they raised $15 million in funding. While centered in Brazil, Easy Taxi now has a network of over 30,000 drivers in 30 cities around the globe in nine countries in both Latin America and Asia. You've got Brazil, Mexico, Colombia, Peru, Venezuela, Argentina, Chile, South Korea, and Malaysia. The company has plans to expand to New York City, Manilla, Hong Kong, Bangkok, Fortaleza, and Cuiabá.
With the app, you can request a taxi and pay by credit card. Here's a video of the service in action below.
Find yourself in a market with Easy Taxi? You'll want to download the free app. It's available for both Windows Phone 7.x and 8. Grab it in the Windows Phone Store, use the QR code below, or swipe to the right in our app.
Thanks for the tip Diogo P!
As a drunken cockroach, I found that video offensive Also, I want this app in the US.

as a brazilian it is good to see developers around here designing and developing great apps! The app works great!! Loved it!
I really need to get down and develop an app of my own =(
Keep up the good work guys!

As a non-US citizen, I found this article offensive xD
There will be the Fifa World Cup 2014 way before the Summer Olympics :)

Brazil is making a strong push. I wish we had that same momentum here in the U.S.

It's good to see, isn't it. But what I want to know, is; why all of a sudden and why right now? What happened over the last few months in Brazil?

Maybe because WP is the second place here in Brazil.

Wish I lived in a world where WP owned top market share world wide

How have the olympics lasted this long? Honestly? The world has changed so much but we still have this national and racial pissing contest that have no bearing on anything.

Money drives pretty much everything. Also, Usain Bolt is cheetah fast, and Michael Phelps is dolphin fast, and the people enjoy this.

It doesn't work for Peru, they should not say that in works in Lima

Bummer, hopefully it'll be added soon.

Not available in Colombia either. Not yet at least. I guess it is a matter of days, since the list shows the supported places. The released app is Portuguese only anyway.

We defiantly could use more taxi apps even android doesn't have too many good taxi apps so it would be just be more awesome and would help windows phone with more reliable apps and a lot of them too!

In the meantime, taxi magic in the US continues to ignore windows phone users. Same thing with Uber.

You are right. Would love to see Taxi Magic and Uber on Windows Phone. These companies need to realize that the only entity who loses money by not having Windows Phone app is them. I switched to Windows Phone but I still use taxis when I travel! I just call the local cab company getting number from a Bing search bypassing Taxi Magic and Uber. Their loss, not mine.

It's great to see WP growing here in Brazil.

Brazil Brazil Brazil!!! :)
Hey Sam, next year we will have The 2014 FIFA World Cup.

I would love if Uber finally released an app in the U.S.

I had this app in an Android before I switched, and I had to ask a friend to call me a taxi once because of the absence of a WP app. No more.

All I can say about here in Brasil is that it's all thanks to Nokia. HTC stopped its business here before the WP, and Nokia's name in phone market never faded like some places arround the world. Symbian and S40 are still in the wild, but the cheaper Lumias are spreading under the name of Nokia smartphones.

But still, Nokia has not yet given the proper atention to the market, there are only black and white Lumias, with the sole exception of the yellow 920, my smartphone of choice. And no accessories in stores here. Just the black wireless charger and that's it.

In my opinion, to drop the Nokia brand in the Lumia line is a huge mistake, expecially here in Brasil. People buy Nokia phones, that happen to have the Windows Phone OS. Myself included, even though I like it.

My God. Remove that apostrophe from the title immediately if not sooner.

agreed. That headline is grammatically suspect in both sentences.

Finally... been waiting for this for months...
We still need Waze (i know its in beta) and a decent Banco do Brasil (Bank of Brazil) app. Almost ditching my GS4 for my Lumia 920.

According to BB, they are developing a new one. The current one is not even usable - gives connection error all the time.

"Perdir taxi"
Developers, please fix that.
Also, allow us to save the login credentials so we don't need to type every single time.
Thanks!

Agreed... The correct word in portuguese (Brazil) is PEDIR.

http://www.windowsphone.com/s?appid=106c0422-a57f-4eff-be21-4225ae3af912 MyTeksi has been there and is the first one that features WP taxi booking in real time

I am still waiting for the https://taxibeat.com/ service to launch their app for wp. When I tweeted them to see if they are planning a release they said they had plans.. But that was a long time ago.

Can't download from the store.
Windows Central Newsletter
Get the best of Windows Central in in your inbox, every day!
Thank you for signing up to Windows Central. You will receive a verification email shortly.
There was a problem. Please refresh the page and try again.