A look at Microsoft's mysterious 'Eden Falls' game for Windows 8 phones, PCs, tablets, and Xbox
Ever heard of "Eden Falls?" Microsoft trademarked the name back in 2014 for Xbox, but nobody really knew what it was for. Today, we have some answers.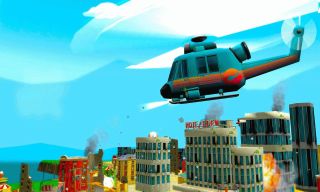 It appears Microsoft might have used the trademark for a couple of projects. Brimstone Games was originally tipped as the developer of a game called "Eden Falls," building a single player RPG rated for adults, apparently, for Android and iOS tablets. Microsoft later purchased the domain "EdenFallsGame.com," and it looked as though the project was gaining steam.
Later on, the trademark "Eden Falls" became associated with a rumored project from Lift London, which seems to now be responsible for developing experiences for HoloLens.
Well, we got our hands on the game, and we took a look at this canceled project for Xbox One and Windows 8 devices.
First look at Eden Falls
Eden Falls would have been a city-builder crossed with an action RPG, which was referred to internally as the two-minute multiplayer online battle arena ( MOBA). We saw both the Windows 8 and Windows Phone 8 versions, but interestingly, the trailer claims the game was slated for consoles, too.
Set in a zombie apocalypse, players would've been able to control Jack, Maria, and Doc, in a battle to rebuild Eden Falls and survive the undead onslaught. Players would've been able to defeat and employ zombies to help build their cities, while also invading other players' towns in online battles. Each of the game's main characters had different strengths, weaknesses, and gameplay styles, to suit different roles.
Eden Falls looks dated by today's standards, but it was in development for Windows 8 devices, such as the lovely Lumia 920 and the not-so-lovely Surface RT, around 2012 or 2013.
The Eden Falls store listing describes the game as follows:
Welcome to Eden Falls, home of the Working Dead!
Things have been a little screwy since the zombie infection, but at Eden Falls, we're working hard to rebuild civilization. And YOU can help.
Meet the citizens of Eden Falls and discover the truth behind the zombie outbreak.
Rise up from the ruins and build a town to be proud of!
Tame and train an army of the undead, including farmers, construction workers, soldiers, and specialists.
Shoot and loot your way through neighboring towns to gather supplies and climb the leaderboards.
Tackle daredevil missions and explore new areas in wild zombie territory.
Rescue survivors to grow your town's population.
Face down the zombie horde and a sinister human foe!
As noted in the trailer, it would've also had an Xbox version, presumably with improved visuals, designed to exemplify the cross-platform nature of the "OneCore" platform. (Halo Spartan Assault remains the only game that runs across phone, tablets, PCs, and Xbox, with Minecraft slated to join it later this summer.)
Eden Falls bears some curious visual similarities to Disney's Gravity Falls, and it seems as though Eden Falls was slated to pick up an accompanying comic book series and even TV show to go along with the game.
Eden Falls was apparently a fairly large project that was close to completion. It has some achievements set up on Xbox Live and received a Pan European Game Information (PEGI) rating of 12, at least according to its store page. PEGI's website offers no such listing.
Unanswered questions
Eden Falls looks dated, but it harkens back to a time when Microsoft cared about getting Windows phones into consumers' hands, leveraging games to do the trick. It sounds as though Eden Falls had a pretty ambitious feature set, mimicking similar city-builder titles, like Microsoft's Age of Empires: Castle Siege (opens in new tab).
Even after our look at the game, mysteries remain. What does "Eden Falls'" have to do with Brimstone Games' separate adult-rated RPG, for example? Why was Lift London's version killed off, despite being close to completion? We may never fully know the answers, but I for one think Eden Falls looked pretty cool, particularly for a Windows phone game with Xbox integration. We might finally have Minecraft, but I doubt we'll be seeing much more from Microsoft Studios on the mobile side moving forward.
Jez Corden is the Managing Editor for Windows Central, focusing primarily on all things Xbox and gaming. Jez is known for breaking exclusive news and analysis as relates to the Microsoft ecosystem while being powered by caffeine. Follow on Twitter @JezCorden and listen to his Xbox Two podcast, all about, you guessed it, Xbox!
Meant to say mobile devices :)

Thiere is video by Lift's studio director that gives the full story. Also brimstone had nothing to do with eden falls. They just owned the rights to the name and MS bought it from them. Search Youtube for "Building Shatner: The Eden Falls Story" I can DM you if you want to know more. I used to work in the studio next to Lift :o

What is all this claptrap?

This would've been cool. What's up with cool things getting canceled?

Seems like a waiste of time and money if the game was almost complete, they could of done a soft release just to see if it did anything....(no ads, just a release in the marketplace = soft release)

I remember when WP games were actually a thing. Those were the days.

Do the GO series games not run on xbox? What about Spartan strike?
Leo's Fortune?
Tiny Troopers? I though there were quite a few games that ran on all the platforms. It's odd because there are numerous UWP games, but appears they have seperate versions for xbox? The are plenty of games that are on all the platforms, but doesn't appear to be the same "app"?

And what about Skulls of the Shogun? It was on WP8, Windows 8/RT, and Xbox 360.

Apparently anything that's awesome, eventually gets cancelled by Microsoft. Wondering if they have allergies to them. 🤔

I wonder if Spencer has anything to do with these. All these cancellations started when he was in charge.

Looks like fun. I would have purchased and played that game

Fable Legends, now that was a sad loss.

microsoft sucks keeps killing off games. that look fun!
Windows Central Newsletter
Thank you for signing up to Windows Central. You will receive a verification email shortly.
There was a problem. Please refresh the page and try again.