EdgeTile Creators review: Making custom tiles to spice up your Start Menu
You don't have to settle for default Start Menu icons, thanks to EdgeTile Creators.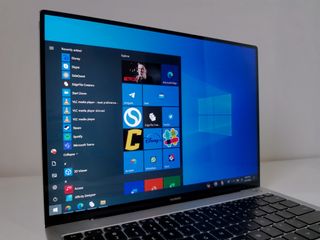 (Image credit: Sean En)
Because Windows 10 supports so many different types of applications, you can end up with a variety of Start Menu icon styles on your PC. UWP apps appear one way, Win32 programs appear another way, and progressive web apps (PWAs) have their own style. This results in an inconsistent Start Menu with icons of various sizes and styles. EdgeTile Creators aims to fix that by allowing you to create custom tiles for just about anything. It works with files, folders, websites, and apps. It can even work with progressive web apps, but that takes more work than it should.
In addition to unifying the style of your Start Menu tiles, EdgeTile Creators is a helpful tool to swap out logos you don't like. For example, I prefer the old Slack logo over the new one, so I created a custom tile with the old Slack logo that opens up Slack.
(opens in new tab)
$6 (opens in new tab)Bottom line: EdgeTile Creators allows you to make custom Start Menu tiles for files, folders, programs, and websites. It works with progressive web apps, though it takes a bit of work.
For
Allows you to create custom tiles.
Works with programs, files, and folders.
No splash screen after clicking created tiles.
Against
Creating tiles for progressive web apps is complicated
What you'll love about EdgeTile Creators
I think it's a good thing that Microsoft is playing around with concepts for a refreshed Start Menu. In my opinion, the entire thing requires a refresh. Icons from different types of apps show up with different sizes and styles. It's far from elegant, and the concept shown off recently looks much better than what we have now. EdgeTile Creators can't change everything about your Start Menu, but it can change the icons within it.
Pinning files, folders, and websites to your Start Menu is easier than pinning other content such as programs or PWAs. You can click to create a tile, pick the images you'd like, and then pick the path for the tile. You can also customize aspects of each tile, including if it should show text and the background color you'd like.
When you click the tiles from the Start Menu, you don't see a splash screen. I didn't break out a stopwatch, but they didn't seem to launch any slower than tiles created by Windows.
It takes a bit of time, but with EdgeTile Creators, you can create tiles for all of your favorite content and customize the icon of the apps and programs you regularly use.
What you'll dislike about EdgeTile Creators
While EdgeTile Creators can create custom tiles for programs, apps, and progressive web apps, it takes a lot of effort to make some of them work. To launch an executable file, you need to pick its path, and in some cases, you need to add several arguments to make it work.
I was frustrated by the setup process to make a progressive web app that's installed through Edge work with a custom tile. While you can just create a tile that opens up a website, that website opens within your default browser. I have several PWAs and other websites installed through Edge, including Disney+, Slack, AirTable, and WhatsApp. Creating a custom tile for each of these involved a complex process of finding the shortcut for the app, copying it's target into EdgeTile Creators, and cutting specific parts of the target data into different arguments.
The app needs a cleaner way to add programs and progressive web apps. People shouldn't have to dig through specific code within target data to make a custom tile. For example, please look at the text below that's needed to make a custom tile for Disney+:
"C:\Program Files (x86)\Microsoft\Edge\Application\msedge_proxy.exe" --profile-directory=Default --app-id=mbjafbmjpcimpkkihihoideiofnoalmh
I doubt many people would know how to break that up to make it work with EdgeTile Creators. The answer is that you need to.
Take the first part in quotes, in this case, "C:\Program Files (x86)\Microsoft\Edge\Application\msedge_proxy.exe" and place it within Path. (Note, you have to remove the quotes)
Take the last part of the line, including the two dashes into Launch Argument 1. In this case, it's "--app-id=mbjafbmjpcimpkkihihoideiofnoalmh"
Take the middle part, including the two dashes, and place it inside Launch Argument 2. In this case, it's "--profile-directory=Default"
I got in touch with the developer who walked me through the process, and I'll write up a detailed how-to soon, but that shouldn't be necessary. I understand fixing it might be difficult, but I think the experience could be improved.
Should you buy EdgeTile Creators?
It's tough to say if EdgeTile Creators is worth it right now. On the one hand, it allows you to customize all of your Start Menu icons, whether they lead to folders, files, apps, or websites. On the other hand, it takes some awkward steps to make some of those work.
I initially reviewed EdgeTile Creators a few years ago, and at the time, gave it a 4/5. But PWAs have come around and grown in popularity since then, so being able to pin them to the Start Menu in a way you like has become more critical.
If you're tech-savvy enough to follow the steps to create the custom tiles you need, then EdgeTile Creators is worth $6, in my opinion. You probably interact with the Start Menu quite a bit throughout the day, so making it look nice could be worth a bit of money and effort. If you want to make a bunch of tiles for PWAs and don't want to deal with the steps above, I wouldn't grab EdgeTile Creators. Maybe an update could streamline the process and make it more worth it for casual users.
Get started
(opens in new tab)
A handy tool for customizing the Start Menu

$6 at Microsoft Store (opens in new tab)EdgeTile Creators allows you to make custom Start Menu tiles for files, folders, programs, and websites. It works with progressive web apps, though it takes a bit of work.
News Writer and apps editor
Sean Endicott brings nearly a decade of experience covering Microsoft and Windows news to Windows Central. He joined our team in 2017 as an app reviewer and now heads up our day-to-day news coverage. If you have a news tip or an app to review, hit him up at sean.endicott@futurenet.com (opens in new tab).
I use TileIconifier which is not only free (although 6 usd is almost free) but very simple to use.

I use EdgeTile Creators. It's a great program. The author had been responsive and offering updates until a year or two ago. Two caveats: 1) If Microsoft changes Start again, your work creating Tiles will be wasted, so back up your art and any custom shortcuts. 2) At a certain point -- 500+ custom Tiles? -- EdgeTile Creators will err backing up your work. (You'll get a file of only a few kb, rather than GB.) Back up your Tiles into two separate groups. https://uploads.disquscdn.com/images/b84440f30592b0ed733d1db104de1387813...
Windows Central Newsletter
Thank you for signing up to Windows Central. You will receive a verification email shortly.
There was a problem. Please refresh the page and try again.