EdgeTile Creators for Windows lets you create Start pins for (almost) anything
Tiles are a favorite part of Windows 10 for many users. EdgeTile Creators lets you spice up your Start Menu and jump to the things you want quicker.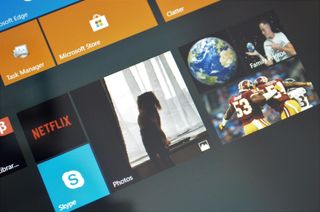 Customizing the layout of Live tiles is an enjoyed pastime of many Windows users. Finding the perfect layout for your apps and shortcuts within the Start Menu can be satisfying. EdgeTile Creators lets you create custom tiles for files, folders, and executables, and it doesn't have some of the common drawbacks of similar apps.
The app is available for Windows 10 for $3.99.
See in Microsoft Store (opens in new tab)
Customizable Tiles
EdgeTile Creators has an easy to use interface. You just click the plus icon to start the process of creating a tile and then select what you want it to look like and what you want it to open. You're able to create custom tiles for any file, folder, or URL. You can also launch .exe files. Because Windows 10 has the option to have specific websites open apps, you can use EdgeTile Creators to create custom tiles for certain apps. For example, creating a custom tile for our website can launch the Windows Central app (opens in new tab).
When you create a tile, you can select different images for the four tile sizes, or you can use the same image across all of them, though this will stretch the image on the wide tile rather than crop it. You can also select the tile color, text, and text color. When you use the right photos and options, the tiles you create fit right in with the rest of your Start screen or menu.
Tiles feel native
There are other apps that allow you to create custom tiles, but they often have a splash screen appear whenever you click a tile. These usually go away very quickly but they still make it take longer to get to websites or files. Additionally, the splash screens are a reminder that you are using a third-party app to create tiles. EdgeTile Creators overcomes this common pitfall by creating tiles that quickly jump to where you want them to without any loading screen.
In our testing, the loading times to open a website or file seem the same as if you went to them directly. This allows you to set up the app and leave it running, which is the ideal situation for an app like this.
While the speed of tiles launching feels native, unfortunately the tiles you create are not Live tiles, meaning they don't show new info in real-time. Whether this is a major factor to you depends on how you use the Start menu. Some people like tiles because they look unique and are resizable but don't care about Live tiles. For others, they're a must-have.
Final thoughts on EdgeTile Creators
EdgeTile Creators is a great app to try out if you want to customize your Start screen or menu. The custom tiles it creates work very quickly and allow you to jump to files, folder, and more without a splash screen or added loading time.
There are features that would be great to see, such as Live tiles for websites and programs, but to some users that isn't a major factor. Overall, it's a solid app that creates a more personalized Windows 10 experience. And it's worth $4.
Pros:
Many tile customization options.
No splash screen after clicking tiles.
Cons:
Created tiles aren't live.
See in Microsoft Store (opens in new tab)
Windows Central Newsletter
Get the best of Windows Central in in your inbox, every day!
News Writer and apps editor
Sean Endicott brings nearly a decade of experience covering Microsoft and Windows news to Windows Central. He joined our team in 2017 as an app reviewer and now heads up our day-to-day news coverage. If you have a news tip or an app to review, hit him up at sean.endicott@futurenet.com (opens in new tab).
I recommend the 'Pin More' app. It lets u create live tiles with custom text, own images up to 5, looking for app and web pages and favorites data for notifications and their official emblems, steam live tiles for all your steam games and also showing steam achievements on live tiles between your own pictures (if u want), folders and some other stuff. Worth to check out if u are looking for some good tile making. :)

I also use this app for steam games and love it.

Hello Windows Central! I'm Francesco Bonacci, the developer of EdgeTile Creators.
I really hope you'll enjoy this new tile experience on Windows 10. It's been developed by you thanks to all the feedbacks received with the old version of EdgeTile.
Please keep in mind that this is a UWP Desktop Bridge app and hence it will support only the Desktop Family (x86, x64 and next Win10 on ARM). To know more about the project and upcoming features follow me on Twitter:
https://twitter.com/francedot
https://twitter.com/EdgeTileCreator Finally, here are 10 codes to redeeem the full version of EdgeTile Creators: C4MW6-DKTM2-67GMV-2Y34F-T26MZ
77VR9-9P2MC-CYFWV-X32QD-M9YDZ
99DMV-6G29R-4TVD9-MCGMF-MY77Z
MFR3C-79PQV-HY6PT-HY9X9-KCV6Z
XHFJD-392GK-W96Y4-M2V9H-4YY3Z
9WJJ4-CQ72T-W4KWJ-XJCCR-G6M7Z
2J76R-32R27-HTF2Q-3FPY9-P37HZ
QMJYK-W7WTC-CVRY4-QJRHJ-C47HZ
7CKQK-266G6-634P4-V27TP-KX73Z
M239F-Y7779-GWGQ2-F4WC9-HVCRZ

Thanks... Will evaluate the Software now.... Anywhere I could donate to you if i like it???? ;) - Fellow Dev

Hello OsmiusH! Still have to open a donation page. So far it would be enough to spread word about the app ;)

Thank you!! First time I'm on time to grab one :D

All redeemed already. Thanks anyway!

Do you have a spare code? i tried them all, none of them worked. will appreciate if you can send one to kishorethatikonda@outlook.com Thanks in advance!!

I have a problem with your app I bought it and It opens for a second and crashes/closes What is going on?

Are the next features, to complete the full spectrum of tile customizability being considered for development? 1. Tile transparency with app icon style in all tile sizes, that spans a single background image, similar to what is possible in windows 10 mobile? 2. The option to pin multiple album tiles from the photos app, in all tile sizes? 3. Can we also pin files that do not fall within the .docx, .pptx,.xlx or .pdf files? Can we for example pin a jpeg file or even a .mpeg file? If so can we actually see the screenshot or image file of that picture or movie file on the tile? And is it possible to activate a despite that shows file metadata, to our choosing, on the flipped side? 4. Will we be able to input and control live tile information in the future? 5. Will we be able to save and backup the start layout and design, for example when we need to reinstall windows on the same device for troubleshooting or maintenance reasons or transfer our settings to a new device? Would be nice otherwise there would be a laborious task of manually redoing every tile design. Oh my! 6. Will it be possible to replace native uwp and office uwp app tiles for EdgeTiles? One thing I've been trying is to get the office and onenote colors similar to the system color. Unfortunately those app tiles are hardcoded for color and design. thanks.

Hi Wevenhuis. Sorry for the late reply.
Here are the answers to your questions:
1. As of now there is no official Windows 10 API to control pinned Tile transparency or opacity, that is it will always be blurred by your system accent. There are tons of feedback about this feature on the Feedback Hub. Consider voting it and the Windows team might decide to enable it in a future release.
2. I don't think there is way to achieve that from my app, aside if the target app doesn't expose a protocol to deal with.
3. Yes, you can pin whichever type of files you want. They will be launched with the program associated by default (you can always change default programs in Windows 10 Settings)
4. I will begin working on live tile support starting from next year.
5. EdgeTile Creators supports import and export of eed files, which are basically backup of your saved tiles. However, there is no way to save Windows 10 Start Menu layout as well as grouping information. It would be nice though.. Again consider voting such feature on the Feedback Hub.
6. Yes, it is possible with current update 1.2.0. Search the web for "Automate Launching Windows 10 UWP Apps" and follow the guidelines provided in the "Command line" section (cannot write the link in the comment). The AUMID is an app specific identifier and there are several ways of finding it, e.g. through powershell scripts.

I have a problem with your app I bought it and It opens for a second and crashes/closes What is going on?

I could not make it open pcsx2 games.

Hi Leandro! Email me with more details to edgetile@outlook.com. I want EdgeTile Creators to be compatible with as many programs as possible.

Tiles are big and can clutter a screen up. Try my program called SideBar for Windows. It may not be "pretty" (Im no designer) but its darned effective! http://sidebar.azurewebsites.net

Well, here I'm leveraging the native Windows 10 Tiles experience. Tiles are pinned in the Start Menu and not shown inside an application.

This will most likely, if not definitely, replace Pin More for me. Before the Fall UpdateI I used to be able to either drag the PopUp Window almost entirely offscreen with only a little corner being visible once it kicks in or off the main Screen ( onto the 4th screen usually not in sight ) but after the Fall Update you can't do that anymore which so it's back to being an eyesore. I also like the fact that this one can link to Folders that actually open in Explorer - Last time I checked that with Pin More it would open some weird Metro App, yuck.

All I want is for Microsoft to fix the Tiles created by pinning webpages in Windows 10 Mobile to work like they did in Windows Phont 8.1. Now they are just blue squares. They used to include either the webpage's logo or a screenshot of the page if the logo is not available. I do not want to have to add another app to my phone to get this functionality back.
Windows Central Newsletter
Thank you for signing up to Windows Central. You will receive a verification email shortly.
There was a problem. Please refresh the page and try again.