EE announces new 4G speeds and services in the UK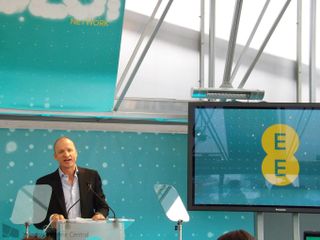 EE has today launched new plans on the UK's only 4G network. From tomorrow consumers will be able enjoy double the speed than what was previous available, with between 24-30Mbps on offer to those who reside in supporting towns and cities. Sporting Windows Phone 8 hardware, this news is of particular importance to subscribers who enjoy speedy connectivity while on the move. As well as the new plans, EE had numerous service announcements to make.
If you're wanting to get your family set up with plans and whatnot, EE will launch new shared plans this month, which will enable on "Lead Sharer" to add four people to the contract for £5 per month. Each of these shared profiles will be able to benefit from unlimited calls and SMS, as well as the same data bundle the lead account has configured. Pretty neat if you're looking to get more than one phone connected and are looking for a solid deal.
Our colleagues over at CrackBerry were present at the EE press event in London. Press release follows.
EE LAUNCHES NEXT GENERATION SERVICES ON WORLD'S FASTEST NETWORK
EE joins world's network elite with the switch-on of double speed 4G in twelve major UK cities – providing it free for all xisting 4GEE customers
Exciting new Shared 4GEE Plans to launch on 17th July, providing outstanding value to both consumers and business customers by letting them share their text, voice and data allowances
EE reveals UK's first Pay As You Go 4G Mobile Broadband Plans, and moves into mobile contactless payments with 'Cash on Tap' in partnership with MasterCard
EE set to become the UK's first broadband provider to offer plug and play Fibre broadband and superfast Wi-Fi speeds with the EE Bright Box 2
LONDON, 3rd July 2013 – EE, the UK's most advanced digital communications company, today unveiled its next-generation network and a range of new plans and services designed to make it even easier for customers to enjoy EE's superfast 4G and Fibre broadband.
Following an accelerated roll out, EE will officially switch on double-speed 4G in twelve UK cities on the 4th July. This innovation will see EE's network reach a theoretical maximum top speed of 150Mbps, and will double the current average speeds to 24-30Mbps, giving the UK a 4G network that's unequalled in Europe, faster than mobile networks in the US and Japan, and equal to the best in South Korea.
Double speed 4G from EE will provide an even better experience for customers when enjoying HD videos, sharing high resolution pictures, sending large files, multi-tasking, and tethering multiple devices. EE will be making double speed 4G available to all existing 4GEE customers, while they remain on their current 4GEE plan.
Olaf Swantee, CEO of EE, said: "Last year we launched the first superfast 4G and Fibre broadband network in the UK. Now we're staying one step ahead with the launch of double speed 4G and a range of new innovative plans and services – designed to transform the way our customers connect and share content.
"Our new double speed 4G technology means that we have the biggest, fastest and best network in the UK, and now the equal fastest in the world. With our superfast network, we have a unique opportunity to introduce a new era of customer-friendly pricing models based on speed, and we'll be revealing further details of this later this year."
Innovative New EE Services
To meet the growing needs of customers and allow them to realise the potential of 4G and Fibre broadband, EE will launch a pioneering range of new services on 17th July, making it as simple and as easy as possible for people to access EE's superfast network:
The UK's first Shared 4GEE Plans, allowing customers to connect up to five separate devices to one 4GEE plan. Customers will receive one bill for all of their devices on their Shared plan, providing greater convenience and value.
The UK's first range of Pay As You Go 4GEE Mobile Broadband Plans for customers who want the convenience of superfast speeds on tablets or laptops without a monthly contract.
Cash on Tap, in partnership with MasterCard – a quick, secure and convenient way for customers to make payments via their mobile.
EE will also be launching theBright Box 2 wireless router for Fibre broadband customers later this summer. The Bright Box 2 is designed to offer a stronger Wi-Fi signal and less drop-off in speed when a customer moves around, as well as plug and play set up.
4GEE Summer Promotion
On 17th July EE will be launching a summer promotion offering double speed 4G and greater data allowances for consumers.
Customers who sign up to a 24 month 4GEE phone plan before 30th September 2013 will receive both double speed 4G and data allowances which are double, triple or even quadruple the size of the standard plans1 for the duration of their contract. Existing customers can take advantage of the bigger data allowances offered during the promotion by upgrading their plan to the next price point.
The promotional offer is available on a range of plans, starting from £26 per month for 500MB, up to 20GB for £51 per month, all with unlimited UK calls and texts. Separate plans for small business customers are also available.
Further information on the new EE services:
Shared 4GEE Plans
EE Shared 4GEE Plans allow customers to connect up to five devices to the one 4GEE plan – whether it's with friends and family, or for their own tablets and laptops. Customers can add an existing 3G2 or 4G phone to their 4GEE phone plan from just £12 per month on SIM Only (from £22 per month for a new 4G phone), allowing them to receive unlimited minutes and texts on both phones, as well as access to the shared data.
Alternatively customers can add an existing 4G tablet from £5 per month on SIM Only (£26 per month for a new 4G tablet) or an existing 3G2 or Wi-Fi enabled tablet (via a mobile Wi-Fi device) for £11 per month. An example saving for a typical family of four would be £38 a month – over £450 a year3.
Devices added to a Shared 4GEE Plan will also receive great EE benefits, including 2-4-1 cinema tickets with EE Film, Clone Phone Lite4, inclusive content add-ons (music, games or TV5) and Fast Track Service into Customer Services.
Shared 4GEE Plans for corporate, medium and small businesses will also be available.
Pay As You Go 4GEE Mobile Broadband Plans
With EE's range of Pay As You Go (PAYG) 4GEE Mobile Broadband Plans, customers can choose from a variety of great value data allowances, starting from £15 for a data SIM which comes preloaded with 2GB of mobile data for 30 days, or with the same allowance an Alcatel L800 dongle for £50 or Alcatel Y800 Mobile Wi-Fi for £70. Customers can also top up their data on any PAYG plan from just £3 for 500MB, up to a maximum of £30 for 10GB.
When a customer's data allowance runs out, they will be directed to an EE page in their web browser so that they can top up their data through buying a data add-on – preventing any unexpected run-on costs. A range of data add-ons are available so customers can choose how much data they need or how much they want to spend, meaning they are always in control.
Cash on Tap in partnership with MasterCard
EE is also launching its first branded mobile contactless service. Cash on Tap, in partnership with MasterCard, is a quick, secure and convenient way to make payments via compatible 4GEE mobile devices and the downloadable app.
The service will be accepted at over 230,000 outlets nationwide, including McDonald's, Boots, and Greggs.
EE is giving £10 credit to all eligible customers who use the service. They will receive £5 when they first activate the Cash on Tap app and then another £5 when they add any money from any UK credit or debit card for the first time. The service will be available on the following 4GEE handsets purchased from direct EE retail channels: Samsung Galaxy S4, Sony Xperia SP and Samsung Galaxy S3 LTE, with more devices to be added in the coming months.
Bright Box 2 – Plug and play Fibre, another UK first
EE will launch the next iteration of its award winning Bright Box wireless router later this summer. Designed to complement its superfast Fibre network, the Bright Box 2 features the latest advanced wireless 'AC Wi-Fi' technology, offering an even greater wireless range and less drop-off in speed when a customer moves away from the device. 'AC Wi-Fi' technology features in many of the latest smartphones and tablets, including the Samsung Galaxy S4, so customers can be assured of the best connection to the superfast network at home as well as when they are out and about.
EE will also be the first broadband provider in the UK to offer plug and play Fibre broadband, as the Bright Box 2 is designed to work without the requirement for an engineer house visit, allowing customers to get online as quickly as possible.
Windows Central Newsletter
Get the best of Windows Central in your inbox, every day!
Rich Edmonds was formerly a Senior Editor of PC hardware at Windows Central, covering everything related to PC components and NAS. He's been involved in technology for more than a decade and knows a thing or two about the magic inside a PC chassis. You can follow him on Twitter at @RichEdmonds.
I reguarly see 17Mbps+ on my Lumia 620 on Three. It only supports HSDPA2+ afaik, not DC, I didn't realise EE were throttling 4G so much, when they launched, they claimed upto 40Mbps... Still, even 1000000Mbps isn't much use on EE, with their pathetic, expensive data limits. Three "All You Can Eat" ftw, I ate 91GB last month, ditched my home broadband and phone line last month in fact!!

Sweden buddy! Home of tech;-)

I guess the Crackberry guys don't have much else to do anymore ;-) I still find 3G pretty fast and don't really see much point in paying a premium for 4G.

Same as Blackberry then? :-P

How about speeding up the roll out of 4G to more parts of the UK! Although I must say when I am in a 4G area i am impressed with speeds (15 to 25mbps).

I have 14 / 2 on t mobile 3g in midlands

Where I have 45-60mbps North Wales coast on 4G

northants - 14mbs down 2 mbs up in fact the network tester has better stats on cell than i have on the sky wifi router like lag and upload.

Is the coverage any better than it was? It was piss poor at launch even in the centres of the supported cities, from what I recall.

I'm on 4GEE. Speed is already about 30 in Cardiff. I cant believe how fast it is. Better than my wired broadband.
iPhone/Droid dudes at office were amazed at instant youtube, etc. Lumia 920
I'll tell you how fast it is tomorrow.

The speed may be great but 500mb to 1 gig download limit is useless at hi speed and a bigger download limit is just to much more to justify!

They really need to bring the cash on tap app out for WP8. EE are terrible on releasing apps for the Lumia. Only network to get the phone when it launched, and they finally brought out the movie app a few weeks ago (long after the free films every month promo ended!). If your going to get exclusive phones on your network at least support them with apps.

The only app EE have produced is the one that will earn them money :-). Agree with you though, they keep advertising apps (Glastonbury app) and when I go see if the app is available for my 920 no such luck. Poor support for WP8. They've also only just got an 'EE Recommends' section in the store.

was wondering about that section myself 2 weeks ago - EE is a joke anyways.

Actually 4g from EE has been around since last year or so -)
Here is a link:
http://www.bbc.co.uk/news/technology-19543042
But Double speed 4g hmm that is an enticing prospect but their prices are ridiculously extortinate given they currently have the monoply untill O2 and Vodaphone Launch 4g.
Edit: To those on O2 in the uk if you haven't signed up for close beta for the O2 App:
http://forums.wpcentral.com/developers-beta-testing/231747-my-o2-live-tiles-windows-phone-beta-experiment-lab-o2.html

I once had a speed of 65megs in Shoreditch,london

If you've not used 4G yet than you won't know the difference. It really is a step up when your trying to watch youtube etc. Finally EE has put UK with other front runners in 4G. Reception on EE still needs improving so they should not forget the importance. 90% of users getting 20mbps is better than 20% getting 50mbps.

Cant really see what difference 4G would make to me on a phone... IM seeing between 10 and 20Mbps on Three (3G), and watching youtube etc just fine! In fact its replaced my home broadband now. The only reason you'd need the speeds that 4G can (theoretically) offer, is to tether... But you wont do much of that on EE with their pathetic data limits and extortionate pricing!! Three is the only network now suited to tethering and in addition, the only network with consistently ultra high speeds, they have no 2G area's (bar the odd place they fall back onto EE funnily enough lol), and they were wise enough to upgrade most of their network to HSDPA2+DC whilst the other networks were faffing around get hard ons over 4G and still struggling to implement basic 3G network-wide. If 4G is a massive difference to you, that will be because your used to the piss poor speeds of 2G and basic 3G on EE's non-4G network, not to mention the fact they don't have the backbone capacity for the 30m users they have...

Someone like you, would of said something similar when Apple brought a smartphone to the market and when operators brought 3G to the smartphone you praise so highly. If we followed your logic, we may as well walk everywhere; why do we need faster modes of transport?! Innovation and advancement lead to further advances. App developers will have bandwidth limitations lessened as will content providers. Don't think about it's use for now but potential it brings.

But you're talking about youtube videos "today", not in the future. I was watching flash video on phones long before the iphone came along. The iphone didn't do anything new, future proof etc, in fact it was well behind the times with regards technology... What it did do however, was make the technology it contained accessible to the general public through a simple and intuitive interface and os. I still fail to see how a 20% 4G network is much better in the real world than a 90% HSDPA2+DC network and how it suddenly makes a huge difference to the way we use phones. The big problem at the end of the day is data transfer limitations, which prevent anyone from using 4G as it should be, until Three launch 4G later this year (theyre already installing the hardware, don't think EE will be the only 4G provider for much longer). The biggest benefit IMHO of the 4G licenses, isn't the speed of service, as Three are already offering that on 3G, its the ability to use the 800Mhz spectrum which will mean more reliable coverage and better building penetration. But as all networks will be able to offer this, again, its not something that EE will have an advantage with. I stand by my point, Id rather have 20Mbps 3G with truely unlimited data, pushing 100GB a month than 7294629262826Mbps with a 500MB or 1GB data limit, at twice the price...

I wouldn't beleive anything EE say, they published a press release about extra town and cities getting 4G, one of which was supposed to be Colchester by June and nothing has happened. I've had loads of problems with my account. You can read more on my blog here Peter Gore

been with them for 3 months and find them to be a terrible network with unhelpful support staff , got to wait 3 more months to get my 920 unlocked then im off and as others have stated their plans are a big rip off so patiently waiting for the other players to start their 4g serviced then hopefully prices will come down.