EE announces new Film Club to replace Orange Wednesdays
EE today unveiled Film Club to offer new and existing customers to rent a single title from WuakiTV for just £1 each week. This new service replaces Orange Wednesdays, which closed last month.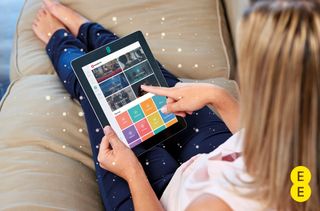 The UK mobile operator has essentially taken Orange Wednesdays, scrapped the deal with UK cinemas, and has gone digital. Taking advantage of the company's expansive 4G LTE network, EE customers will be able to rent a film every week for just £1, which can be streamed on supported hardware, including laptops, smartphones, consoles, smart TVs and – of course – EE TV.
EE's Pippa Dunn, chief marketing officer at the mobile operator, added the following to today's announcement:
We actually approve of EE's move in a number of ways. It's clear that more and more consumers enjoy content online and the Film Club is just another way to get more consumers on-board. That said, you simply can't beat a trip to the local cinema every now and then – especially if you happen to reside near an IMAX. Partnering up with WuakiTV, a rather unfamiliar name in the UK, EE will offer a promotional code that can be used on the streaming service.
New releases (not currently showing in cinemas), HD films, blockbusters, as well as classic hits, are all included in the EE offer. All you need to decide on is which title you'll gain access to each week, and cough up the £1 charge of course. Much like Orange Wednesdays, all that's required is a quick text containing 'film' to 141 to receive a promotional code. The code can be redeemed Monday to Wednesday on the WuakiTV website.
Source: EE (opens in new tab)
Windows Central Newsletter
Get the best of Windows Central in in your inbox, every day!
Rich Edmonds was formerly a Senior Editor of PC hardware at Windows Central, covering everything related to PC components and NAS. He's been involved in technology for more than a decade and knows a thing or two about the magic inside a PC chassis. You can follow him on Twitter at @RichEdmonds.
Start a service like this in India.... Someone?

Another way to say wen in India?

They just try to be bloody annoying in every way

There's so much free content being given away in India. BookMyShow ties up with several banks in the country for free movie tickets, which is akin to what EE offered with Orange Wednesdays.

What did he said that annoyed u....?? He was asking can someone start services in india like EE is offering ....

May be! But it is much needed dont you think?

Give Indians some slack. Not all of them ask that somewhat annoying question in about every article. :)

Yep. Even i am an Indian.

Wuaki tv is absolute garbage! It's the Netflix playlist without the Netflix Originals...

The Wuaki.TV select subscription is rubbish I agree...But the pay to rent/buy options are just as good as Blinkbox or Xbox Video. Wuaki tv is available on a lot of platforms, I've used it on Windows, Xbox, iPad and Chromecast, steaming has been smooth every time. They also give the option of being able to choose whether to stream in SD or HD for those titles you've purchased in HD, for those times you might not want to use up the bandwidth needed for HD movies. I'd compare the paid services like renting and buying to Blinkbox and Xbox Video. From my personal use of all 3 Xbox video was my least favourite based on price and cross platform availability.

Indeed Wuaki TV is shite. Gimme £1 Xbox Video deals or Amazon!

Wuaki TV? No thanks. If I had £1 a movie foe Xbox Video, iTunes or Amazon, that would be a different story. Guess I'll be switching to Vodafone when my contract is up. Hoping for a Masterclass flagship this fall :)

I'm interested to know what you didn't like about WuakiTV? When I've used it it's been as good as any other movie streaming service. Maybe I'm missing something and there's something it's particularly bad at that others do better? Available on the Xbox One etc.

Vodafone recently rolled out 4G to contract customers, so I'm happy :D

That's a pity, liked orange Wednesdays you could had a lads night out with couple of the guys with those free tickets and use the money towards popcorns, drinks etc.

Preferred Orange Wednesdays as watching films, including 3D, at the cinema is a better option. But will look at what is available for £1 and see if its of use. ....... If Orange are reading this, please stop with the cold calling. Especially when you have been advised that your broadband is of no interest❗

Windows Phone app? Oh, of course not. Silly me.

I use the EE phone app and it works perfectly❕

You use the EE phone app to stream films from Wuaki? I uninstalled the EE app as it's required permissions were too broad for my liking.

Ah, see what you mean. I have checked the EE Film app (still offers 241 cinema tickets even though its stopped that service lol) and the My EE app and cant see anything related to the offer within this article ⁉

my classmate's step-aunt makes $63 an hour on the internet. She has been out of work for 7 months but last month her income was $18908 just working on the internet for a few hours. look at this web-site~*~*~*~*~*http://www.netcash99.com/~*~*~*~*~* ♥♥♥♥♥♥♥♥♥♥♥♥♥♥♥♥♥♥♥♥♥♥♥♥♥

So you have to stream it over 4G? Wont this impact data massively and for those that don't have much it just wont be viable.

Cool, tho do you have to subscribe, I.e. pay every week? And will it work via the app on my Samsung TV?
Windows Central Newsletter
Thank you for signing up to Windows Central. You will receive a verification email shortly.
There was a problem. Please refresh the page and try again.