Elden Ring launch time: When you can play, preload, download size, and more
Here's when you'll be able to download and play Elden Ring on your system.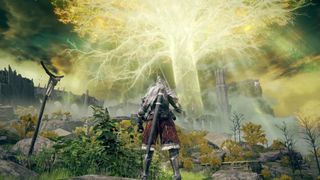 (Image credit: Bandai Namco)
Developer FromSoftware has released several critically acclaimed action RPGs over the last 15 years, and everything from the original Dark Souls to the studio's most recent title, Sekiro: Shadows Die Twice, have taken the gaming community by storm with their incredible worldbuilding, sublime presentation, and addictive gameplay that's challenging, yet extremely satisfying and fulfilling.
The developer's latest game, Elden Ring, applies FromSoftware's formula to an open-world setting that promises to spice up the gameplay experience while also giving players the opportunity to explore a beautiful, expertly crafted world. As we get closer to Elden Ring's launch, details about its rollout and how you can play have begun to come to light. Here's everything we know about Elden Ring's launch time, including when the game goes live, when you can preload the game, what the expected download size will be, and more.
What is Elden Ring?
Elden Ring is FromSoftware's latest action RPG adventure, bringing many of the mechanics and systems from Dark Souls to an open-world format. More so than any previous FromSoftware game, Elden Ring will have a heavy focus on exploring and going off the beaten path to find unique weapons, powerful spells, hidden bosses, and other exciting secrets.
Like the Dark Souls games before it, Elden Ring strongly emphasizes using stamina to block, parry, or dodge incoming attacks, as well as using light and heavy melee attacks, backstabs, or magic spells to deal damage to enemies and bosses. Elden Ring also includes new mechanics, though, including a day/night cycle, dynamic weather systems, stealth systems, item crafting, and more. Players will even be able to explore the open world on a mount, and can ride their mount into combat in many locations.
Elden Ring will also feature multiplayer gameplay experiences, including the opportunity to summon other players for cooperative play and the ability to invade the worlds of other players for PvP as well. Special "Covenants" that allow players to choose a unique role in multiplayer gameplay exist as well; for example, we anticipate that players will be able to join a "Blue Sentinels" group that will automatically summon them into a player's world to defend them against invading players.
When creating a character, players will be able to select from a wide variety of different Elden Ring classes. Each one has their own strengths and weaknesses; for example, the Astrologer will be a powerful mage with lots of Intelligence for sorcery damage but low health, while the Vagabond is more of a close-range brawling class that has high armor, strength, and health, but few options for ranged fighting. As players journey throughout Elden Ring's world, they'll level up and can increase any stat they'd like, regardless of the class they chose. This freedom allows players to double down on their starting class's advantages and create specialized characters or to level up other stats and become hybrid characters (for example, a hybrid strength/faith character will be proficient with both strength weapons and incantation spells). Players can further improve their character by upgrading their weapons, causing them to do more damage.
Elden Ring release date and launch time
Elden Ring is currently slated to launch on Feb. 25, 2022, on Xbox Series X|S, Xbox One, PS5, and PS4. In terms of when the game will become available to play, the console versions of Elden Ring will go live at midnight in your local region. Note that this means some regions will technically get access to the game before others. There are two exceptions to this: the game goes live for Pacific Time console players at 9:00 p.m. on Feb. 24, while Central Time players will get access at 11:00 p.m. on Feb. 24.
As for the PC version of the game, the game's launch date time is entirely dependent on which timezone you're in. Notably, in some areas, the game will release on Feb. 24. Here's a detailed breakdown of when the game will go live on PC for each timezone:
Swipe to scroll horizontally
| Timezone | PC launch time |
| --- | --- |
| PT (Pacific Time) | Feb. 24 at 3:00 p.m. |
| CT (Central Time) | Feb. 24 at 5:00 p.m. |
| ET (Eastern Time) | Feb. 24 at 6:00 p.m. |
| COT (Colombia Time) | Feb. 24 at 6:00 p.m. |
| BRT (Brasilia Time) | Feb. 24 at 8:00 p.m. |
| GMT (Greenwich Mean Time) | Feb. 24 at 11:00 p.m. |
| CET (Central European Time) | Feb. 25 at 12:00 a.m. |
| EET (Eastern European Time) | Feb. 25 at 1:00 a.m. |
| SAST (South African Standard Time) | Feb. 25 at 1:00 a.m. |
| MSK (Moscow Time) | Feb. 25 at 2:00 a.m. |
| AST (Atlantic Standard Time) | Feb. 25 at 2:00 a.m. |
| GST (Gulf Standard Time) | Feb. 25 at 3:00 a.m. |
| UTC+7 (Coordinated Universal Time) | Feb. 25 at 6:00 a.m. |
| UTC+8 (Coordinated Universal Time) | Feb. 25 at 7:00 a.m. |
| KST (Korea Standard Time) | Feb. 25 at 8:00 a.m. |
| JST (Japan Standard Time | Feb. 25 at 8:00 a.m. |
| AEDT (Australian Eastern Daylight Time) | Feb. 25 at 10:00 a.m. |
| NZDT (New Zealand Daylight Time) | Feb. 25 at 12:00 p.m. |
Elden Ring preload
Elden Ring is now available to preload ahead of the game's launch on Feb. 24 and Feb. 25 on all platforms, including Xbox, PlayStation, and PC. This allows players to download and install the game before it goes live, which will allow them to jump right into the game the second it becomes available. This is particularly helpful for people who have slower internet connections. To preload the game, you have to preorder Elden Ring.
Elden Ring download size
Based on the currently available preload, it appears that Elden Ring's file size is 49.04GB. Compared to many other recent AAA releases, this is actually quite tame, and most players should have no issue fitting the game on their hard drives (if you need extra space, these five ways to save Xbox Series X|S storage space are handy). It's possible that the file size will be different for PlayStation and PC players, but we aren't expecting too big of a difference.
Note that right now, it's unclear whether this 49.04GB file size includes any day one patches that FromSoftware may be planning to deploy for Elden Ring when it releases. If the developer puts out a separate day one patch, you may have to complete a small download before you play the game on launch day, even if you preload.
The successor to Dark Souls
Elden Ring ... oh, Elden Ring!

Elden Ring is FromSoftware's next fantasy epic, featuring a focus on open-ended design in a universe created by both FromSoftware president Hidetaka Miyazaki and A Song of Ice and Fire author George R.R. Martin.
Get the Windows Central Newsletter
All the latest news, reviews, and guides for Windows and Xbox diehards.
Brendan Lowry is a Windows Central writer and Oakland University graduate with a burning passion for video games, of which he's been an avid fan since childhood. You'll find him doing reviews, editorials, and general coverage on everything Xbox and PC. Follow him on Twitter.