(Update: Zenimax responds) Disk-based copies of Elder Scrolls Online for Xbox One have single-use-only serial keys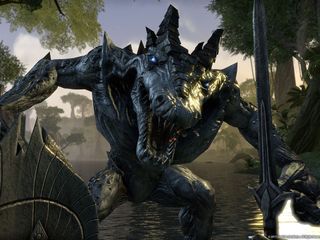 Update: Zenimax Online Studios have returned to clarify further, stating that their original information was incorrect. ESO will only use the disk for verification, and won't require a key at all.
Original article below:
Zenimax Online Studios have confirmed via the official Elder Scrolls Online forums that disk-based copies of Elder Scrolls Online for Xbox One and PS4 contain a single-use-only serial key that will be required for play.
Elder Scrolls Online will mark a first for Xbox One, requiring users register online using the bundled key before being able to play. Disk-based copies of the game can still be used for installation purposes even when sold, but a new player will have to purchase a serial key separately to play.
Elder Scrolls Online is Zenimax's attempt to take a bit of World of Warcraft's MMO pie, based on the near-unanimously popular Elder Scrolls RPG series. The game had a troubled start on the back of mixed reviews. ESO peaked at around 1 million players before announcing it would devolve into a subscriptionless model, with a version they've jarringly dubbed "Tamriel Unlimited".
A spokesperson from Zenimax Online Studios clarified speculation over serial keys on their official forum:
Despite ESO's side step away from subscriptions, Zenimax Online Studios will want to ensure that the cost of entry and in-game micro-transactions will be enough to fund the game's servers and support staff, akin to MMOs like Guild Wars II. If you were planning on purchasing the game and then then selling if you don't like it, just be aware that the re-sale value probably won't be that great.
The console market remains largely untapped for the MMO genre. The only MMO available for Xbox One - Neverwinter Online - has recently announced an active player base of 1.6 million, making it the number one free to play title currently available for the console. So there's certainly a market!
Have you played Elder Scrolls Online? What's your take on the game? Hit the comments.
Elder Scrolls Online launches for both Xbox One and PS4 on June 9th, 2015.
Jez Corden is a Senior Editor for Windows Central, focusing primarily on all things Xbox and gaming. Jez is known for breaking exclusive news and analysis as relates to the Microsoft ecosystem while being powered by caffeine. Follow on Twitter @JezCorden and listen to his Xbox Two podcast, all about, you guessed it, Xbox!
Think Fallout Online would be a bigger hit right now.

To bad interplay dropped the ball

I don't think either option would be bad, but TES has a bit better setting for it. Fallout always made humanity seem to exist in small pockets, and an MMO kind of runs counter to that, where as TES is a bit more grandiose, and the fantasy world lends itself to bigger, badder enemies that logically require a group to defeat. IF they want to make a Fallout MMO though, I won't complain (as long as it doesn't suck).

Soon all console games will come with a code to register before playing. This is just the start.

This is how it is for MMO's. It's also really how it is for PC games, and has been for a while.

Right, because the EA Online Pass became the norm, as opposed to being shunned by customers until it dies out after 3-4 years.

I'd settle for a coop mode of 2-4 players in a elder scrolls/fallout game. But that's me.

I agree completely. That would appeal to me so much more than an MMO, especially now that almost every MMO tries to emulate WoW in some form or fashion

Kind of eliminates the main advantage of having a disc based game if it is tied to one person.

Its an MMO, there all the same being single use only.

Destiny isn't labeled as an MMO. In fact, they were careful to point out that it WASN'T an MMO.

Destiny is both a mediocre (at best) game and not an MMO.

Not having to sit around for a long-as-hell download to finish?

Destiny uses your xbox/psn account not a retail cd key. For ESO in theory the disk is free you are only paying for the serial key.

The difference being, you can resell a destiny CD that you won't ever play again adn it won't be useless to the person buying it. A TESO CD will be virtually worthless after the first purchaser plays it, because the CD Key will have been used up and there is no way to "legally" transfer it since no company really facilitates account transfers across non-related members (many will for kids who come of age and had their account under their parents' name, but no between cousins, friends or CL Dealers/Consumers, etc.).

And all the people who foolishly lambasted Microsoft's original Xbox One policies just realized that all they accomplished was killing off what would've been a better system and now being stuck with a worse system. I expect more publishers to do the same in the future with their disc games.

This game likely would have utilized exactly the same system regardless.

This isn't better. This is worse. That's the point. The original Xbox One policies were better. People foolishly fought them and the end result will be that we will have this system described above but without the benefits of the original Xbox One policies. That is, their crusade will soon be for naught and we'll all be worse off because of what they did.

the original policies weren't better, they were worse. This is exactly what the original plan would do, make it so you were bound to the item you purchased with no second-hand sales allowed. The only fools were the ones who thought it was ok to give up all control of what you could play and when, and whether or not you were allowed to resell or return something you bought.

You're misinformed. Not surprising, though. Most of the ignoramuses who rebelled against the original Xbox One policies didn't understand what they were rebelling against. And they still don't, apparently. Right now you can't second-hand sell PC games, iOS games, Android games, Windows Store games, etc. Xbox One's policies were going to change that: second-hand sales of digital games, family sharing plans, and cheaper prices for digital games. No, the only fools are the ones who don't realize that the future is digital and that Microsoft was doing us a favor by giving us a consumer-friendly version of what Valve, Apple, and Google have been doing for years. Now, we lost all of that and we're stuck with the Valve-Apple-Google, anti-consumer digital future. People are the worst.

No, I'm very well informed. You've just chosen to so fully drown yourself in the MS Kool-Aid that you have to insult anyone who disagrees. Xbox One policies were changing the physical disc into a digital download, adding all of the associated market restrictions with it. You couldn't resell disc-based games -- not without their explicit permission, and there were many, many restrictions on that, like being only able to resell any particular game once, and only to people on your friends list for a certain length of time beforehand, allowing publishers to opt-out of letting their games be resold at all or require fees to do so, not being able to loan or rent games at all.... These aren't misunderstandings, these were the facts. You can read them yourself. http://www.theverge.com/2013/6/6/4403936/xbox-one-online-requirements-details They were adding limitations to the physical product that had not been there before, and trying to spin the few things they were allowing as some kind of gift. If they were going to let you resell digital games, ask yourself, why haven't they done that already? If that was truly in their plans, why can't you transfer any digital games after year and a half of monthly updates since console's launch? No one was fighting that. What people were fighting was being forced to give up control and treat everything like a digital game.

No, you're uninformed. You're also short-sighted in your understanding of the situation. I'm completely informed. I've read more on this topic than anyone. I've read every press release ever issued by Microsoft on the topic. All of the "restrictions" you point out are actually benefits. They have never been done before in any other digital distribution service. You can't do that in iTunes or the iOS App store or the Google Play Store, or on Steam, etc. Microsoft was giving us extra features that were more consumer friendly. The misunderstanding comes from your myopia in failing to realilze that 1. you're a hypocrite because you already buy media in digital forms (unless you're here to claim that you've never purchased any digital right to stream or play any app, song, or movie on any device), meaning you're rebuking one company for doing something that you've been gladly doing for other companies for years; 2. that this is inevitable: it is happening and we had an opportunity to mold it into a more consumer-friendly fashion instead of the current offerings; that is all now lost because of ignorant, myopic gamers. Why haven't they added the ability to re-sell digital games? Because now they have no reason to. They tried doing something great and people freakked the eff out, unjustly criticized them, and forced them to spend countless resources changing the entire architecture of the system and its policies to roll back to the old, dying system. They have no incentive to offer that deal anymore. And that's why it's so vexing. We could've had that, and now we won't get it. Now they have a monopoly on digital games (with the previous Xbox One policies, no such monopoly would've existed) and they have no incentive to give up that monopoly--including digital game rentals or license transfers. You people still don't understand what you've done, and you likely won't until the 9th generation of games comes a few years down the road and slaps you in the head like a 2x4. Only then, it will be too late.

Whilst I don't agree with your harsh delivery, I do believe in the thrust of your argument. Humans are stupid. The internetzzz won, and we all effectively lost forward ground. This value of second hand games thing is a nonsense anyway - I've got a pile of 360 games sat right next to me, and its value is peanuts, so low I cant be bothered to even go throught he rigmarole of taking them to the shop, it will probably cost me more in petrol. Steam works for PC, and Microsoft were going to give us Steam for Console, with benefits like family sharing, and selling (albeit with restrictions) which you cannot do on Steam. Amazeballs ideas, all scuppered by the noisy minority - and the 30 people in the world (Afghan stationed soldiers, and sailors on submarines :/ ) who didn't like always on, even though 99.9% of Xbox Ones I bet _ never_ move, and are all wired up to the Internet all of the time. Stupid won :/

Those may be benefits for digital, but they are additional restrictions for physical. It was Microsoft's choice to make it an all-or-nothing proposition: add these features to digital, and take away all these benefits of physical. Thankfully, the majority did not accept that trade, and Microsoft listened and gave up on their ridiculous requirements.
Microsoft still has plenty of incentive to make digital more appealing, such as full control of the distribution and licensing. The fact that they choose not to without severely crippling physical discs is entirely on them. One has to wonder why they feel it necessary to make discs less useful instead of just making digital better -- unless they realize that digital downloads will never compete with physical discs for consumer freedom.
You bring up phone and tablet apps, but they're not the same thing. Phones and tablets are personal devices. I am the only one that uses my phone. There are five other people that use my Xbox, just in my home. Today, I can share any game with any person at any time. Microsoft's original plan would not permit that, outside of a predetermined list of ten people. For physical media, that is a giant leap backwards in usability and consumer-friendliness.
In the future, you may want to read more than just a company's press releases if you want a more balanced and informed opinion.

Physical media is dead. Microsoft's original policies were setting up a more consumer-friendly digital future. Now, because a bunch of myopic Luddites wanted to cling to one more generation of outdated technology, the foundation for a crappy digital future is set. The "majority" did not reject it. Make no mistake: it was a vocal minority. I few thousand gamers in an industry of hundreds of millions, the grand majority of which are already fully in the digital future (Steam, iOS, Android, Windows Store, etc.). No, now Microsoft has no incentive at all to do those things. The smart thing for them to do is to just follow suit with Valve, Apple, and Google now. And those systems suck. Yes, phone and tablet apps (and music, and movies, etc.) are the same things. They're entertainment content that you purchase and use on a device. "Today, I can share any game with any person at any time. Microsoft's original plan would not permit that, outside of a predetermined list of ten people". That is not true at all, more evidence that you still have no idea what you are talking about. Any console can be made a "home" console and anyone can therefore play your games on that console. You can invite over billions of people, if you want, and they can play it. That's no different than popping a disc in your drive and playing it with them. Physical media is the giant leap backwards. And now, because of some shortsighted nitwits, it has ruined the future of gaming, all so you can enjoy the extra feature of having to get up off your couch and manually swap discs like it's 1996 instead of simply saying "Xbox, go to Dead Rising 3". Awesome job.

Sure, I can invite anyone over to my house to play it. I can also give my disc to anyone I wish for them to play it in their own house. Can you really not see the loss of usability there? Phones and tablets are personal devices. Game consoles are not. There is a big difference between buying an app for my personal use and buying a game that I intend to share with people in and out of my household. Microsoft has the incentive. They (or perhaps just you) are just using the resistance to obnoxious and unnecessary restrictions on physical media as an excuse not to enhance downloadable media. Here's the thing. I don't want to give up the freedom I have with physical media for the "convenience" of not swapping discs. But the great thing about the way things are today is, I don't have to, and you're just as free to buy everything digitally, sit on your lazy butt and say "Xbox, go to Dead Rising 3". Look at that, freedom of choice.

Here is why lending a physical disk sucks. Scenario: my brother lives 3,000 miles east. My best friend lives 2,000 miles west. My second-best, third-best...tenth-best friends live far away too. I want to lend them all a game. If I have a disc, I can only ship it to one of them at a time, costing me time, costing me postage, and costing me the ability to play the game. Then they can eventually ship it back to me (costin gt hem time, costing them postage, and costing me the ability to play the game). Then I can ship it to the next friend on the list, costing me time, costing me postage, and costing me the ability to play the game. With the original Xbox One policies: boom. Digitall shared with all 10 of them, simultaneously. I know which one I wanted and I cannot comprehend anyone who would want the former. Game consoles are personal devices too, but, more importantly, arguing otherwise is irrelevant to the discussion. Buying media is the same, regardless of your "intention" of sharing it. No one cares that you want to share your Xbox games but not your Xbox music tracks. That doesn't change the fact that both of them are media you purchased the right to playing. Furthermore, if you don't like the phone example, then focus on the PC gaming example if that's easier for your to comprehend. No, they had an incentive. Now it's gone. The smart thing for them to do is to maintain their monopoly over the digital distribution of their games, falling in line with Valve, Apple, and Google, who have already set the standard. Microsoft tried to improve the standard and got rebelled against, costing them a ton of bad press and countless resources wasted in trying to "fix" it. They have absolutely no reason to try it again when they can just fall in line with the norm--a norm that is more financially beneficial to them, mind you. Here's the thing: you're going to have to do that anyway. Physical is dead. This will be the last console gaming generation to have discs. That's a guarantee. All you did was delay the inevitable but, worse, precluded us from having a better future. No, I'm not as free to buy everything digitally now. Digital buyers this generation got totally screwed over by those people who griped. With Microsoft's original policies, all discs would've been digital games, meaning that Microsoft would not have had a monopoly on digital game sales. Now they do have that monopoly, meaning that digital buyers get ripped off on digital game prices. Worse yet, the other features that could've made things better (digital rentals, digital reselling, digital lending, etc), is now gone. So, don't tell me that I have the same freedom as I would've had. Digital buyers are getting screwed over big time this generation and it's solely because of that vocal minority of Luddites that ruined everything.

Congratulations in building that great strawman scenario that you could knock down. But it doesn't negate my point -- taking away my ability to share games with 20 people in my neighborhood is not worth to me granting the ability to share with 10 people across the country. And it doesn't have to be an either-or situation, anyway. There is no reason to restrict physical discs in order to enhance the usefulness of downloads. None. If Microsoft wanted to entice people over to downloads instead of forcing the policies down their throats by crippling discs, they could, and the market would decide if the trade-off was worth it (just as they decided when Microsoft made their E3 announcements that the majority rejected). Physical media won't be dead so long as people value the freedom they have with it and refuse to accept turning over all control to some other party. You may want to ask people who have had their accounts banned, hacked, or stolen, or people who bought games they've desperately wanted to return because they either sucked or were horribly broken, how this "all-digital" future is going for them. Digital rentals and lending weren't even part of the equation (besides some vague promise that they might "look into it" sometime), so I'm surprised you even brought that up. It's cute how you think prices would go down if everything went digital. That shows a lot of blind faith in a company that has, historically, not shown a willingness to compete when it comes to prices on their downloadable offerings. Even more funny, you do have the same freedom you would have had. You just believed all the hype from the press releases, but missed the part where many of these features you're moaning about never having weren't even going to be available at launch, but something they'd work on "soon".

That wasn't a strawman argument. Yes, it is worth that actually, because you could still share the game digitall with people in your neighborhood too, and, more importantly, you could share it with them much more easily and more simultaneously than the "only one person at a time" scenario of disc sharing. Yes, there are a lot of reasons to restrict discs in order to enhance digital downloads: piracy is one, supportint developers is another, preventing the bifurcation of your consumer base is one more. And, for the second time, the reaction after E3 was not "the majority". It was a vast minority: tens of thousands in a consumer base of tens of millions. I don't know what you think the word "majority" means, but that's not it. I have not pity for people who get their accounts banned. The only people who have had their accounts hacked are on PSN, not Xbox Live. Digital re-selling of games was going to be a feature, so your final point is moot. Now it's not, though. That's the problem. Digital rentals and lending were part of the equation, as stated by Microsoft executives. "It's cute how you think prices would go down if everything went digital. That shows a lot of blind faith in a company that has, historically, not shown a willingness to compete when it comes to prices on their downloadable offerings." It's cute how you literally don't understand what I even wrote. Let me explain it to you more simply: as of right now, Microsoft has a monopoly on digital game distribution. The only place you can get digital Xbox games is from the Xbox Store, which they run. In the original policies, all physical games would've been digital games. That means you could've bought any game from any retailer, including the great deals on disc games you see now on Amazon or wherever, and converted it to a digital license. Microsoft would not have had a monopoly on game distribution in that scenario. Now they do. You still don't even understand what you were fighting against, and that's the most vexing part of all of this. "Even more funny, you do have the same freedom you would have had."
No, I don't. For the third time now, I cannot buy a game from a third-party retailer and convert it to a digital license, as I would've been able to under the original polices. That is the exact opposite of "the same freedom you would've had", actually.

Look up the definition of strawman argument. It's just one of the logical fallacies you've used so far. It may be worth it to you, but it's not to me. It also still doesn't address the fact you dodged that it would limit sharing to 10 friends instead of unlimited. None of the disc restrictions you mention are a requirement of the things they wanted to do with downloads. "Bifurcation of your consumer base" is a ridiculous argument, since the end result of a disc-based and downloadable game is identical (even today, since all games are installed to the hard drive anyway). Did you even think about that one before typing it? You're awfully naïve to think that no one on Xbox Live gets their accounts hacked. Also, reselling is not the same as returning for refund. And, again, loaning and renting were not going to be available. But I thought you knew that, since you read every press release? Here, it's in this one: http://news.xbox.com/2013/06/license Look for the phrase "Loaning or renting games won't be available at launch, but we are exploring the possibilities with our partners." It comes right after the phrase "In addition, third party publishers can enable you to give games to friends," which sure sounds like transferring games from one party to another wasn't a foregone conclusion, as you seem to believe. I'm curious what you think the word "monopoly" means. You seem to think I can't buy a digital game from anybody but Microsoft. The copy of Wolfenstein Old Blood I bought just last week from Amazon (which they offered a deal on) would seem to disagree with you.

I already know the definition of a strawman argument which is why I stated that it wasn't a strawman argument: because it wasn't. Physical disc lending has limits too: one at a time, constrained by physical proximity (which is not how most contemporary social networks play out). One is a much more limited than ten, so that's an odd argument you're adopting. Bifurcation of a consumer base is a hugely relevent concern. Fragmentation of a market is a terrible strategy, one that has plagged Android for years. It's different. One form is prone to piracy, which keeps prices high and steals money directly from developers and publishers. The other is not. Did you even think about that before typing your poorly thought-out rejoinder? Show me evidence of Xbox Live getting hacked. I can show you a ton of evidence of PSN getting hacked. Reselling, returning for a refund, loaning, and renting were all going to be possible, as published by Microsoft executives. Do your research: "...at launch". Do I really need to point out what that means? Furthermore, that press release is outdated, trumped by more recent releases by Microsoft executives, especially Aaron Greenberg. Bing can help you define monopoly. Microsoft has a monopoly on digital distribution of Xbox games. All you bought from Amazon was a code to obtain the game via Microsoft's monopolized distribution channel. In contrast, with Microsoft's original policies, all Xbox One games sold from third-party retailers would be digital. This is very different than your Wolfenstein scenario. Digital consumers are getting screwed over on prices because a vocal minority of idiots ruined everything. And the worst part of the whole thing is that they still don't understand that.

"Show me evidence of Xbox Live getting hacked." http://letmebingthatforyou.com/?q=xbox20accounts%20hacked "Bifurcation of a consumer base is a hugely relevent concern. Fragmentation of a market is a terrible strategy, one that has plagged Android for years." I agree, but there's still no splitting of the market at play here. All Xbox Ones are the same. You're not splitting your consumer base by giving them different options of getting the same thing. You split your consumer base when you make it so that some people can't get some things that others can. The piracy argument is a non sequitur. "All you bought from Amazon was a code to obtain the game via Microsoft's monopolized distribution channel." How do you think the original policy worked? How do you think Microsoft would tie you to ownership license to play the disc? Remember, the disc was irrelevant except to install the bits to the hard drive -- and it wasn't even needed for that, since they promised you could sign in at your friend's house and download the games you own. So, what do you think the license part was, and how was it different? The level-headed majority ruled here. #dealwithit

That isn't evidence of anything other than that you don't understand what evidence is. Instead of condescendingly linking to a badly outdated automatic Bing search, try posting some actual evidence, like this link to an official letter from Kazuo Hirai to the U.S. House of Representatives acknowledging the PSN hack of 2011. That is evidence. If you have evidence of Xbox Live getting hacked, provide it. Yes, there is a splitting of the market because they're not getting the same thing. One form cannot be played unless a disc is physically present in a drive but can be purchased used or re-sold or pirated. One can be played from any Xbox One without the need of a disc but an not be re-sold or purchased used. These are not the same thing. The market is fragmented: purchasers of one form don't have access to the same things that purchasers of the other form have access to. The piracy argument is not a non-sequitur. It's directly relevent to the discussion at hand because Xbox One's original policies would've hampered piracy, which would've directly affected game prices. The origianl policy would've tied games to your Xbox account. This has nothing to do with the digital Xbox Store. That's not true that the disc was only for installation: new disc purchases came with a digital license--the same way they have on PC gaming for more than a decade. Ergo, Microsoft would no longer have a monopoly on digital sales of games. That's how it's different. Right now if I want to buy Halo: The Master Chief Collection I have two choices: I can buy the disc version on Amazon for $29 (and thereby lose the benefits of the digital version) or I can buy the digital version from Microsoft for $59 (and thereby lose the benefits of the disc version). This is the outcome. Everybody loses. The better outcome would've been the original policies, where I could've bought Halo: MCC on Amazon for $29 and gotten both the benefits of digital and physical at a cheaper price. For the fourth time, those who fought the Xbox One's original, superior policies were a vocal minority of myopic idiots--tens of thousands of gamers in an ocean of tens of miilions. That is not even close to being a majority.

Following the second link using that search query: "We are aware that a group of attackers are using several stringed social engineering techniques to compromise the accounts of a handful of high-profile Xbox LIVE accounts held by current and former Microsoft employees," Microsoft officials said in a statement sent to Ars. "We are actively working with law enforcement and other affected companies to disable this current method of attack and prevent its further use." That is from 2013, hardly "badly outdated". The piracy argument was a non sequitur in that it did not support or follow from an (incorrect) proposition about bifurcating the market. Who controls these digital licenses? Where do they come from? Whether they're sold from Amazon or Microsoft, they are provided by Microsoft. When I bought my code from Amazon, it wasn't a credit to the Microsoft store, it was the code I redeemed for the game itself. Why do you think the digital license packaged in a box with a disc would be any different? You know, repeating the same statement over and over doesn't make it any more or less true. Don't be mad because the majority disagrees with you.

Social engineering is not hacking. See "Exploiting the digital frontier: Hacker typology and motivation" by McBrayer, John, M.S., THE UNIVERSITY OF ALABAMA, for what constitutes hacking. The piracy argument is not a non-sequitur because it is directly related to the bifurcation of the market, with one segment more susceptible to piracy than the other. It doesn't matter who controls the licenses. All that matters is where I can buy them and for how much. Go back to my Halo: MCC example. I can buy that now, physical copy, on Amazon for $29. If I want a digital copy, I have to pay Microsoft $59. That's my only option. That's the point. In the original policies, I could have a choice: pay Amazon $29 or pay Microsoft $59. Either way, I'd have the exact same product. That is not an option anymore. Cherry-picking one game out of the mix is not evidence of anything (by the way, what are you doing buying a digital game, hypocrite). "You know, repeating the same statement over and over doesn't make it any more or less true. Don't be mad because the majority disagrees with you." The irony of this statement is unparalleled. Show me a petition signed by tens of millions of Xbox gamers and then you'll have evidence of a majority. In the meantime, I can show you one signed by tens of thousands--also known as a tiny minority. Get your facts straight.

"Get your facts straight." That's good advice. You should try following it. Your "distinction" about hacking is irrelevant. The fact remains that you can lose access to your account through no fault of your own. Call it whatever you want -- hacked, stolen, compromised -- it all amounts to the same thing. If all that matters is where I can buy a license for and how much, then how exactly is my purchase of a digital license from Amazon not an example of that? I "cherry-picked" one game because that's one I bought recently, but Amazon has many more. (I'd provide links, but it seems you don't like following them, so I won't waste my time.) And how exactly am I a hypocrite? Where did I say I didn't want to buy any digital games? Oh right, I didn't, you just wanted to throw out another name-calling, because, you know, that's a good way to convince someone you have a good argument. The irony was intentional. I expect you to give my claims of "majority" the same weight your claims of "minority" have, given the lack of evidence cited. (And no, repeatedly linking one article written by somebody who happens to agree with you doesn't make a majority.)

My facts are straight. Yours are not, even when I spoonfeed them to you: "Your 'distinction' about hacking is irrelevant. The fact remains that you can lose access to your account through no fault of your own." Au contraire: social engineering is not network error; it's user error. It's not the fault of Xbox Live; it's the fault of an idiotic Xbox Live user. If you had read the literature I gave you, you'd know this. Instead, you're eating crow. "If all that matters is where I can buy a license for and how much, then how exactly is my purchase of a digital license from Amazon not an example of that?"
That's not "all that matters". All that matters is that you cannot purchase all digital licenses from third-party retailers. Providing an example of one game (or even a hundred games) where you can is irrelevant, for all I need to do is provide one example where you can't, which I did. That's the point: the market is fragmented and Microsoft has a monopoly on digital distribution whereas they otherwise would not. You're a hypocrite because you fought vehemently to keep physical media and you've admitted to not fully supporting physical media. You're not a hypocrite because I'm name-calling; you're a hypocrite because that's the definition of the word. Then it's even more ironic than I thought because you're argument is a fallacy. The burden of proof is on you: you are the one that needs to demonstrate that the majority of Xbox gamers opposed the DRM polices. As there were 82 million Xbox 360s at the time of the announcement, you just need to show me an online petition signed by 41 million people. You can't do that, though, because the online petition opposing Xbox One's original policies only numbered in the tens of thousands, which is so far away from the "majority" that you look foolish even making such a claim. And, since this was lost on you, I never said the majority of gamers agreed with me. The majority of gamers were indifferent or unaware. It was just a vocal minority of idiots who were fighting against Xbox One's policies

Wow, I didn't think you would miss the point so completely, but sure enough. And then: "It doesn't matter who controls the licenses. All that matters is where I can buy them and for how much." Followed in your very next post by "That's not "all that matters"." Redefining words again, considering online petitions as the definitive source for counting all people (helpful tip: not everyone who fights against something does so by way of a meaningless online webpage)... and then you linked to that opinion piece AGAIN! Hilarious! Thank you very much for the entertainment. Truly, this has been a moment I will treasure for at least the next five minutes.

No, you're the one who completely missed the point. Your cherry-picked example of Wolfenstein is irrelevant. The point is that the original Xbox One policies would've enabled everyone to buy any digital game from any third-party retailer at rock-bottom prices. We can't do that now (hence, my Halo: MCC example). Show me a place where I can buy any digital Xbox game I want at the same price as any physical Xbox game. There is no such place. There would've been, but there's not. That's the point. I'm redefining nothing. You claimed that the "majority" of gamers were against Xbox One's policies. That's not true. If it is, then prove it. You can't, because it's not true. Only a vocal minority of idiots opposed the superior Xbox One policies and subsequently ruined it for everyone else.

While I am probably one the few people here that will agree with you here regarding us all now being worse off, I think it's incorrect to call them a 'vocal minority' as that implies that the majority were therefore in favour of the new system. Neither of you can actually truly claim what the majority were or weren't in favour of without actual proof (such as 2 petitions with one having a clear majority). All we know is that Microsoft decided that the number of complaints was a big enough representative sample to represent the views of the majority. i.e. "Vocal minority" or not, they are still deemed to represent the majority view. A "representative sample" is a subset of a statistical population that accurately reflects the members of the entire population. So if Microsoft receive 90,000 complaint letters and only 10,000 in support that means that it's a fair indication that 90% of the entire market population are opposed to it. You can argue it's a "vocal minority" if you want (which is only implying it's not an accurate sample size) but if the supposed majority never speak up then their 'vote' simply doesn't count - therefore the ones that voiced their opinion are deemed to represent the majority view. I'm sure (I hope?) MS would've done their own sample polls before deciding to pull the plug on those features at the 11th hour. But I still think it's a shame that they rolled back almost all of the features, instead of just addressing the most objectionable ones like 24-hour check-ins for offline gaming.

It's not incorrect to call them a "vocal minority". That's exactly what they were. It, by no means, implies that the majority were in favor of the new policies. I never claimed the majority were in support of it. As I stated above, the majority were indifferent or oblivious to the policies. Not every issue is dichotomous. My point is that he continually lied by claiming that those opposed to the policies were "the majority". They weren't. Not even close. Microsoft capitulating speaks more about Microsoft than about the social movement against their policies. Instead of articulating their position, doing the market research that demonstrates that the opposition were in the minority, they flip-flopped for fear of continual bad press. This is the thing about a minority group who holds significant power (i.e. gaming journalists and retailers): they are able to unduly affect things. It's great you're thinking about statistical probability theory and representative samples, but your 90,000/10,000 hypothetical is not indicative of a representative sample. There is absolutely nothing representative about the vocal minority that opposed the Xbox One's policies. The types of people who care that much about videogames to be 1. retailers, 2. professional gaming journalists, 3. hard core gamers who follow video game announcements like E3 and comment about videogames online are an extremely niche group of consumers so far removed from representative that it's clear the only reason Microsoft capitulated is because either 1. they don't have any statisticians on board or 2. they were afraid of the minority power bloc who were opposing them. The irony of the 24-hour check-in policy is that the majority of Xbox One gamers are continuously connected to Xbox Live anyway, which is all the more evidence that the opposition was the minority.

I'm the MOST informed... ...about your mothers.

I don't see requiring the console to check in online every 24 hours in order to play *any* game, online or offline, is better. I would not have preordered Xbox one and sank so much money and time into it if it had stayed in its original state. I'd be happy to switch to ps4.

You didn't have to check-in online "every 24 hours"; you had to check in once every 24 hours in which you wanted to play a game. There is a difference there. Regardless, the grand majority of gamers have their Xbox consoles connected 24/7, which means they were making a big fuss out of something they already do. The rare exceptions (say, military folk overseas) could've been dealt with on a separate basis. You also have you phone connected 24/7 too and most apps require you to be signed in to use them. It's no different, except that Microsoft's policies for Xbox One were better, as they allowed for the re-selling of digital licenses, family game sharing, etc. People who were fighting against that were fighting against the inevitable: always online is coming. There is no stopping it. We could've either molded it into something that came with additional benefits, as Microsoft tried to do, or we could've fought it like moronic Luddites and then lost those extra benefits forever while inevitably being forced to adopt what we were fighting against anyway. Most of the people claiming things like how they wouldn't buy an Xbox One if it had "check ins" are hypocrites. They already check in anyway on their Xboxes, phones, etc.

So why buy disc at all? If you can't resell it might as well go digital download.

This will be interesting- it's in my Q on Gamefly. I wonder if they're gonna pull it's availability?

There are still a LOT of people stuck with shitty internet providers that give them ridiculously low monthly bandwidth caps.

Like me I have 150gb cap ESO would be have a month so I go disk cause going over is hella pricey

Those people shouldn't really be playing MMO's then.

I'm pretty sure that the bandwidth required to play an MMO is pretty miniscule compared to the initial download of the game files required to play it. Just because someone has a low bandwidth cap that would prevent them from downloading the game files doesn't mean they shouldn't be able to enjoy the game. From what I can find on the 'net ESO requires about 20mb of bandwidth per hour, so at about 2 hours of playtime a day you are sitting at around 1GB of total data used in a month. That's not a whole lot compared to a 20-25GB initial download of the game itself (not sure how much space ESO requires).

20-25 that's funny its gonna be closer to 70-75... It's going to require a 15-20gb patch day one because it didn't fit on disc which is 50ish

Yea half my cap in a day, say bye to Netflix for the rest of the month :)

Has anyone played this since they updated the crap out of it? Played beta, seemed fun but idk. Got to 60 in Neverwinter which was fun, however the amount of stuff you couldn't get unless you spent money was ridiculous.

I've been playing since it went B2P, and I have really been enjoying the game. They are still having an issue with lag though, but for the most part I have not had to worry about lag.

I don't see the point of reselling games. Never did even as a teen. Once I purchased it I kept it. I'm 30 now. This news doesn't bother me. A company has a right to make money. Reselling games only pushes up the cost of original tittles. If everyone was forced to purchase there own copy maybe games wouldn't be so expensive. I will wait for a sale maybe or use my Xbox rewards account to drop the price with credits back. Looking forward to another game.

There is a second hand market for everything, so why not games? I never understood why (mainly) pc games should be used by the original purchaser only. And by your definition a game that sells 500.000 copies should be cheaper then a game that sells 100.000 also? Games where allways expensive.

It's because pirates ruined it for the rest of us, encouraging companies to experiment with ever-stricter copy-protection. :-(

Games that are 1,- are pirated. It's impossible to buy all games that are released, and people will buy what they can and like. Yes pirating is bad but it wont magically up the sales figures alot if it wont exist. And who knows, if pirating didn't exist how much they could ask for. Maybe the games would be 2 times more expensive.

I see little reason to believe games would be more expensive if they were pirated less. Games don't exist in a vacuum, they're competing against all forms of entertainment. Too expensive vs. DVDs, movies, books, etc., and people will reduce their game buying. Then you have the Stargate SG-1 situation. They ended the 10 year run of the TV series with plans to do a series of direct to DVD sequels. Each successive DVD sold worse, but was pirated more, so they stopped making them. The pirates not only ruined their ability to get more content, they stole that content from paying customers as well. I used to pay $35 for a concert ticket back when concerts were used to promote album sales. With rampant music piracy it flipped, with albums being used to promote concerts. Before long I was paying $135 for concert tickets. Talk about biting the hand that feeds. Piracy is greedy, unethical, and short-sighted.

And none of those copy protections work. All they have done is penalized the ones who already purchase the games.

100% agree. And as someone who purchases all my content legally, I'm none too happy with the pirates and the house they make me jump through. That's one of the reasons why piracy is not only immoral, but also unethical. They're not just hurting content creators, but also law-abiding users. Not that I think they necessarily care very much about that.

I don't like reselling games either. But I wonder if the code is attached to your account. What happens if your console breaks and you have to re set the game on another system? Will the code work?

It'll be attached to the account. It says you input the code online, so once its done, you can always use that account I assume.

Ok. That's what I'd expect. Wouldn't be a problem for me if more companies took this approach in the market. But I know many buy physical copies for reselling purposes. I like to keep them though.

Never saw the point either... Resale value always seemed too low to bother with.

I don't like replaying single-player games, never have. All a game like Shadow of Mordor would do is rot on a shelf for me. Instead, I traded it towards The Evil Within, which it paid $44 of the $52 for. That game sucked, so I traded it in towards Sunset Overdrive .I finished Sunset, again wasn't going to replay it, so I traded it towards Advanced Warfare. That game was so-so on a good day, so I traded it towards Dying Light. In each instance, I wasn't going to play the game anymore, so I turned the $52 game purchases at Best Buy into $8 ones by trading in unwanted software. That's why I trade them in.

So I'm out $60 if I buy a game and it sucks? That's bullshit.

That's why I read reviews ;) watch twitch broadcasts like eastxtwitch. I can see if a game I interesting.

Dont be a twat. I read reviews too. Home front reviews were awesome, but the game was a pile of crap.

Neverwinter Isn't available in Australia which sucks arse.

That game sucks arse, so don't worry about it :-)

Weren't there assurances that this type of thing wouldn't happen on this gen, and that you'd be able to sell games second hand without having to buy codes?

That was Microsoft; nothing was ever said regarding the companies.

This is an MMO!!! All of them do this, and always have since Ultima Online for God sakes... You can get a pay to play game for free or cheap, but pay monthly to play like World of Warcraft, or get a free to play game but pay full price initially like guild wars 2. All these questions into the legitimacy of this practice makes me wonder if any of you have ever played an MMO before. Sure, you can buy a cheaper install disk of Final Fantasy online, but you still have to buy a license attached to your login to play it. Alternatively you can buy someone's login credentials and that will work (though illegal) but your likely to pay hundreds of dollars to buy the things they have played hours to acquire... Check out eBay, you'll see.

Huh... it's unusual even amongst Americans to see optical media referred to as a "disk" rather than a "disc". The title caught me off-guard. :-)

This has been shot down already. Only the disc is need for verification, not a code.

I can entertain eventually buying this game now that it is a one time purchase. I can swing a monthly subscription - tight budget. Posted via the Windows Central App for Android

Rumor debunked.. http://www.vg247.com/2015/05/14/the-elder-scrolls-online-requires-a-cd-k...

I don't really care. I'd just wait to buy this on-sale either way, because it's an OK game I'm not especially excited for.

I wonder if it will still require the disc to be in the tray to play it

Of course it will. All physical disc games on consoles need the disc to be in the tray.

Yeah but this is the first time that a game has also required a secondary form of what is basically DRM, making a used disc useless - so there isn't really any benefit left for them to require the disc once the game has been installed. EDIT: Just saw the update, looks like this is a moot conversation since it doesn't actually require this at all for the disc version - business as usual then.

This article is out of date. http://www.eurogamer.net/articles/2015-05-14-the-elder-scrolls-online-wo...

Updated, was on the bus when Zenimax sent me the info. Cheers.

I like the way the update has made the entire article pointless.
Do you think it is a plot to get people to talk about the game before release

Nah, some rep on the forum screwed up. Zenimax wouldn't want this sort of negative PR.

It's terrible. Bought it on PC and played probably 3-4 hours max on it. Waste of $60. Do not recommend.

Then you clearly HAVEN'T played it. And if you did your little playtest in the early days you would probably be very surprised at how things have changed since then.

I've paid my $20 for the xbox version and character transfer from my PC version. Can't wait.
Windows Central Newsletter
Get the best of Windows Central in in your inbox, every day!
Thank you for signing up to Windows Central. You will receive a verification email shortly.
There was a problem. Please refresh the page and try again.