Media Markt's electronics store app hits Windows Phones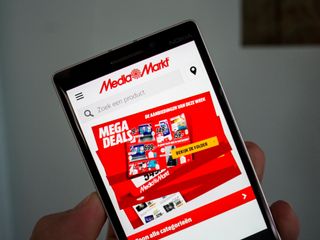 Major European electronics retailer Media Markt has quietly launched its app for Windows Phone, which is now out in the Netherlands. With the app, you can browse items, make purchases, and take advantage of deals.
Media Markt's app is pretty straightforward. You can view popular products, search, make purchases, and more, directly in the app. You can also sign up for the Media Markt Club, which offers shipping at no extra charge.
Media Markt for Windows Phone is available now in the Netherlands, but don't be surprised to see it make its way to other countries soon.
Thanks to Bart W for the tip!
Download Media Markt from the Windows Store (opens in new tab)
Windows Central Newsletter
Get the best of Windows Central in in your inbox, every day!
Great to see this! Hope they follow up with the app, making it available for other EU countries as well.

In italy the app is called megadeals and it has been there for a while. The physical shops are called Media World and obviously the windows store search sux so no one will ever know this app is available in Italy.... ( a normal person would search with the store name but looking for mediaworld does not show anything) THEY NEED TO FIX KEYWORD SEARCH AND DESCRIPTION SEARCH

Isn't that app related to Switzerland stores?
Or at least, reading the description of the app I have that impression...

The app of this article is NL. I think the company is from Switzerland and they sell in all Europe with different names but same branding: https://www.mediaworld.it/ Bottom page: "Mediamarket S.p.a."

So for how long the new wc app will be in closed beta?

Wondering that myself, and if possible, how to get in on it. Beta testing so many rare-usage apps, but beta testing WC, damn, I would test the **** out of it xD

I think there would be a lot of us doing that

Who the hell uses apps to do internet shopping?
Mostly I open several shops in different tabs and compare things and so on.. I investigate and I want to see bigger pictures of things.
Apps like these are for mindless sheeps who probably just buy everything at one shop. Or do these people exist that install an app for every freaking webshop?
Great news though for an app joining the ecosystem.

Have you seen the access it requires?
It's ridiculous, not installed.

yeah Media markt doesn't have to access my Music and photo's and sensor information
Windows Central Newsletter
Thank you for signing up to Windows Central. You will receive a verification email shortly.
There was a problem. Please refresh the page and try again.