Enter OrcKid, a Windows Phone arcade game full of evil sheep to hack and slash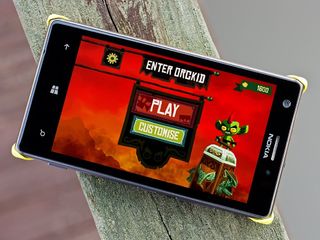 Enter Orckid is an action packed Windows Phone game where you take control of a young orc warrior who has to hack his way through the various game quests.
The storyline has the Orcs nearing the brink of extinction and it is up to the young Orc warrior to save the day by defeating the enemies of the Orc. Available for low-memory devices, Enter OrcKid has decent graphics and challenging game play.
The game has potential but quirky controls tends to hold this game back and will a little fine-tuning to give Enter OrcKid a better chance of success.
Let the slaying begin!
The main menu for Enter OrcKid has options to access the game's settings (sound/music on or off), visit the gaming store to customize your Orc and the required "Play" button. The store customization includes various sword types, player skins and miscellaneous "stuff" (glasses, beards, masks, etc.) for your Orc to use. Items are purchased with the gold coins you earn in battle.
Game play is spread out across a battle map (swipe to the left/right on the map to view more levels) with the first level serving as a tutorial that will walk you through the gaming controls. There is no Help Section but additional tutorials will appear throughout the game when new features become available.
Enter OrcKid's gaming controls are a series of on-screen touches to control movement and combat actions. It does take a little time to get used to the gaming controls. In a nutshell, the lower left and right sides of the screen controls your Orc's movements. Tap either side of the screen and the Orc will jump left or right. Press and hold either side of the screen and the Orc will run left or right. Additionally, if you tap either side of the screen when your Orc is close to an enemy he'll attack that enemy with a slash or hack of his sword.
The upper half of the screen controls special moves and defensive tactics. Tap once and the Orc will defend against an attack. Tap once with both fingers and a special defend/attack move will launch. Additional controls include swiping down to hunt for treasure and swiping left/right for a speed move.
There were times that the gaming controls became non-responsive and with a combat game, losing the ability to strike at your enemy can be detrimental. I don't necessarily think the touch controls are a bad idea but they may be trying to take on too much. I couldn't help but think that a traditional on-screen joystick and attack buttons might have been a better approach.
Game Play
The gaming screen with Enter OrcKid has your gaming stats displayed across the top of the screen (health, energy, gold, and level objectives). Your enemies will approach you from either side of the screen and your job is easy, destroy them before they destroy you.
Enemies range from what appears to be mutated sheep to armored horses (could be unicorns) and even an angry bull comes into play. Some go down with a single swipe of your sword while others are a bit more difficult to slay.
Gaming levels take place in a variety of scenes. One has all the characters silhouetted by the setting sun, which makes for an interesting combat environment. Some levels will require you to kill a specific number of enemies or find a set number of buried items.
When an exclamation mark appears above an enemy, it is a sign of an imminent attack. You can double tap the screen to defend against the attack, swipe left/right to create distance or strike that enemy first. The pace of the battle does have a bit of zip to it with enemies attacking from both sides of the screen and will keep you on your toes.
Overall Impression
Enter OrcKid is a Windows Phone action arcade game that has potential. The graphics aren't too shabby and the game has enough challenges to keep things interesting.
The Achilles Heel with Enter OrcKid rests with the gaming controls. There were simply too many instances when a tap registered as a swipe or didn't register at all. For Enter OrcKid to have any hopes of success, these controls need to be more reliable, maybe even more simpler.
As is, Enter OrcKid isn't a terrible game it just needs a little tweaking. The trial version will let you play the first six levels, which is enough gaming to let you decide if Enter OrcKid is worth the investment.
After two reviews, Enter OrcKid is only rated at 2 Stars, which is a bit on the low side. In its current state, we'd bump that rating up one star and if the controls would improve you could add another half a star on top of that.
Windows Central Newsletter
Get the best of Windows Central in your inbox, every day!
George is the Reviews Editor at Windows Central, concentrating on Windows 10 PC and Mobile apps. He's been a supporter of the platform since the days of Windows CE and uses his current Windows 10 Mobile phone daily to keep up with life and enjoy a game during down time.
Couldn't have said it better myself.. :')

Can I ask question related to my problem.
Like my recent problem is: After grabbing w8.1+cyan(preview developer) update.
My phone gets hang very often, some times phone starts and switch off simultaneously for 5 to 6 time. N lot.
I'm experiencing this since the first day I updated to cyan.
Is there is anyone else who is having same problem.
Please do reply :-)
Vineet.vpns@live.com

u should use nokia recovery tool via pc go back wp8 and then upgrade to cyan.

Ask in forums, there must be someone who may help you.

Just use Nokia recovery tool, find your correct firmware using your phones product code (it'll be 8.1 with cyan already), and reflash your phone. After the flash, do a hard reset. There's a good guide on xda

Developers, you are missing a huge oportunity not bringing your games to Brazil!!
I can help with this. The process is pretty simple.

Read reviews....only trial works. Purchasing the game actually breaks it. BEWARE.

It works fine for George and me.

Hey guys, the developer here. Some weird bug crept into the last update when we added Trial mode which did cause some issues. The guys who gave the low ratings were kind enough to engage with us and provide detailed feedback and I've tracked down the issue today and will upload a fix tomorrow hopefully.

What is the yellow case on the phone in the lead image? And is available for the 1520? Can't seem to find it anywhere

That'd be the Qi Wireless Charging case for the Lumia 925. There is a PMA version for the 1520 but not a Qi version. If you have the international version of the 1520 or 925, you don't need the case/backplate since the wireless charging was removed by AT&T for their version, but not on the international version.

Agreed that the controls need work. I found myself wishing for a virtual stick and buttons.

As time allows we'd like to give people more control options but really feel the current scheme is the most suitable for the design and as it stands it wouldn't be as easy as swapping around a bunch of inputs. There would be a signifigant amount of work to adapt a control pad like play scheme and then implement the on-screen buttons to go with it. Would certainly consider adding after a console release means the control pad part is already sorted, so watch this space.

The touch control issue is due to the regional format set in the OS not using a point as decimal separator, but a comma. If you set your device's regional format to English US, controls are working fine.

Yup, fixed that issue now, look for a new build on the store in a day or so ;)

I grabbed it last week, was really impressed. Controls aren't too bad for me, but would love to see moga support! Kudos to the developers for bringing this to windows phone first too. Surprised that wasn't mentioned in the review to be honest.

Hey guys, we found the issue causing a save-game related crash for some people and have just submitted it to store, should be with you in a couple of days.