Everything announced during Monster Hunter Rise: Sunbreak's (PC) digital event
Malzeno feasts upon monsters and hunters alike in the new Monster Hunter Rise: Sunbreak Digital Event.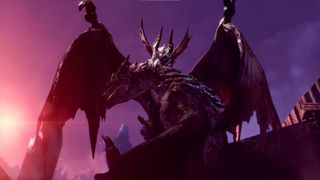 (Image credit: Capcom)
What you need to know
Capcom has hosted a new Digital Event showcasing new information on Monster Hunter Rise: Sunbreak.
Three new monsters have been unveiled, more info on Malzeno has been shared, and a new gameplay mechanic called "Switch Skill Swap" will be added.
There will also be new singleplayer quests where you get to hunt with NPCs and quality-of-life improvements to general gameplay.
We are less than two months away from the release of Monster Hunter Rise: Sunbreak, and Capcom is now pulling out all the stops to get fans excited for the upcoming expansion with a new Monster Hunter Digital Event. This broadcast has unveiled a plethora of new information for Sunbreak, including new monsters, new weapon actions, etc.
The first significant news of this Digital Event was the introduction of three new monsters for Sunbreak. First up is the return of the Seregios, a Flying Wyvern that was the flagship monster for Monster Hunter 4 Ultimate on the Nintendo 3DS. It hunts its prey with fast aerial divebomb attacks and fires sharp scales from its body that inflict the "Bleed" status effect, which drains players' health if they perform any actions.
Source: Capcom
The other two new monsters are subspecies called Aurora Somnacanth and Magma Almudron. Aurora Somnacanth is an ice-based Leviathan that lives in arctic climates and attacks enemies with dangerously cold breath attacks instead of sleep-inducing breath attacks like a regular Somnacanth. And Magma Almudron is a fire-based Leviathan monster that lives near active volcanoes. Unlike the normal Almudron, which covers itself in mud, this subspecies counterpart covers itself in molten magma and flings it at its prey to melt them to ashes.
In addition, the monsters encountered during the base version of Monster Hunter Rise will be given new attacks and combos to catch seasoned hunters off guard in the new Master Rank difficulty quests.
The second major topic of the Digital Event focuses on Sunbreak's mysterious flagship monster, Malzeno. This regal Elder Dragon has the ability to command a flock of leech-like insects that latch onto their prey and suck out their lifeforce to give to Malzeno. Malzeno also attacks its prey directly with an onslaught of vicious tail stings and an explosive dragon breath attack.
The most lethal weapon in Malzeno's arsenal is the ability to inflict the "Bloodblight" status effect. It slowly drains the player's health and reduces the amount of health they can restore from healing potions. The only means of fighting off "Bloodblight" is by attacking Malzeno directly to regain the lost health the vampiric Elder Dragon stole from you.
Players will not be alone when facing these monsters because in Monster Hunter Rise: Sunbreak, they will receive new moves and allies to aid them in hunts. The first new gameplay feature is the "Followers Collab Quests." These are singleplayer-only quests where you hunt monsters alongside NPC characters that appear during the game's story. These NPCs will help you out in battle with their unique fighting styles, lay down traps, and even mount monsters using the Wyvern Riding mechanic. These quests contain exclusive rewards upon completion, and you will unlock more NPC Followers to join you as you progress through the game,
The second new gamplay feature is the Skill Switch Swap mechanic. This is a huge, game-changing mechanic that will allow players to swap between two sets of Switch Skills during combat, without needing to return to camp to change them. Skill Switch Swap works through button shortcuts or through a new move called the "Swap Evade," an evasive maneuver that will allows players to swap skills and dodge an incoming attack at the same time.
There will also be some quality-of-life improvements implemented that will also apply to the base version of Monster Hunter Rise. You no longer need to use Wirebug Dashes to run up walls, simply sprinting into them will let you start Wall Running. And you can now decide whether you want to initiate Wyvern Riding or keep it attacking a monster normally when it's in a mountable state.
The developers have stated there will be new Silkbind attacks for all 14 weapon types and will release a series of short videos demonstrating them on May 16, 2022.
Monster Hunter Rise: Sunbreak is scheduled to be released on the Nintendo Switch and PC via Steam on June 30, 2022. There is a standard version of the game and a Digital Deluxe version that includes Layered Armor sets, gestures, poses, a hairstyle, and makeup. Pre-ordering the game will net players Layered Armor sets for Palico and Palamutes.
As an added bonus for those who have played Monster Hunter Stories 2: Wings of Ruin and kept its save data, you will unlock the "Navirou Costume" Layered Armor set for your Palico companion.
We hunt at sunbreak!
(opens in new tab)
Monster Hunter Rise: Sunbreak
New adventures await you in Monster Hunter Rise: Sunbreak

Travel to faraway lands and save the kingdom from the wrath of the mysterious Elder Dragon, Malzenos, in Monster Hunter Rise: Sunbreak. This expansion will build upon the original Monster Hunter Rise with improved gameplay, new locales to explore, new gear to forge, and new monsters to hunt alongside your hunting buddies.
Get the Windows Central Newsletter
All the latest news, reviews, and guides for Windows and Xbox diehards.
Alexander Cope is a gaming veteran of 30-plus years, primarily covering PC and Xbox games here on Windows Central. Gaming since the 8-bit era, Alexander's expertise revolves around gaming guides and news, with a particular focus on Japanese titles from the likes of Elden Ring to Final Fantasy. Alexander is always on deck to help our readers conquer the industry's most difficult games — when he can pry himself away from Monster Hunter that is!