Everything you need to know about Rainbow Six Siege's Velvet Shell update
Here's what you know about Rainbow Six Siege's Velvet Shell update – operators, maps, changes and more!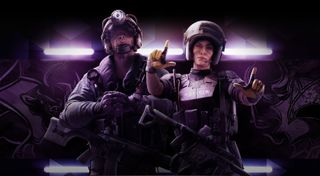 Update: Rainbow Six Siege's Velvet Shell expansion is now live on Xbox One, with a mandatory 7.49GB download now awaiting all players. Both of the new operators are now available to season pass holders, with the Coastline multiplayer map also having been added to the matchmaking rotation.
Rainbow Six Siege is about to receive its fifth major expansion since launch, marking the first of four content drops in 2017. Offered as a part of the game's second 'season' of content, the Velvet Shell update introduces two new operators, a new multiplayer map and a slew of new customization options. Like previous expansions, the content will also be paired alongside some highly-requested bug fixes, affecting both gameplay and the operators themselves.
Velvet Shell will roll out over the course of Tuesday, February 7, with each platform seeing at least an hour of scheduled server downtime to deploy the update. Xbox One servers will be offline from 10 am to 11 am Eastern Time, with PlayStation 4 and PC versions seeing downtime from 9-10 am and 11-12 am respectively.
Once the Velvet Shell update hits your platform, a mandatory game update will be required before connecting to Rainbow Six Siege's servers. While a majority of the expansion's content will be available from this point forward, you'll have to wait for the new operators if you don't own the second year season pass.
See on the Xbox Store (opens in new tab)
New operators
Jackal and Mira
Two of the largest aspects of the Velvet Shell update are the new operators finding a place in the game's roster. Coming straight out of G.E.O, a special operations force of the Spanish police, the duo brings numerous new abilities to Rainbow Six Siege's combat.
On the attacker's side, players gain access to the Jackal – an expert tracker with the ability to trace player movement. Equipped with a mobile tracking tool that highlights player footprints, players gain access to a breadcrumb trail to any defender's hideout. With balanced speed and armor, Jackal is a well-rounded gunman fit for a wide variety of encounters.
Mira is the second operator added as a part of Velvet Shell, holding her ground on the defensive side of firefights. Kitted out with a new one-way glass barricade deployable onto any existing metal reinforcements, Mira has the tools to get the jump on unsuspecting opposing forces. However, when attacking enemies begin closing in, the glass can be popped out to provide an opening to exchange gunfire.
Although Velvet Shell rolls out universally to Rainbow Six Siege owners worldwide, the two newly-added operators will initially be exclusive to owners of the game's 'Year 2 Season Pass'. Owners of the pass are granted seven-day early access to these new playable characters, with a public release set for February 14. Once this exclusive period ends, both operators will be available for purchase with Renown or R6 Credits.
New multiplayer map
Coastline
Velvet Shell also introduces Coastline – a new multiplayer map based in Ibiza, Spain. Taking the battle to a party haven of La Perla Blanca, Coastline focuses heavily on close-quarters combat throughout its various bars, pools, and dancefloors. As always, the new map retains the familiar elements of traditional Rainbow Six environments, with destructible scenery and balancing for all existing operators.
Available for free to all Rainbow Six Siege players, Coastline will be immediately added to multiplayer rosters once the update drops.
Bling bling
New customization options
New customization options also make an arrival with Velvet Shell, giving both new and existing operators the chance to experiment with a new coat of paint. These will be available for purchase with Renown or R6 Credits, earned in-game.
Inspired by the expansion's setting, Velvet Shell debuts four new weapon skins with a signature Spanish style. Named Chupinazo, El Dorado, León Furioso and Crossfader; these skins add a fresh and vibrant style to in-game weaponry.
A new Elite set is also being introduced, issuing a new look for existing operator, Rook. Referred to as the Gendarmerie set – new uniform, headgear and other cosmetic items all find a place in the operator's wardrobe.
Have it your way
New dynamic menu
Rainbow Six Siege's menus are also undergoing a serious overhaul with the Velvet Shell expansion, hoping to streamline the experience for regular players better. With the game gaining an increasingly dedicated player base, the user interface has been reworked to accommodate this demographic.
Following these changes, Rainbow Six Siege's menu will be consolidated into a snappier and more efficient design. The full menu will be navigable while matchmaking, giving players activities to pass the time while searching for matches. Features such as challenges, news, and boosters have also been refined down into a single location, reducing the overall clutter around everyday tasks.
A new 'Play' button is also being introduced with the update, which dynamically adapts to your personal preferences. Accessible directly via the main menu, this allows players to quickly boot up their last played mode and get right into the action.
The old is new
Tweaks and fixes across the board
As with all Rainbow Six Siege updates, Velvet Shell also comes with a huge changelog. Fixes are being introduced to all aspects of Rainbow Six Siege, from operator and weapon handling to general quality of life improvements on all existing levels. Among the biggest changes are tweaks to how certain sights appear on different weapons, and how some operator loadouts and how player ranks appear in-game. For an in-depth look at the changes coming to Rainbow Six Siege, take a look at Velvet Shell's full changelog. (opens in new tab)
See on the Xbox Store (opens in new tab)
Matt Brown is Windows Central's Senior Editor, Xbox & PC, at Future. Following over seven years of professional consumer technology and gaming coverage, he's focused on the world of Microsoft's gaming efforts. You can follow him on Twitter @mattjbrown.
OK maybe I need to give this thing another go.

absolutely. hands down best fps ever released

woooow, new operators are wayyy toooo overpowered dislike

How are they overpowered?

I have a couple friends who are going to buy this game again after a year off. It's really coming into it's own after over a year of gameplay and engine refinements. Is it perfect? No, but I've never played a game that was perfect. People will always *****... I just love how it isn't anything like the crazy, spastic fragfest of other fps multiplayer arenas. It also requires much more teamwork. As a result, it seems to attract much less of the crude hormonal 12 year olds with anger management issues. It is much more of a strategic slower paced game. Usually the one with more patience wins.

You really should! The game has been hugely refined since launch, with a few expansions and updates to tweak the gameplay. Now is probably the best time to jump in!

One hour of scheduled down time? That means less downtime than normal, because UbiSoft servers have been nothing short of a mess. And game fixes? Please they always say this and yet your player still crab walks around the screen as if out of the Exorcist.

Seriously man? Stop hating. Every game has its flaws, and frankly man, this game doesn't have many. Whatever your problem is with the crab walking is probably just your internet.

Not the Rainbow Six I really wanted. Looks like Ghost Recon: Wildlands will be that for me.

Ive played the technical beta, you're probably going to be disappointed if you're looking for anything other than a rehashed ubisoft open world game. Not that its not fun, its just not going to live up to the hype.
Windows Central Newsletter
Thank you for signing up to Windows Central. You will receive a verification email shortly.
There was a problem. Please refresh the page and try again.