Eve's 'Project Pyramid Flipper' tablet will pack some impressive hardware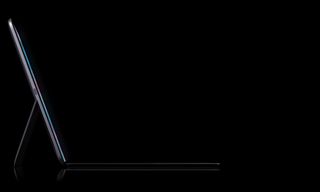 Eve, a small Finnish startup aiming to crowd-develop unique Windows hardware, has just nailed down the hardware specs for its first 2-in-1 tablet hybrid — codenamed "Project Pyramid Flipper."
As chosen by Eve's community, here are the specs that have been locked in so far:
Display: QHD with eye-melting colors and zero air gap lamination technology
Wacom active pen
RAM: 8GB
CPU: Latest intel core M5
LTE support, Fingerprint sensor
Thunderbolt 3 and 2 USB type Cs + 2 USB type A
Aluminium body carved from single piece of aluminum using CNC machine
For those unfamiliar with Eve's efforts, Project Pyramid will come in a form factor very familiar to Surface fans. While the final design hasn't yet been shown in full, we do know it will back a kickstand on the rear and a detachable keyboard when it launches this summer.
On a final note, Eve says that it has partnered with Mozo to create some unique accessories for the Pyramid Flipper. To celebrate, Mozo and Eve are giving away 21 cases for the Lumia 950 and 650, so be sure to head to Eve's website enter for a chance to win.
Dan Thorp-Lancaster is the Editor in Chief for Windows Central. He began working with Windows Central as a news writer in 2014 and is obsessed with tech of all sorts. You can follow Dan on Twitter @DthorpL and Instagram @heyitsdtl. Got a hot tip? Send it to daniel.thorp-lancaster@futurenet.com.
If you wish to disrupt the market with the first crowd-developed 2 in 1 tablet please join us! Here you have the link: http://eve.community/
Wish you all the best!

Oooh, sounds nice. Will give it a look. :-)

Looks interesting. Windows Central for Windows 10-Microsoft Lumia 640

So if tthe Surface was an iPad

No. It has Surface written all over it. Brainwashed much?

no oh my god why is everyone attacking me over this. yes, i see that it resembles a surface, but it also resembles and iPad, hence my comment

What do you mean by that?

I mean it looks to me what the iPad would look like if Apple made it into a Surface

Oh but that's Just a render indicative of the type of the device it will be. It may or may not come out to be like this since that's now up to Eve's team of designers to decide. The port placement actually makes me think of an iPad but this device is supposed to disrupt the market by providing what people would at an affordable price unlike Apple who keeps their prices very high (they can afford to do that given their large and loyal fanbase). We, people who take part in the Eve community want to give the best device out there! Come on and join us in this quest to revolutionise the world :)

Wow, impressive specs indeed!

It was really enjoyable to help with the creation of the Pyramid Flipper. I'm so excited! Sent from Ultimate Toaster 2.0 Deluxe

Battery size and expected life? OLED or LCD display, and what size?

"Aluminium body carved from single piece of aluminum using CNC machine"

A funny detail to remark... Surely no one thought it was hand made using a chisel and a hammer, right? :)

I think "single piece" is the important part

Did you actually read the article?

@nospams_99. Yes I did. But article doesn't mention much else suchas pressure levels, palm rejection etc. I was hoping for abit more info when I said it in jest - hence the ":P" emoticon lol.

Would you like to have it? The community thinks that way too! Of course in a 2 in 1 we would want one. So we chose (as said in the article) Wacom as our active pen provider!

@Artur Dias, it would be amazing to have it - if at all possible at a affordable price point.

It will be most certainly much less expensive than the Surface Pro 4.

I have the original Eve Mini Tablet and have been very satisfied with it

We hope this one will be even better! Come and join this project! We welcome you all and each one of you may very well make a difference in shaping this device and hopefully the industry! Cheers!

Looks cool since it have LTE & Fingerprint support. Hopefully it will comes with cases & screen protector.

Those are interesting questions... I wonder if you could get an answer and maybe implement those ideas...Oh, yes, there are the Eve community forums! We discuss there what we want on the device and accompanying it also! Here's the link: http://eve.community/

It's an LTE support, so we cane insert a SIM card. Can we make a phone calls from this ambitious tablet?

I'm not sure if Windows 10 supports that...

But you guys can make your own app for phone calls. That would be a Great feature Sent by Lumia 532 W10M

Nice idea! Come to our forums and let's discuss that with other members to see their opinion about that! Here you have the link if you wish to do so: http://eve.community/

Thanks for the supports guys :)

Well if this is no bigger then 10" I may just buy one to replace my aging surface Gen 1. I've been holding out for a no compromise smaller tablet. But no one has built one yet with windows.

I don't know very well what the final screen size will be... however I believe from the discussions that it'll be around 12". We'll have definitely small bezels (though you'll have some to hold it as a tablet) and we want it to be portable and light so it'll compensate for that :) if you still wish to have such a product (10") I would invite you to our forums so that you can there express your opinion and maybe we'll change ours too!

This is the link to our forums: http://eve.community/
Cheers!

It would be nice to place the screen asymmetrical. Meaning, zero bezel on the top and left, and enough bezel on the bottom and right to hold it one hand. To take advantage of as much surface as possible. I see no reason to have bezel all the way around. Från min Lumia 1520

In portrait mode and to handle a 12" tablet I think it would be better to hold on the sides (that in landscape mode are top and bottom). Besides that I also think symmetrical bezels feel more natural and look more elegant but the community may have a different opinion to mine! Come to our forums and let's discuss it! Here is the link: http://eve.community/ Cheers!

Thanks desertfox6666 and Artur Dias for answering our questions. I'm looking forward to the next big update for the computer. Posted from Windows Central for Windows 10

I think it's great when I can help someone and maybe they'll also get excited with this product as I am! If you wish, come over and join us in this quest to build the best device we can possibly create. Every input is vital for this project and as such I leave you here the link to our forums: http://eve.community/
Cheers!

Very nice specs. I'll sell my SP4 and buy this tablet if the display is as good as my Surface or iPad. I cheap out and purchased the 4GB version and later found out that Visual Studio with WP/Android emulator takes >5BG to run.

Lol even in this day & age its a power hungry tool. Try running EAs create on PC

It most certainly will be! Join our community to help design you're future device ;) Here is the link: http://eve.community/ Cheers!

Looks good, that proves that Surface success is getting huge. I love my Surface Pro 4 i5 but if htey can keep the price lower than the SP4 m3 model perhaps this could be a valid alternative

I supported them on their Indiegogo campaign. Mine should ship in the second batch of deliveries. Will be a timely replacement for my Surface Pro 3.
Windows Central Newsletter
Get the best of Windows Central in in your inbox, every day!
Thank you for signing up to Windows Central. You will receive a verification email shortly.
There was a problem. Please refresh the page and try again.