Evolve and Borderlands 2 blast into March's Xbox Games with Gold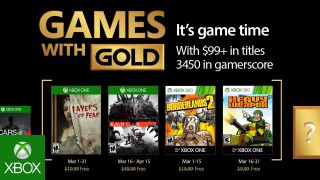 March's free Xbox Games with Gold have been revealed, and, as always, there's plenty to like on both Xbox One and Xbox 360. All told, March offers up $99 worth of games and 3,450 gamerscore to be had.
First, Xbox One owners will be able to pick ups horror title Layers of Fear for all of March. Then, runningfrom March 16 through April 15, you'll be able to grab Evolve for free.
Xbox 360 gamers, on the other hand, will get Borderlands 2 for free from March 1-15. Heavy Weapon will also be free from March 16-31. As always, both Xbox 360 titles are also playable on Xbox one via backward compatibility.
If you have an active Xbox Live Gold subscription, you can start grabbing your free games at the beginning of the month. Are there any specific games you're looking forward to checking out?
Windows Central Newsletter
Get the best of Windows Central in in your inbox, every day!
Dan Thorp-Lancaster is the former Editor-in-Chief of Windows Central. He began working with Windows Central, Android Central, and iMore as a news writer in 2014 and is obsessed with tech of all sorts. You can follow Dan on Twitter @DthorpL and Instagram @heyitsdtl.
Great news on Evolve. Beyond the semi-disastrous launch, it's a fantastic game that was ruined by publisher and/or developer greed. I will be happy to see more people online!

Awesome on Boarderlands, now I can finally not finish it and put it in my backlog... =P

Not even worth downloading. Too many bugs and design flaws

Have you ever played it? Are you serious?

I own it. Between the ability to get stuck behind rocks while looking for collectables. Falling through the world with the car, and the last boss being bugged, They dropped the ball on that game.

We rarely ever bugged and we spent too many hours and two players with double the chances to have issues. I get irritated from bugs and I tend to get most of them. So I would remember if it was that bad. So would the fiancé. For an open world game it was a blast and a rarity for coop. Maybe you remember a different game.

Anecdotal evidence means nothing. Just because you never saw it, doesn't mean there is no bug. When FIghting Jack at the end, there is a known bug where sometimes his little repair bots (or what ever they are) don't appear while his shield is up so you can't shoot them to down his shield. google either that, or falling thorugh the map and you can see plenty of videos of it.

Means the game wasn't broken if it didn't happen to anyone I know but you. Simple logic. Anecdotal is you claiming it was a mess. For the highest profile game of the year back then most of us, even if we hadn't played it, would be aware of that

Since logic escapes you, I'll help out https://www.youtube.com/watch?v=f4lFEg8UF14 https://www.youtube.com/watch?v=7OaGbhzUOww https://www.youtube.com/watch?v=Ir7UBZmBFuY https://www.gamefaqs.com/boards/638784-borderlands-2/68466891 But the game has no bugs right, because you haven't heard of any.

You have to be the most annoying part of WC comments. Every single time. Since logic consumes me I'll let you know I won't bother going as far as opening links from you. Doesn't change our experience with the game.

So you're just gonna stomp your feet and assume you're right. Makes sense.

Dude. Gtfo and realize ahat they are telling you. Me and my lady coop and at least three more bodies of mine who really love Borderlands didn't have noteworthy issues with the game. I don't assume I am correct about anything. I know for a fact our experience. A lot of bugs are shown off for Witcher 3. The game was epic and I got o my a couple annoying ones and worse about it were quest related. Borderlands > Witches 3 for personal experience when it comes to bugs. Doesn't stop Witcher being the best game ever in open world rpgs. If you don't get that go watch some YouTube videos and get over it.

So now you jump over to Witcher as part of your arguent, which has nothing to do with Borderlands. I'm sorry you're butt hurt that I don't like your favorite game, but it had too many game breaking bugs for me to enjoy it. I provided proof of the existence of the bugs, so you're just gonna have to deal with the fact that I had them, and it ruined the game for me.

Eh, it was fun enough even with the bugs. That being said, probably not fun enough to go back to being a priority on the list for a few achievements.

I thought they were shutting down the evolve servers

Evolve? Didn't it went F2P? Or that was only on PC?

Ok, I thought that too. I bought it for xbox on release (mistake)

That was pc only before they shut down production on it console never got the treatment

The F2P was PC only. And 2k owns the rights to Evolve now as well so we won't be seeing anything any time soon.

While cool about Borderlands 2, people should still get the Handsome collection. Higher rez, 60 fps, PC visuals (sans Physx), all the DLC and BL1 with all the DLC. Much improved experience I'd say.

Finally! Borderlands 2 separately for free on XB1 instead of just that bundle

They need to do the same the Pre-Sequel though! I have BL2 on disc for X360, so I'm not about to spend the full cost (or even $30) for the Handsome Collection just to be able to get the years old prequel that be had individually and for less on all other platforms.

smart move when i didn't purchase evolve i get it now :D

I can wholeheartedly recommend Evolve, especially in the form it is in this edition for Xbox One. The PC Stage 2 ended up being a mess trying to dumb down gameplay.

Layers of fear still gives me nightmares. But there is a part late game with a baby that still cracks me up! If you get that far, you'll know the part!

Borderlands was the best coop gaming experience, along with Diablo, I had with my lady back then. Crazy fun. Layers of fun, as a horror lover, it's been the scariest thing I've ever experienced. Just allow yourself the loud headset to suck you in and not ruin it. Always matters in those situations. Evolve was disappointing when I tried it cause the servers were empty and bots were bad so I hope now for free It shines with more people. As for the forth game I'm unexpectedly not familiar with. Amazing free games for this month again. gg

I'll be on Evolve. count on it.
Windows Central Newsletter
Thank you for signing up to Windows Central. You will receive a verification email shortly.
There was a problem. Please refresh the page and try again.