Exclusive Day One content revealed for Forza 5, Dead Rising 3, and RYSE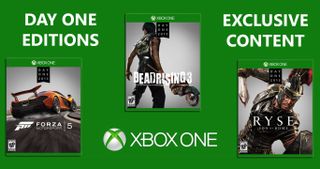 If you have ordered the Day One Edition of Forza 5, Dead Rising 3, or RYSE, then we have some exciting news for you. Game studios Turn 10, Crytek, and Capcom have announced what special bonuses will be included with the special editions of their games.
FORZA MOTORSPORT 5
Users who have preordered Forza Motorsport 5 will receive the Day One car pack. This three car pack includes three cars from Lamborghini, Audi, and Ford. Each vehicle includes a Day One theme and custom tuning packages.
2010 Audi TT RS Coupe: Stuffed stem to stern with modern tech, the TT RS is the first TT model to carry Audi's famed RS badge – a distinction that's earned on the track from the moment you step on the gas.
2013 Ford Focus ST: Debuting with the same 247-hp 2.0-liter turbocharged EcoBoost engine from the much larger Ford Explorer SUV, the new Ford Focus ST packs a serious punch.
2011 Lamborghini Gallardo LP570-4 Superleggera: Like great sculpture, the Superleggera's chiseled form is carefully considered for maximum impact. That's where the similarities end, however, because this work of art is best appreciated when it's moving at top speed.
DEAD RISING 3
If you decided that slicing up zombies is more of your thing and have decided to pick up the Day One edition of Dead Rising 3, then you are also in for a few special treats. The Dead Rising 3 Day One game includes exclusive content and bonus packs.
First up is the classic Frank West outfit, Frank's zombie slugger weapon, bonus glory attacks, and custom skill move. Also included are custom attribute perks for increased melee damage and tougher survivors.
If Frank West isn't your style, the limited edition release also includes the official Chuck Greene outfit and Paddle Saw (to help you cut through zombie hoards like butter). Frank West also receives custom attributes including one for vehicle and weapon durability.
RYSE
Lastly, those who preordered the Day One edition of RYSE: Son of Rome (that's me!), will gain access to an exclusive Gladiator Mode, Co-Op multiplayer map, and weapon add-ons. Crytek wants you to share with your friends though, users who have the Day One edition will be able to invite their "standard edition" friends to join the exclusive multiplayer map.
Legionnaire's Trust Exclusive Sword: From the Brotherhood of Metalworkers high in the Swiss Alps comes this well-crafted, finely hammered blade that includes bonus in-game attributes.
Ruins: Placing gladiators among the columns of an abandoned temple, Ruins will pit players against hordes of Barbarians, attacking from around every corner. The arena changes dynamically during gameplay, adding new obstacles and objectives for the player to encounter and overcome.
What games have you preorder for Xbox One?
Source: Major Nelson's Blog
Windows Central Newsletter
Get the best of Windows Central in in your inbox, every day!
Deadrising 3 is gonna be great

I pre-ordered on the first day it was annoucned from the Microsoft Store. I only saw 1 version there. Is there a way to get one of these Day One editions or am i stuck with a stock Day One with no game???

I think you have to buy these games separately. I don't think its been announced what game(s) will be included with the Day One Xbox in the USA version.

Console doesn't come with games. These are day-one editions of the games themselves.

Doesn't European X box one come with Fifa?

I wanted to buy on day one but the digital version. Will I also get these edition.

On the cited Major Nelson blog post, Major Nelson said that you'll get these same bonuses if you buy any of these games digitally within the first 20 days of their release.

This kind of sucks. I wasn't going to preorder any of them cause I'm going digital...

Oh... damn. I completely forgot about that - might cancel my preorders now. I would prefer to get everything digital.

You get the day one edition if you buy and download in the first 2 weeks according to CVG

Every digital ver. of each game will have these day one incentives for the first 2 weeks. [: I'm going digital aswell!

Sweet, all this Day one stuff was pissing me off because I wanted to go all digital! Good news :D

They confirmed that bonus dlc will be available for digital downloads for up to weeks after release. And that even limited edition of games will also be able to be downloaded

Sweeeet, to the future in the clouds.

I've been reading a lot of responses about buying digital. How much space does a digital game take up? Just curious because the systems both have 500gb. Wondering how many games could be stored on the system as well as saved game files?

Well with the Xbox one you can buy a nice 2TB external hard drive to extend if need be. So everyone will be ok

So that doesn't really answer my question. A 2TB hard drive is about $100. That may not be possible for some people since they are already spending $500 on the console.

A 500GB HDD can hold about 31 15GB games which will be the size of most open world/racing games.
Shooters like CoD and BF will range from 10-15GB and most MMORPGs will be about the same. Now of course I'm basing these off of my PC games.

Thanks. That's a pretty decent amount. That seems like more than enough space. I can't imagine owning that many games at once.

Yea it'll be just the right amount

I've got Dead Rising 3 preordered. I'm assuming it is a day one edition but the Gamestop employee never said it was a day one edition.

Ryse has won me over. At first I wasn't that interested in it, but the more I saw, the better it looked. The multiplayer trailer won me over. I'm getting Ryse, Dr3, and Need for Speed when it comes out.

I have Dead Rising 3, Ryse, Watch Dogs, Call of Duty: Ghosts and Battlefield 4 all paid for. Can't wait!!

I intend to buy all of my Xbox One new releases online unless theres some special physical deal package. Will games purchased onlîne on day 1 get the day 1 features or is it restricted to preorders?

This is great content, this is getting me excited.
Windows Central Newsletter
Thank you for signing up to Windows Central. You will receive a verification email shortly.
There was a problem. Please refresh the page and try again.