Exclusive: Onigiri, the Xbox One's first MMO coming to North America and Europe in 2015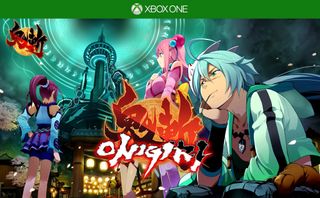 One year after launch, the Xbox One has a single massively multiplayer online role-playing game (MMORPG) called Onigiri. Based on Japanese mythology, Onigiri has a beautiful fantasy world to explore and lots of content for role-players to enjoy. And it's even free! The only downside is it's entirely in Japanese.
We've already published a helpful guide to downloading Onigiri and understanding its menus, making it fairly easy to enjoy for non-Japanese speakers. But nobody can deny that a true English version would still be more convenient and immersive for gamers living outside of Japan. And yet no English Xbox One version had been announced… Until now.
Windows Central is proud to break the news that the Xbox One version of Onigiri is coming to North America and Europe in early 2015, right alongside the Playstation 4 version. Learn about the English release, whether or not characters can be transferred between versions, and more in our exclusive interview with Onigiri developer Cyberstep!
Watch live video from EastXTwitch on Twitch
With the Xbox One's poor sales situation in Japan, what made Cyberstep choose to launch Onigiri on Xbox One there? Was bringing the game to markets in which the Xbox One has sold better the primary motivation?
We here at Cyberstep are always looking at bringing our games to the global market. Though the Xbox One may not have sold very impressively in Japan, it has sold more than five million [consoles] overseas in general, which is quite a large amount overall. Thanks to support bases in North America and Taiwan, we are able to fully support localization and steady update schedules for Onigiri on this platform as well as others simultaneously.
Do you expect the North American release of Onigiri for Xbox One to launch simultaneously with the already announced Playstation 4 version, or on a different date?
We plan on releasing both as soon as we can, but the release dates may not match up precisely.
Will Onigiri for Xbox One and Playstation 4 also be available in Europe?
Yes, we do plan on releasing Onigiri on both systems in Europe as well.
Are the console versions of Onigiri identical in content to the PC game? If not, how many updates behind are the console versions?
In terms of playable content, the console versions will be nearly identical to their PC counterpart. Some items found in seasonal events will most likely not show up until the appropriate events happen during those seasons, though.
Finally, there may be a month or so delay between the latest PC update and that of the console versions contents due to the [certification procedures required by Microsoft and Sony when we add] new content.
Can players who already have a character in the PC version use the same character in the Xbox One version?
Unfortunately cross-version characters and servers will not be available in Onigiri Online.
If a player begins to play the Japanese Xbox One version of the game, will that player be able to retain the same character and progress in the North American version? And will the North American Xbox One version of Onigiri share servers with the Japanese version?
Unfortunately [character transfer and shared servers between regions] will not be available. All characters on different language versions of the game will be on separate servers.
Let's focus on the game itself. How is Onigiri monetized? Can you go into detail about the in-app purchases?
We are always putting in monetized options for players that involve a realistic approach to what the players will want for their characters in the game.
For example, as Onigiri Online is an action RPG game, it is important to players that they defeat the enemy in the brink of time, but also important to heal and support your friends and other players. As such, we have a variety of healing and resurrection items that will be available in game, as well as for sale in the cash shop. (One example is that you only get ten free resurrections per day. –ed.)
There is also a large variety of specially designed weapons and armor. Just as humans have changed from ancient clubs made of bones to the intricate steel sword, so too will the specially trained warriors in Onigiri Online move up in class and quality of weapon throughout their play.
Just like real life, players who make mistakes with their weapons will have them degrade and become worse with use. But unlike real life, the player characters live in a magical world, where with coin they can get a charm to bring new life to tired, used weapons.
That kind of "charm" can be purchased or ignored as players wish. It is up to them.
Also included with those [in-app purchase] options there is also a raffle-like system called the "Nyankoropon" where players can get a chance to win rare items and outfits!
How many characters can a player have by default? Are extra character slots available for purchase?
Any player can have up to three characters per account. There are no extra character slots for purchase yet, though they could be added in a future update.
Finally, do you have any additional information to share about the console versions of Onigiri and your plans for them?
The console market used to be a very difficult area for game companies that developed PC games, but it's a very widely spreading and compelling market in general. Entering this market is a very daunting and large challenge, but also quite exciting for us.
To make sure that Onigiri is successful in that new market we are taking precautions to start our service in a way that eases in the new players from the console markets who are new to free to play games and MMORPGs so that they can enjoy the atmosphere and world building experience with things like real-time and seasonal events, and continual updates, which are less common in games of other genres.
We are sorry we couldn't give out more information at this time, but please look forward to future updates!
Our take on the news
Cyberstep's plans for Onigiri are mostly great news, although a few specific details might not make some players happy.
A fair number of English speakers have already downloaded the Japanese Xbox One game and started playing it. The download process is not hard to do, and the game is plenty of fun even when its story is told in Japanese. Plus you can earn exotic Achievements and unlock some beautiful Achievement artwork for use as your Xbox One dashboard background.
When the game is released in North America and Europe, we'll be able to enjoy the same great gameplay and gain a deeper understanding of the mechanics and story. The downside is we can't transfer our Japanese characters to the English version. If a player spends dozens of hours in the Japanese game, it might be hard to part with that character in favor of starting the game anew in English.
Still, we all benefit by knowing that Onigiri will come to Xbox One and Playstation 4 in English sometime next year. Some players who were interested in starting the Japanese game might want to hold out for the English version now. Achievement hunters might want to play both, because each version's Achievements will be separate (and thus stackable).
Personally, I'm going to keep playing the Japanese version of Onigiri until the English version comes along. I'm having a lot of fun with the game right now, and I'll have even more fun once it officially comes to the US.
In the meantime, we're planning a viewer participation Twitch stream later this month in which any of our readers and viewers who have downloaded the Japanese game can join us for multiplayer during the stream. If that sounds like fun, hurry up, download the game, and start questing!
Thanks to Cyberstep for answering our questions and releasing a highly enjoyable MMORPG on Xbox One!
Windows Central Newsletter
Get the best of Windows Central in in your inbox, every day!
Paul Acevedo is the Games Editor at Windows Central. A lifelong gamer, he has written about videogames for over 15 years and reviewed over 350 games for our site. Follow him on Twitter @PaulRAcevedo. Don't hate. Appreciate!
Considering how poorly the X1 sells in Japan, Paul probably tripled their user base. They're probably more than happy to be interviewed by you lol.
I'll probably wait before downloading this game, but from what I saw, it looked fun. It looks like a game that's just fun and not too competitive.... Perfect for Paul the Casual (;

This is great news. I can't wait. I might dl the Japanese version just to check it out.

That's what I'm doing. Screw waiting til 2015. It's actually really easy for me to figure out even with almost no knowledge of the language.

Great! You guys need to join us for our "Let's play" twitch stream next week. :)

The guide seemed easy enough to follow, but I like seeing the game's story along with the game play, and I was turned off by missing out on that (outside of learning Japanese). Very glad to see that this will be localized; I'm looking forward to it (especially after seeing it on the Twitch stream this weekend)! Besides, some of those character models are, if I may say.... Hellooooooooooo Nurse! ;)

Thanks for joining us during the stream. What's your Twitch username?

On Twitch, I'm GamertagCyberKnight.

I had a feeling that was you after listening to the stream again! You guys confuse me with all the different usernames. ;)

Great news. Would love to play it and understand it more, lol.

Dont mind MMOs but ill never understand the fascination people.have with anime looking stuff

It's subjective like all art is. I like anime as it can be extremely diverse and tends to have pretty awesome action.

The way they portray their women, I'm surprised there's no movement over there in Japan when all the feminists here complain about less.

Japan is several years behind the US and UK on feminism and some other social issues. They're a very traditional society, slow to change.

I can explain it in under 10 letters
"Dat ass tho"

Was hoping onigiri would be localized. So happy we will get it some time after new years :)

Bring Oddworld Abes Exodus back to Xbox! They've been trying to port it but Microsoft studios won't let them.

I'd rather have Phantasy Star Online 2. But I'll take what I can get.

I might stop playing until then. Is to hard when I can't read anything. I got an achievement :)

I'd be happy to help you out, Swizz. You should join us for our "Let's play" stream next week if you're not working.

The MMO I want to come to Xbox is FFXIV: ARR.

Id like to see black desert online or albion online
Windows Central Newsletter
Thank you for signing up to Windows Central. You will receive a verification email shortly.
There was a problem. Please refresh the page and try again.