Windows Phone platformer Eyez updated with improved controls and compatibility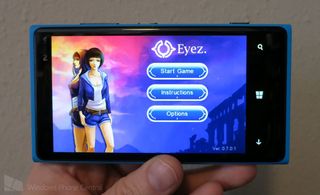 We first discovered unconventional platformer/puzzle game Eyez back in June, right around E3 time when we interviewed the developer. The game instantly caught my eyes with its beautiful hand-drawn Asian artwork and striking use of colors. It also packs some highly creative puzzle mechanics that you don't see every day. Oh, and it runs on both Windows Phone 7 and 8.
Since Eyez' release, developer Hua "Rex" Chen has steadily updated it with tweaks and compatibility improvements. The latest update even adds better touch controls. Head past the break for more update details, screenshots, and more!
Eyez update history
Version 0.7.0.5:
Jump controls optimized
Other minor tweaks
Version 0.7.0.4:
256MB-RAM devices support
Jump button added (Enable in Options - Game Settings - Jump Button)
Version 0.7.0.3:
Improved jumping control for multi-touch control scheme
New instruction added in 1-3
Version 0.7.0.2:
Minor bug fixes
ESRB, PEGI, DJCTQ and CSRR rating certificates added
Compatibility to the max
Making Eyez available to as many users as possible was Rex's first priority, hence he registered ratings certificates with all of the important agencies. DJCTQ is the Brazilian ratings system, home of loyal reader Blanka, I mean Guilherme. CSRR is Taiwan's rating system.
Along the same lines, Eyez is now compatible with devices that have 256 MB. Low-cost Windows Phone 7 handsets like the Lumia 610 have 256 MB of RAM instead of the standard 512, just as low cost Windows Phone 8 handsets boast 512 MB instead of 1 GB. It's funny how one developer working on his own can make a game run with less RAM but larger companies like Gameloft can't be bothered to do the same with most of their games.
Jumping Jacks
After playing Eyez on my own for a while, my chief complaint about the game was its unconventional jumping mechanic. Instead of a jump button, players had to swipe up to get the heroine Mint off the ground. It worked, but proved more cumbersome than the single jump button we're used to from most platforming games.
Luckily Rex took that feedback into account and added a proper jumping button to the game, going on to optimize it with this latest update. The jump button feels much better than before and makes the game easier to play,although it's still a bit too floaty. The jump button can even be repositioned for comfort.
That said, it's still at odds with the controls for switching between and activating Eyez' special 'Red Eye' and 'Blue Eye' modes, both of which are used for puzzle solving. Swiping down to switch between modes and double tapping anywhere on-screen to turn them on and off doesn't mesh perfectly with button-based design. Optimally, adding two more buttons for activation and switching would create a cohesive, more standardized experience.
Eyez on the future
One important feature that has yet to make it in an update is the planned third act of the game. As of now, Eyez consists of two sets of levels. These levels tell part of the game's narrative, but they don't conclude it. Rex has promised a third set of levels that keeps things going – hopefully we'll see those before the end of the year.
Paul (left) and Rex standing in front of the Titanfall statue at E3's E3 2013 press conference
In Eyez, Mint finds herself trapped in a strange and dying world. To uncover what has happened to her and make her escape, she'll need to take advantage of her new color-based powers.
First she'll learn to use the Blue Eye ability. This freezes the scrolling of the screen and makes it so that when Mint exits one side of the screen, she'll come out the other side. Soon she gain the "Red Eye" ability that lets her walk or jump along the borders of the screen. Both powers will help her get through puzzling levels. Check out the video above or our original article for more details.
Eyez – Windows Phone 7 and 8 – 34 MB - $1.99 – Store Link
Paul Acevedo is the Games Editor at Windows Central. A lifelong gamer, he has written about videogames for over 15 years and reviewed over 350 games for our site. Follow him on Twitter @PaulRAcevedo. Don't hate. Appreciate!
I'm about to try it out.. Hmmm.

Will have to give it another go then. I tried it out yesterday and had a hard time with the controls on my 520. Is one of those games that work better on something like a 3DS actually.

RAM is not the end all/be all problem of games. Especially since we have all these crazy buttons on our devices, some games are a PITA to play because of them. That and the resolutions. I think Sonic the Hedgehog 4: Episode I is hard to play on my 520 for example.

Oops. If you tried the game yesterday, the controls wouldn't have changed since then. The game was updated a bit before that, and we're just getting to covering the update now. Physical buttons will always be superior to touch screen for games like this, but you can adjust to touch controls if you put the time into it. They're seldom an issue for me any more.

Oops. Well, I tried both the swipe and jump button. The button is definately better, I agree.

I think it varies.

Question: Why would this puzzle game need access to my photos, videos, and music libraries?

The developer probably forgot to uncheck those options when submitting the game to the Store.

I like it. Just bought it. I would love if the story became more and more involving, or clear if you like. I really love being thrown in the game and then start figure out more.
Seems a bit short also? I am already in to chapter 2.
A hint button would be nice also, cause im probably stuck for good now, just can't find the next step.

I love the swipe control more btw.

I'm sorry, but this game is terrible. I just downloaded it and unistalled it after about 60 seconds. The left/right with your thumb works perfectly, but the jump button does not work. If you hit jump 10 times, maybe one out of those 10 hits will result in an actual jump. Getting to the second platform in the very first (practice) level is almost impossible. I have a Lumia 925, so there's no reason it should underperform here. Maybe it works for some people, but that's a pretty major flaw for a game like this to have.

Are you sure you turned on the jump button and multitouch controls in the options screen? It sound slike maybe you had them turned off.

Yeah, I spent more time fiddling with the options to make sure all of that was turned on than I did actually playing (the 60 seconds part). I don't think the jump button is even supposed to appear in single-touch mode, and it was clearly visible and even popped up the tip that I was free to drag it around the screen. Like I said, it worked about 10% of the time, so it was configured...however inconsistently.

That's really weird. You should email the developer so he can try to figure out why it was acting up.

This is Rex. Thanks for the feedback eb110americana and Paul! I was only able to test the game on an HTC 8x, a LG Quantum and a Lumia 920, and the controls were working properly on all those devices. However, it is also true that I have been occasionally getting complaints regarding the jump controls, very possibly due to compatibility issues. I'll try my best to solve this problem, but it can be difficult, for that the Windows Phone league now has so many different devices...
P.S.: Chapter 3 is now 50% done and hopefully I can release it around the end of this year...

Weirdly, now the jumping is working 100% of the time. I noticed that the jump button changes from white to yellow when you push it, and I could see it doing this at first even when no jump would occur. Something is conflicting with it that is now not interferring.

Also, sorry for saying your game is terrible. Too strong of a word and only directed at the controls not working.

I downloaded it again at your behest. It still acts this way. I tried turning off the jump button and using swipes for jumping instead. This is more reliable, but still has to be deliberate and takes about half a second delay to actually jump. Instead of making the controlls perform so poorly to add chalenge to the game, how about actually making the game more challenging? I also noticed that while the music can be turned off, the sound effects cannot.

I really like the premise of this game: the "puzzles" by swapping at will between a scrolling 2D world and one that loops in on itself like PacMan and Mario Bros. (not Super, the original). This seems like a lot of fun, but it needs better controls before I will buy it. I did manage to pass the first six levels with all the stars/droplets, so if you adapt to expect the late jumps, it can be done. It feels like something is blocking the jumping action, as if the sound, motion, animated character, and backround movement all at once are overwhelming the hardware. Or maybe this is a result of anticipating a double-tap for entering blue mode. It waits to see if you tap a second time, causing the delay and the lack of a jump sometimes.
Windows Central Newsletter
Get the best of Windows Central in in your inbox, every day!
Thank you for signing up to Windows Central. You will receive a verification email shortly.
There was a problem. Please refresh the page and try again.