Facebook balances content from Friends and Pages in latest News Feed changes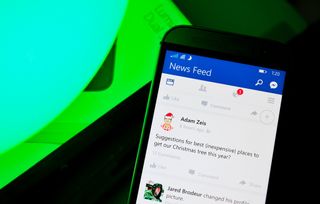 Finding a good balance between too much content and not enough content is a tough task and Facebook has been taking user feedback to heart on this. Facebook is once again changing the content that is displayed in your News Feed based on what they have been hearing. These changes all take place behind the scenes; there will be no app update required to get the new balance.
The first big change is improving the quality of content for those who don't have a lot of content to see. Not everyone has hundreds of friends on Facebook, and previously they prevented multiple stories from the same source from appearing. They are now relaxing this rule to deliver more content to those who would be interested.
Next up Facebook is trying to ensure the content posted by friends you care about remain higher in the News Feed. If you read the news from that person, or interact with them, Facebook will recognize this. The last change is that Facebook will make updates of friends liking or commenting on a post appear lower in the News Feed, if even at all.
All of these News Feed changes have been made by Facebook, so you may notice a change in the content of your feed.
Source: Facebook
Windows Central Newsletter
Get the best of Windows Central in in your inbox, every day!
Jared started off writing about mobile phones back when BlackBerry ruled the market, and Windows Mobile was kinda cool. Now, with a family, mortgage and other responsibilities he has no choice but to look for the best deals, and he's here to share them with you.
now if only we had a good official facebook app. :)

We do have a Facebook app :p and its not exactly buggy either. Just depends now on your phone as to if its a "good app" or not. :)

People will complain, no matter what. The Facebook app works just fine to me. When I go to my Android device and then back to my L1020, I really don't feel this big drop off in quality that proper like to moan about.

it's not about the looks or speed. a lot of features are lacking.
for example i have selective tagging enabled. so i get an option to choose whether a tagged post shows on my wall.
i get a notification about it in the app, but the moment i click on it. bam. there open the web browser.
similarly account settings and other facebook links just go to the browser.
i'd like for them to work within the app.

Been requesting this feature for years now, seriously since WP7. I even added it to user voice. Maybe its something FB won't allow MSFT access to, who knows. I'm sure they compare features of the FB app on other platforms and know what's missing.

When I get a toast message about a Facebook response and I select it, the app launches then crashes. Also, those same toast messages and live tile indications are sporadic.
So, no....the app is not fine.

Yeah but it's slow and lags a lot. Outside of that it's ok, still can't do some things on the app that we should be able to.

I don't agree with this. I've seen people in transit browsing fb with their phones and it seems faster on WP.

Why the complain! I really like Microsoft's Facebook app. It's smooth even on my 512 ram Lumia 630, though I don't like Facebook that much as a social network.

I hope so, When they would think to leave and pass it to its original publisher!!!! I want Facebook app which hold by Facebook Inc. instead of Microsoft Mobile.

Why don't they stop trying to figure out the feed and let us choose most recent as default.

Except I dont see pinned posts on my phone...which is, you know...would be useful.

Kiloo launched a Smash Champs on Windows Phone http://www.windowsphone.com/s?appid=4591ab9d-1f3a-474a-8930-c9cfecd52513

Downloading it !! Graphics seem good from shots .! Thnx for d info .!! And good kiloo giving attention to the platform

Would be nice if the feed was in post order (yes I know about the most recent section, not the point though)

Yup! I hate the way it decides to post things out of chronological order.

Even the Most Recent feed is messed up. Instead of just a blanket chronological order of posts, everytime a like or a comment happens on a post, it changes the "most recentness" of the original post.

I want to STOP seeing what others have liked and commented on

This! i don't wanna people to know my activities too.

Don't want people to know how much you like Justin Bieber, eh?

The app is crap. It picks what friends is shows me updates to, it sends me push notices telling me I have updates and there are none there when I check, updates I already opened and seen keep popping back up as new, etc. Pretend this is an Apple product and jump all over this, Facebook.

Thanks Facebook, just when i got used to the way you wanted my feed you changed it again.

Do what you will, hardly use FB once a month...

Facebook are good listeners. But only if they could make an app for WP.

I get notifications when sm1 unknown likes a group post.. Strange move...

I don't check Facebook all that often, but I do not like the change they made a few months ago. I wish it would go back to the way it was where the app defaulted to "most recent" and the "most recent" feed didn't show every like that one of my friends made. With the news feed not showing the most recent activity of my friends, I often feel like, when I go to make a comment on someone's post, I am bringing up old news and my comment is already irrelevant.

I really just wish tjey would let me put all the stories in chronological order

I don't WANT the News Feed! I keep changing it to Most Recent and darned if stupid FB changes it BACK later to News Feed. Sheesh.

now they only have to go back to chronological order by default and they won't have to improve anything about the timeline anymore

Trying to upload pics today and get failed to load.Guess the change has something to do with this.

A Horribly created phone app.

I have mentioned this on the forum but I get different feeds in app and inside people hub. I only get direct posts by my friends in the app. I get feeds in people hub which is for anyone that I do not know but my friends contacted them over fB or did get tagged.

Facebook, please stop sending annoying notifications to me about my Facebook friends because I don't want to know what happened with my friends. I was reported to Facebook, but the f***ing notifications still there. I hate it.

Facebook app is working fine on Lumia 520, there is no bug. If you facing any problem then rest your phone. That's the only help you got.

Fb app is very slow . It is useless in 2G internet connection because it doesnt refresh. Plz update kt
Windows Central Newsletter
Thank you for signing up to Windows Central. You will receive a verification email shortly.
There was a problem. Please refresh the page and try again.