Facebook/AIM chat, Group Messaging and more coming to Windows Phone 7.5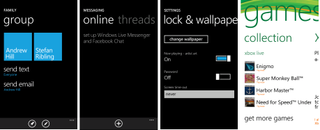 Another week, another leak of Windows Mobile 7.5 ('Mango') features. Once again, the chaps at Windows Phone Dev Podcast have managed to get their hands on some screen shots of reportedly new features coming this fall to Windows Phone. And once again, if true, you won't be disappointed.
Windows Live Messenger, Facebook chat and AOL Instant Messenger all integrated under Messaging--and remember, we heard this is rumored to be a dual data/SMS system, making it really reliable even when your connection is not. Your presence as well as your friends are displayed in the People Hub dynamically.
Office 365 and Skydrive built into Office hub--'nuff said
Group Messaging: currently there are some nice 3rd party apps that do this, but the ability to have pre-defined groups to message to will be now native, allowing to create quick groups for Family, Work, Friends, etc. This will work for Email and SMS.
Artist art on Lockscreen: This is very cool, especially those with Zune HD players. What this does is pull down the Zune/Artist artwork of your current selection and plays it in a marquee/banner fashion on the screen. It currently does this on your Zune desktop/Xbox (play some music and wiat a few mins, you'll see). Evidently, in WP7.5, you can do this on your phone, making the Zune HD/Windows Phone distinction even less. This was always an awesome thing on the Zune HD, so we're glad it's being brought over.
Games Hub gets a facelift, including 'sync' option (potentially for online-game play). We first reported this back at MIX11, so now it's confirmed.
Native Checkins are coming e.g. Facebook Places. More info here.
Visual Voicemail will use Open Mobile Terminal Platform (OMTP)
Battery saving features/options (under Settings)
WiFi Hotspot support, uses Network Communication and Information Systems (NCIS) technology
Not bad, not bad at all. The messaging features should be very popular as well as the other additions coming to Mango--an update that is rapidly turning into a major overhaul of the entire Windows Phone system. We expect to see more, of course, come May 24th in New York City, so make sure you join us for all the live coverage!
Source: Windows Phone Dev Podcast; Thanks, Brianna, for the heads up
Windows Central Newsletter
Get the best of Windows Central in in your inbox, every day!
Daniel Rubino is the Editor-in-chief of Windows Central, head reviewer, podcast co-host, and analyst. He has been covering Microsoft since 2007 when this site was called WMExperts (and later Windows Phone Central). His interests include Windows, laptops, next-gen computing, and for some reason, watches. Before all this tech stuff, he worked on a Ph.D. in linguistics, watched people sleep (for medical purposes!), and ran the projectors at movie theaters because it was fun.
New Xbox Live background - ugly

lol, it's the *same* background as the Xbox360 website and shows Microsoft is looking to bring UI consistency to the platform

I kind of like it, although I wish it reflected the dark/light theme. Same thing with Office and email.

your mamas ugly! find something more productive to say! with that said this all is sounding very kicka$$! can't wait for MS to finalize and push this out, hopefully before I get back to school so I can enjoy it.

man this is just getting better and better, how long do we have to wait this time??

Till Mango. They will be making official announcements on May 24th.

I sincerely hope you'll have the option to force the SMS if you so choose, don't know about anyone else but I know people who leave Windows Live Messenger signed in and I'll want to reach their phones

Based on the screenshots, it'll only give the dual feature if your messaging within the people hub, not the messaging hub. It look's like they'll be separate things.

This looks really good, with this and everything else they've mentioned during and since MIX'11 they could have the best mobile platform around!!With the speed things move in the mobile world though, they really don't want to wait longer than a couple of months to release it. Otherwise they'll be behind again.

I have several friends that won't give up their iPhone or Android in order to make the switch to WP7 because of the lack of visual voicemail. I am really glad to see that it will be built in to the OS come Mango. AWESOME!!

I foresee a whole bunch of Mango under the Christmas tree this December. Dang, it's going to be a long, drawn out summer (and autumn) for current users.

I really like how they're building all these app specific features into the operating system. Microsoft is holding true to their promise where WP7 "gets you in then out then back to life".I still love this commercial by the way.http://www.youtube.com/watch?v=EHlN21ebeak

With all the Mango leaks I went from "I think I will update my Omnia 7 to Mango" to "I will give my Mango-updated Omnia 7 to my parents and buy myself two new WP7.5 phones" :-)Autumn is going to be really exciting for the users of Microsoft mobiles (first time ever for us, I think :-)

Interesting, is that just for the Gyroscope addition? I don't think I could give up my Omnia 7 just yet, it's been the best phone I've owned I want to see it reach it's full potential even if it doesn't have a Gyroscope

New Qualcomm chipset with better GPU is another potential reason...

Well, actually I didn't think of gyroscope at all. I expect that the 2nd wave of WP phones will have more powerful CPUs (dual cores, etc), more storage, and front-facing camera.I will probably buy one Samsung phone (Omnia 7S? 7+?) and one HTC (something cheaper). I'm a WP developer - so one will be for normal use, and one for debugging.

Oh I'd forgotten about the potential for more storage... That might be a reason as it's the one thing I'd change for the Omnia, but I can't say it seems like we need better processing power as the OS is pretty well optimised (we'll see what the full Mango announcements say).I'm a developer as well, but I use one phone for everything (partially because I couldn't afford a second ;) )

I started saving for Mango phones already ;-)

Maybe I'll repurpose the savings fund I have going for the new Galaxy tablets...

I agree if the gyroscope is the only reason to get a new wp7 i think i'll wait a little longer with my focus. I'm really excited about this update, i just hope it goes better than the last few updates went!

With the acquisition of Skype, I imagine the next waive of Windows Phones will have front facing cameras. A few models at least.

Same here. The Focus is a pretty damn good phone already, and Mango is looking to make it much better.I think most of us can wait 2-3 years to buy a new phone with a gyro. It's not exactly a life changing feature.

Mango really is earning it's 7.5 Title. I'm super happy

I'm betting that Microsoft will be ready do drop this to the OEMs by late summer or early fall. Mango may reach us sooner than expected. Microsoft may be pulling a "Scottie" on us. :-)

I think mid-September will be a good guess.

For new devices, yes. But OEM review plus Carrier review is going to take some time. Late fall at the earliest for us. But I do hope your right.

Was already announced at MIX11, yes there will be Twitter integration as well.

This is all great, but what about ....CUSTOM RINGTONES!!!! Come on MS, don't make me have to start using obscene words to get my point across. I am both a graphic designer and a sound engineer...and I am obsessed with creating custom ringtones for myself....I REALLY miss doing this >_

Custom ringtones are coming in Mango as mentioned at MIX.

Please-the option to leave the WIFI on when the phone goes to sleep. I leave 3g off 90% of the time for fear of hitting my 200MB limit. It stinks that Live Tiles stop updating and of course no email. Then having to wait for WIFI to connect again when unlocking phone...

Looking fantastic.I love the fact MS is doing this. It makes holding onto the same phone for 2-3 years a lot more bearable. You know your purchase is only going to get better and better, and by the time it gets old you've had the best use out of it you could get, so no regrets.

Haters are going to be so sad when Mango comes out.

I bet IM+ is gonna be a bit upset that FB Chat is going to be integrated, since that is the selling point of their app.

I want to see tight Skype integration built in and would also like a release date by Sept...

+1tho [url=http://www.chatroomlinks.org/]aim chat rooms[/url] is still a great place to connect to the chat rooms directory
Windows Central Newsletter
Thank you for signing up to Windows Central. You will receive a verification email shortly.
There was a problem. Please refresh the page and try again.