Fall CTIA 2008 postmortem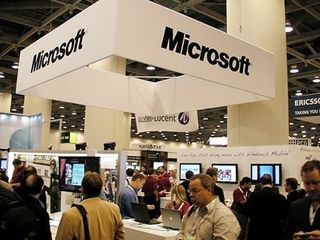 Dieter's dodging Hurricane Ike as he wings his way back from the West Coast and CTIA, so let's recap what all he brought back for the rest of us.
First up was live-blogging the keynote event (opens in new tab) with the chief executive officers of T-Mobile, Sprint and Verizon. Some good nuggets about openness in the industry and Yahoo Go.
Of course, what we all couldn't wait for was for the big D to get down on the floor and get his hands on some devices. And he didn't disappoint, with videos and full photo galleries.
Check in after the break for the entire rundown, in one easy-to-carry package.
Best of Fall CTIA 2008
The HP 910C: This is the device that WM Experts reader Eric had to have, and he sent in a full review

(opens in new tab)

in July. (Thanks again!) Dieter grabbed the 910C and put it up side by side with the Treo Pro. And it's a pretty fair fight.
Sprint Touch Diamond: Easily one of the most anticipated - and blogged about - U.S. releases of the year. (And it should be available any day now!)The red paint job isn't as bad as you might think, and it's not as much as a fingerprint magnet as the GSM version.
HTC Touch Pro: We're still looking for this guy anytime now on Sprint

(opens in new tab)

and AT&T (as the Fuze

(opens in new tab)

). Dieter points out that it's not nearly the brick we made fun of reported on in the past. And just when we thought he was done with the TP (er, let's not call it that ever again), Dieter hit us again with even more photos and video

(opens in new tab)

.
Velocity 83: The first of a bevy of Velocity devices. Our interest was piqued

(opens in new tab)

at CTIA in April, and now it's time for some new hotness. How about a Windows Mobile 6.1 Pro device with a cool new interface, two microSD card slots and an accelerometer?
Techfaith Vista 850: WinMo 6.1 Standard, quad-band EDGE, 2 gigs of ROM, and a poor choice of a name, with Microsoft's maligned OS immediately coming to mind.
Toshiba G810: The specs were good, the execution was not so good. That's disappointing, because we had hoped the marriage with SPB Software House

(opens in new tab)

in developing a UI would pan out. But alas, no.
Motorola Q9h (silver): Some WM Experts writer, we won't say who, wasn't that impressed when the silver version of the venerable Q9h was announced. But Dieter did unearth one moderate gem when he took a closer look - an over-the-air update system separate from the one WinMo doesn't use. Dieter's verdict: It's still a workhorse and good buy, but not worth upgrading to if you're a current Q9h owner.
Velocity 83, 103, 111, 301 VOTA, Odyssey:

(opens in new tab)

What a finish. A redux of the 83, unboxing and hands-on video of the 103, the Q9 competitor 111, a look at the future 301, and VOTA (Velocity Over The Air), which is what the aforementioned Windows Mobile Update should be.
Get the Windows Central Newsletter
All the latest news, reviews, and guides for Windows and Xbox diehards.
Nothing really new and looks like the Diamond and Diamond Pro had all the spot light.

Tiffany jewelry has been an incontrovertible perfect gift idea. Here we have hundreds of cheap and discounted tiffany silver jewelry,including tiffany rings, tiffany bangles,tiffany bracelets, pendants,tiffany necklaces(tiffany necklace), charms, tiffany earrings,tiffany cuff links(tiffany cufflinks),and tiffany money clips,tiffany key rings for your choice. All our jewelry is 925 tiffany sterling silver guaranteed.