Fallout 4 Pip-Boy app will be released for Windows Phone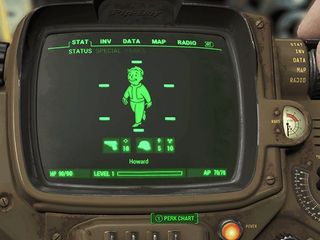 Fans of the Fallout post-apocalypse game series will be happy to learn that a companion app for the upcoming Fallout 4 RPG will be released for Windows Phone, in addition to iOS and Android platforms. The Fallout 4 Pip-Boy app will be released on November 10, the same day the Xbox One-PlayStation 4-PC game is launched.
According to an newly updated page on the Bethesda Softworks site for the release of Fallout 4:
So far, Bethesda has not offered any details on what the Fallout 4 Pip-Boy will offer for players of the main Fallout 4 game. Many people who were lucky enough to purchase the Fallout 4 Pip-Boy Special Edition will be able to put their smartphones inside a special housing that looks like a Pip-Boy wrist-based computer from the game series and use the app in that fashion, although the app won't need the housing in order to work.
Thanks to Gary M. Campbell for the tip!
Pre-order Fallout 4 for the Xbox One on Amazon for $59.88 (opens in new tab)
Source: Bethesda Softworks
Windows Central Newsletter
Get the best of Windows Central in in your inbox, every day!
Just in time for the upcoming Zombie Apocalypse

Sweet! I initially was pissed it was missing from WP. Now happy. Can't wait for some VATS enhanced killing to commence in November :-)

Now I am getting the game.

Thankyou Bethesda.. Thankyou for not avoiding wp users like others do..

That was really nice of them.

Now give us Fallout Shelter.

Fallout shelter is troublesome. At least not a few ios users had issue.

Well... There is a way to get it on your phone. Nudge nudge wink wink.

He's probably referring to side loading it as an Android app, assuming that's possible based on some of the comments I've seen around the site.

You used to, as I had it running on my 930, but not anymore. Astoria hasn't been updated to the current W10M build (well the leaked Astoria that is) an thus you can't sideload anymore

How did it run on your 930? I'm using a 930 too, ya see. My 920 has Win10 on though.

I'm playing Fallout Shelter via BlueStacks on my SP3

Really? Does it work well?

I'd suggest AmiduOS
It's faster and even has a lollipop version Posted via the Windows Central App for Android

Bluestacks on sp3 as well. Quite smooth actually

Nice, but it would be cool to get the game on WP too. Fallout Shelter that is ofc...

damn. i would have tried to get the pipboy edition if i know this. a bit late now.

Nice .I hate to be negative here but i really hope they will continue to update and support the app after it's release . EA made a useless crappy companion app for DAI and then forgot about it

So, are we still calling it "Windows Phone"?

Coz its 8.1... 10 is Windows Mobile and hasn't yet been launched for the public as it isn't complete. So until Windows 10 for smartphones come, everyone will be sticking to windows phone 8.1 Posted via the Windows Central App

Yeah, buy the question is what we get if the 950/XL her pushed out in the first week, like the 920 did.

Isn't it called Windows Mobile going forward? Is this not a universal app?

Try fitting a Surface into a Pip Boy!

Dunno about anyone else but there's no way I'm wearing a tablet or laptop on my wrist during the game :P

Super glad they only announced this now, when its waaaaay to late to order the pipboy edition... -_-

The app will still work fine...the amount of complaining on this site is insane.

If someone reallllllllly wanted the Pip Boy they'd have just ordered it regardless of the app. Like me!

Haha I was about to complain for the same reason but I remember Richard discussing it when it was announced and yeah, good point.

Maybe an ultra-limited PimpBoy is on the horizon.

This makes me so happy....!

I was gonna send a tip-off this morning, but actually have no idea where to click or how to do it. Glad someone else did though

Lol I just tweeted Phil spencer earlier today asking if this was going to happen!!!

Thank you. Voices of the restless can make an impact.

Good on Bethesda. Most anticipated game, tied with Uncharted. Keep bringing the universal apps along with your AAA games. Those games don't run on Android or iOS, they run on Windows, like the phone.
*
Edit: What an awesome week for Microsoft and Windows news. Best week ever?

If only Naughty Dog would put Uncharted out on PC!

I was thinking of getting this game since I'm a fan of Bathesda and the Fallout series, but just because of this I want to seriously support them. I'm going to buy it for sure now.

Hoping this is a trend. Drives me nuts when games come out on PC and the companies don't support it's own platform with companion apps.

After a solid month of playing New Vegas I'm still not done. If fallout 4 is bigger, it'll be forever to beat.

I can use my pip boy with my phone!! I love you Bethesda ♡.♡

Glad that I've kept my preorder

Glad to hear we've not been forgotten about after all! :) and those asking about Fallout Shelter...honestly it gets boring really quickly and it's nothing special.

Yeah it needs lots of grinding to earn dwellers.. Unless you are willing to put money in it..

Good, now I don't have to steal my wife's android phone!

Now all we need is fallout shelter for windows phone

That's awesome news!!! Can't wait for it to come out!

Thanks to Bethesda. I was considering getting a cheap iPod touch or something just to have this app. Now I just have to get an Xbox One and the game and I'll be all set, lol. But saved me a few bucks and I appreciate it!

Sweet! Now all I need to do is go buy the Pip Boy Edition of Fallout 4. Oh right.....

Windows Phone, Windows Phone never changes. Except now, now because we're getting the muthafukin Pip-boy app!!! Oh yeah!

BTW - All you Fallout fans should download Pip-boy Radio for Windows Phone now! Show some love. http://www.windowsphone.com/s?appid=b202bf42-852f-4693-b038-b6e1f3f04822

Hell yeah! Waiting for them to change their mind and announce Fallout Shelter as well ;)

Hopefully it doesn't come out months after the game release when it essentially irrelevant to most people

so.... fallout 4 is here. Now where is the app for WindowsPhone?

Search Store for Bethesda. For some reason i can't paste a link
Windows Central Newsletter
Thank you for signing up to Windows Central. You will receive a verification email shortly.
There was a problem. Please refresh the page and try again.