Farming Simulator 15 plows its way to the Xbox One May 19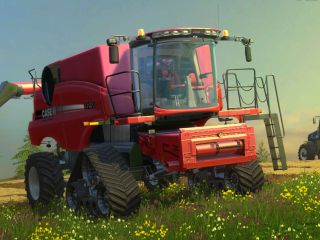 Very soon you will be able to simulate working hard outside from the comfort of your couch and your Xbox One. Focus Home Interactive has announced that Farming Simulator 15 will be released for Microsoft's console, along with Sony's PlayStation 4, on May 19.
This will be the first time that a game in the Farming Simulator series, which is a big hit on the PC platform, will be released on current generation consoles. Yes, you will be able to tend your animals on your simulated spread while also driving lots of massive vehicles. Here's what you can expect.
Farming Simulator 15 will also offer online multiplayer, with gamers inviting friends to share the load and complete big tasks on the farm together.
Farming Simulator 15 – Xbox One – $39.99 – Amazon Link

(opens in new tab)

Farming Simulator 15 – Xbox 360 – $39.99 – Amazon Link

(opens in new tab)

Farming Simulator 15 – Windows and Mac – $29.99 – Steam Link – Amazon Link

(opens in new tab)
Windows Central Newsletter
Get the best of Windows Central in in your inbox, every day!
Well it is the day the Witcher 3 releases as well. :D

Very well could be considered the greatest game in the history of the world, EVER.

No, that title is reserved for Rock Simulator....

My farm is full of weed:)

I have friends who will be pleased about this!

WOODCHOPPING SIMULATOR 2.0

Lmao! They are scraping the bottom of the barrel, huh. I guess they think because of the success of FarmVille...

I don't think you realize what this is? Although it would sound silly to someone who is ignorant, its actually a really amazing game.

People judge what they do not know. This is an amazing game and I am eagerly waiting. I am very excited about this!

Farming Simulator has been around for years. Although they share a similar theme, this game is way more complex and realistic than Farmville or other free to play city building games.

Can't wait to see competitive play on Twitch!

This would have been a great expansion pack for GTA online. I'd love to snipe your cows and blow up your corn

Can't people just be glad to see a new game for our ecosystem?

Farming games are great. Agriculture may be the most important development made by humans. When an EM event occurs and electronics are all gone be thankful that large scale farming created a stock of food to prep the non self sufficient for becoming laborers.

This may be the first appearance of a harvester in gaming...loved this game. Appears around 17min mark.
https://m.youtube.com/watch?v=5LK2KcUu6po

Anything like Harvest Moon?

Wow, that article title says it all.......Plows its way.......so much wrong with that. lol

Looks fun. I remember SIM farm.

Dang you John Deere for not licencing your brand... I wouldn't feel right farming on my XBox in anything else...

Yeah, it is disappointing, but has not ruined it for me so far.

I recently bought an iPad for my son and dove into the apple appstore and I got to admit they have got some beautiful apps. There are so many simulation games....and they are excellent quality and really beautiful graphics. My son loves bus parking, bus simulator and similar games. I wish windows have them. :(

The liter version of this is in the windows store. Starting to see some others, but they are mediocre. Though the app version of this isn't bad.

Hope there's a demo. Not really sure what to expect
Windows Central Newsletter
Thank you for signing up to Windows Central. You will receive a verification email shortly.
There was a problem. Please refresh the page and try again.