Fast & Furious 6 takes on the streets of London with new heists for Windows Phone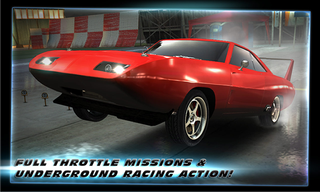 Fast & Furious 6 brings you the excitement with new heist modes where you earn cash and respect as you race, drift, and drag through the streets of London taking on opponents. Released for Windows Phone 8 and Windows Phone 8.1, the game allows you to customize and choose from among a variety of licensed cars with stunning graphics.
You can even earn gold and coins through thrilling heists through the game.
Are you ready to take it to the streets of London? Let us know what you think of the game.
Note: The game is also supposed to be available for Windows 8.1, although we have yet to find the link for the Store.
Thanks to Kyle for the tip.
Chuong's passion for gadgets began with the humble PDA. Since then, he has covered a range of consumer and enterprise devices, raning from smartphones to tablets, laptops to desktops and everything in between for publications like Pocketnow, Digital Trends, Wareable, Paste Magazine, and TechRadar in the past before joining the awesome team at Windows Central. Based in the San Francisco Bay Area, when not working, he likes exploring the diverse and eclectic food scene, taking short jaunts to wine country, soaking in the sun along California's coast, consuming news, and finding new hiking trails. For news tips or to connect, please message him on the Signal messaging app at +1 (424) 666-7438.
Downloaded this few hrs. Ago its about as easy to play as nfsu

I'd love playing NFSMW on WP!

It's got some awesome graphics, that's for sure.

Love that Plymouth Super Bird on the picture...426 HEMI bitch! That's the motor.

That's the mentality we, WP users, need!

Finalllyyyyyyyyyyyyyyyyy. Now I can play tribute for Paul Walker on my WP. R.I.P

Where is that 512mb ram support or not logo?

At the bottom of the article.

Trying to download the app but something is wrong with the link, it's giving me a error

Open the link in the browser...works

Its nice to have a Nokia Lumia 630!

Why are you so pessimistic? The game doesn't support 512 ram

Hmm. Getting a parsing error.

Go to store and check, some people are lazy

Are you serious? Tell the editor to stop giving links then. By the way already gone through the browser link & downloaded it.

want more games from kabam come in kabam bring all your games to windows phone.

Y not 512mb support.. A 1gb game asphalt 8 supports 512mb and run smoothly and 217mb game cannot?

It probably takes a lot of effort to optimize for 512mb devices. And developers probably figure that people with budget phones don't have much money to spend on IAP's anyways.

not very good game :/ give us most wanted

One reason I hate WP. Some apps and games not supporting 512mb phones. I find it silly

Y did they forget 512mb grp??

Link to Windows Store: http://apps.microsoft.com/windows/en-us/app/fast-furious-6-the-game/9bc0bffb-dddc-41d8-b1fd-8e143f7eb3e1 There you are!

Just downloaded this... What a waste, rubbish

512mb sucks!! Happy with 1gb. 920... It does take a lot of efforts to optimize a game for 512mb devices.. Kabam!! U rock!!

Not good. Laggy and uninteresting shift press game

Horrible to say the least....

Frowning on 'no 512 support'... love the race games... Update.... found it on the Surface RT Store...downloading

Believe me its better to uninstall this piece of shit

I like this game on the Surface RT, runs pretty smooth. Took a little while to get the hang of it, will be playing a lot more... controller support would be great.
Windows Central Newsletter
Get the best of Windows Central in in your inbox, every day!
Thank you for signing up to Windows Central. You will receive a verification email shortly.
There was a problem. Please refresh the page and try again.