Flight Control Rocket blasts off as this week's Windows Phone Red Stripe Deal
Save on Flight Control Rocket, An Alien with a Magnet, and Avirall Time Suite this week with Microsoft's Red Stripe Deal.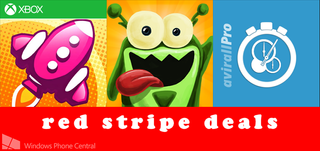 With the appearance of Asphalt 8 as a non-Xbox title, some Windows Phone Xbox fans remain in shock. What better way to cure your ills than with an Xbox game that's never gone on sale before? That's exactly what we get with this week's Xbox Red Stripe Deal: Flight Control Rocket from Electronic Arts. Not bad!
The non-Xbox Red Stripe Deals include indie game An Alien with a Magnet from Rejected Games and stopwatch/productivity app Avirall Time Suite from Pilcrow App Dev. Both cost 99 cents this week. Head past the break for descriptions and Store links!
Flight Control Rocket (Windows Phone 7 and 8)
Regular price: $2.99 Sale price: $.99 Download size: 41 MB Store Link
You've probably played the original Flight Control, but maybe you missed its mostly superior sequel. This one switches things to a retro sci-fi setting in which players must help incoming rockets land on a space-faring mothership safely. You do this by drawing paths from each ship to the appropriate runway, all while trying to avoid collisions.
Not only is FC Rocket way prettier than its forbear, it also offers a lot more gameplay. The three modes each mix the gameplay up in interesting ways, changing up the combo scoring system, bonus rounds, and even mixing in stranded astronauts to rescue. Players can also purchase and equip a variety of robot helpers to customize the gameplay a bit.
The only catch is that FC Rocket's Achievements are horrendously grindy. The original iOS game allowed users to make IN-App Purchases that would speed them up, but there is no such option on Windows Phone. Still, as I say in our review, if you ignore Achievements this is the best line-drawing game in town.
An Alien with a Magnet (Windows Phone 8)
Regular price: $1.99 Sale price: $.99 Download size: 46 MB Store Link
Here's a slick looking indie game for you. Play as a little alien who uses a magnet to move his ship from place to place, collecting stars and other items. It's very colorful and features simple one touch controls. George Ponder liked it pretty well.
Features:
The single touch gameplay will get you started instantly! It's easy to control but hard to master! Don't let the cute looks of our Alien fool you!
The first exciting new genre, known as an action/arcade/puzzle/adventure/rotating-platformer! (a.k.a. AAPARP)
Help our alien to get back to his home planet using the only tool he got working on his spaceship: a magnet.
45+ amazing handcrafted levels filled with an adventure you won't forget.
Fast, Faster, Fastest! Prove your speed in Time Attack! Play the Adventure mode with another mindset!
Beautiful high resolution visuals and professional looking artwork throughout the game.
Music composed by Waterflame. Known for his work for the critically acclaimed indie title Castle Crashers
Avirall Time Suite (Windows Phone 7 and 8)
Regular price: $3.49 Sale price: $.99 Download size: 3 MB Store Link
There's no shortage of stopwatch apps for Windows Phone, which can make choosing a single app to use a hassle. Still, if you care about quality, Avirall Time Suite is a great choice. Windows Phone Central's own Daniel Rubino highly recommends it.
Features:
Tasks & profiles
Mail sharing
Multiple projects with multiple tasks, rates, earning, payments and summaries
Alarm and notifications for timers
Photo sharing
Pin TaskTimer to Start screen for instant access
Define millisecond precision for individual timekeepers
Running timekeepers adjust with current time zone of the device
Lots of settings to control app's behavior
Image attachments in every timekeeper
Windows Central Newsletter
Get the best of Windows Central in your inbox, every day!
Paul Acevedo is the Games Editor at Windows Central. A lifelong gamer, he has written about videogames for over 15 years and reviewed over 350 games for our site. Follow him on Twitter @PaulRAcevedo. Don't hate. Appreciate!
I highly recommend Flight Control Rocket!

I still wait for Spy Mouse. I personally tested this game on WP when i worked at EA.

Indeed! I'm addicted to it. Great buy.

Paul ,Im still waiting for crazy taxi and metal slug :'(

Man, it would be so great if SNK would jump onboard with Windows Phone! I miss Sega too.

Is there rumours of this or are you guys just talking sexy? :P

Oh no, there's no hope of either thing happening. *sniff*

Cool to see an Xbox title on sale for the first time, the extremely long grinding achievements makes it a pass for me though.

50+ hours to finish it for you completionists out there...

Is the rocket game worth it? Seems to have very high ratings.

That's why we linked to our review, so you could get an informed opinion on it.

We'll see if I grab it. I FINALLY caved and boguht Rayman form last week's deal, but I'm probably a couple of months from even considering playing it, so purchasing another long-term title might be a pass for me.

Paul,can you write an article on the playstation one emulator on WP "emiPsx".it is a paid app but trial version is fully functional but ad-supported.plz review it.thankyou.

Oh yeah, I'm working on that story now. It will be ready on Friday. :)

im done with EA games until they get thier act together Tetrix blitz - broken game Battlefield 4 - Broken game.

Tetris is mostly fine for me...

Yeah, it has run fine since the last two patches came along.

since the last patch this week, myself, and a ton of people on thier facebook wall are reporting that it wont open anymore on our windows phones.

Oh, that's not good. Hope they fix it quickly.

Hey Paul, I am developer of Avirall Time Suite and it's regular price is $3.45, not $1.99. Please correct it. And thank you so much for writing about it.