Nokia-exclusive FIFA 13 now available for all Windows Phones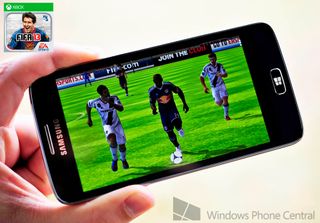 In mid-2013, Nokia and EA Sports released the highly anticipated exclusive – FIFA 13. It was a delight for footy fans since the only soccer title available at the time was Gameloft's Real Soccer/Real Football 2013, and its previous edition.
The impressive and fully featured game has now shed the exclusive tag and available broadly for all Windows Phone 8 devices.
FIFA 13 is an Xbox game, and is available for Windows Phone 8 devices with 1 GB of RAM. At 951 MB, it's a heavy one, but the cinematic presentation and visuals make it an immersive, almost console-like experience.
The game costs $4.99, but there's a free trial available as well. Download it from the Windows Phone Store here. I know it is 2014 now, and most comments here would be clamoring for FIFA 14, but if you haven't tried this game yet, you might want to check out our complete review of FIFA 13.
FIFA 13?! I suppose it's a start.
Edit...saw the Lumia 1520 at the Microsoft Store in Miami Dadeland Mall.. and it is amazing. I know T-Mobile will, have to, eventually, probably, at some point get it!?

Leave it to MS to place Microsoft Stores in South FL AFTER I move avaw from there :(

I feel 4 u. It took me over 2hrs to get there mostly due to traffic but the store and the employees were very kind and surprisingly knowledgeable.

Hopefully going into 2014 these exclusives can be killed off. Not that it really matters since the majority of WP are Nokia anyways...

At 92%, I'd say it really doesn't matter.

Unless you're one of the other 8%

That'd be a pain in the arse for the minority.

I guess I should just throw my ativ s in the garbage then?

Hopefully, going into 2014 these WP app droughts can be killed off. Not that it really really matters. Since the majority of smartphones are Android/iOS anyways.

I own a HTC 8x and it's quite bad to have the limited app selection get limited even further :/ Nonetheless, if other OEMs pick up Windows Phone in the future, Nokia exclusives will continue to be a selling point, so I dont think that they will cease to exist :/

FIFA 14 by the time IOS gets FIFA 15? lol.

So if Windows Blog and Windows Phone official twitter accounts took some time to spread the news if this game is available to all, can we assume that FIFA 2014 is still too far from be released??
If my memory dosent fails, this is the first time that these accounts tweet some game that is not exclusive anymore...

What the heck?
What about FIFA 14, months ago was released to IOS and Android...my god. Ubisoft and Gameloft loves the platform, EA is suc....g.

I miss WP7 app support. And in general.

all Windows Phones

LOL Good One, requires 1GB or more RAM

hopefully in 2015 it will be available for device with 512mb ram

Nokia seems to be forgetting they have phones like the 520,525,720,620 and even more windows should work on this or app developers.....

Interesting, i wonder if this means Fifa14 will be announced soon and hopefully not that f2p crap that hit ios and droid.

All people complaining about 13 or 14, cut the c**p, they could have named it 14 and you wouldn't even know.
At least they are honest.
And if you really played FIFA 14 on ps, you probably know that FIFA 13 is way better.

in fairness, this guy is right. They did just that with the PS Vita version. Its been FIFA 11 every year but with new kits. Bloody joke.

Could not agree more. Played FIFA 14 and 13 and I actually preffer 13.

"all wp" and i thought wp7 was included ... Alas

Misleading title,no support for 512mb or WP7 devices therefore not all windows phones are supported :)

lol sorry i didn't understand good hahah xD

I want NHL 14 for PC and maybe tablets phones. Get on it EA.

Available on all windows phones?? SWEET!!! So on my HTC? No, only on Nokia? Okay, so what about my Lumia 900? No, only WP8? Okay then what about my 520? No it has to be 1GB?!? ...most misleading headline ever...

Um, it's not exclusive anymore. HTC phones can play.

Available on all windows phone ? There's 1 GB ram required!!

Previously it was available for ONLY NOKIA PHONES HAVING 1GB OF RAM BUT NOW IT'LL BE AVAILABLE FIR ALL THE OTHER WINDOWS PHONES HAVING 1 GB RAM[SAMSUNG OR HTC OR ANY OTHER WINDOWS PHONE !!! -_- ]

Will FIFA 14 be available for 512mb ram wp8 ?

To be fair, FIFA 14 on iOS has ultimate team and is a completely refined game this time round. Nevertheless, i'm chatting with an EA representative who has told me that FIFA 14 is available for Windows and Windows tablet devices.. but apparently no news on the WP version still coming or not. I want ultimate team on my Windows Phone!!

Ive never seen FIFA in the Windows 8 store, sounds like they are referencing the actual PC version, which i wouldnt even bother trying on my Dell Venue 8 Pro.........I would however pay for the mobile version on my tablet.

Arey they said it was for all windows phones but their thought was 520,620,625,720 are not windows phones

Fifa really? wheres my gta sa?!

I want a link Xap crack of FIFA 13 512mb.. N Deploy it to lumia 520.. like MC4 in Lumia 520.. Great graphic ::D

Months ago i brought 520 and. Now 525 released at same price and 1 GB ram..... I hate my life!! :'(:'(

A shame this game is not for 512 coz it is not so graphics intensve and another shame that it is not free.Please release games with 512mb ram support.Remember that 512 ram devices are 90% specially 520.Just hope they dont forget that.

I WANT EA SPORTS GAMES ON WINDOWS 8, NOT JUST WINDOWS PHONE

If u want the best WP experience
You have to go NOKIA!!!
Windows Central Newsletter
Get the best of Windows Central in in your inbox, every day!
Thank you for signing up to Windows Central. You will receive a verification email shortly.
There was a problem. Please refresh the page and try again.