Final Fantasy XV director talks Pocket Edition for PCs, Windows 10 Mobile development struggles, and more
We sat down director on Final Fantasy XV, Hajime Tabata, to discuss the future of Final Fantasy on Windows-based mobile and PCs.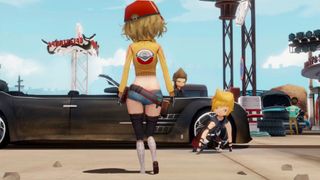 After over ten years in the making, last year marked the release of Final Fantasy XV – the latest iteration the renowned role-playing series from Square Enix. Following a release on both Xbox One and PlayStation 4, the game emerged as one of the best RPGs of 2016 – with an upgraded re-release for Windows PC currently expected in 2018.
At Gamescom 2017, the game's publisher also debuted a somewhat unexpected future for Final Fantasy XV, with the unveiling of a condensed version of the game made for mobile devices. Although the game is being reworked with a cute chibi-esque art style, on the surface, Final Fantasy XV: Pocket Edition looks to contain nearly the same depth as the full-fledged console version. An interesting premise nevertheless – especially for those drawn toward gaming on the go.
However, following the announcement, a few details surrounding the game's release caught my eye. Most notably, promising a mobile experience for iOS, Android and "Windows 10 devices," its ambiguity pointed toward a potential release for Windows 10 Mobile – a move somewhat expected with the current state of the platform. After scouring the show floor in search of answers, we managed to spend some time with Hajime Tabata, the director on Final Fantasy XV, to discuss Final Fantasy XV: Pocket Edition and what Windows 10 users can expect from the game this fall.
Putting the 'pocket' in Pocket Edition
While Tabata lead development of the latest big budget Final Fantasy project, his work also goes back to some of the previous Final Fantasy games released on mobile devices. Addressing the elephant in the room, at least for our mobile audience, our discussion kicked off on surrounding the release for Windows 10 – or at least what it means for those on mobile devices.
When asked about a clarification on Windows 10 devices, Tabata confirmed the rollout "includes tablet and PCs." Expanding, he explained "[Windows 10] Mobile is not in there" – clarifying the pocket aspect of the experience on Windows 10 refers to tablets. The director expanded on their reasoning for skipping over Windows 10 Mobile devices, emphasizing the struggles of development for the platform and its questionable condition.
Continuing, Tabata explained that in Japan, where Final Fantasy's dedicated following resides, Windows Phones aren't a common platform for development. With Microsoft continuing to roll back efforts on supporting Windows 10 Mobile, developing for these devices can be a difficult route to pursue. Whereas on PCs and tablets, explicitly naming Surface – these are the devices being targeted by the Pocket Edition.
While tablets and phones will utilize touchscreen controls, Tabata clarified that support is also planned for mouse and keyboard for Windows 10 PCs. For those playing the game on a traditional PC setup, this should be a welcome feature – opening the game up to millions of current Windows 10 users.
Though a lack of Windows 10 Mobile support will be disappointing for some users, it's honestly hard to be surprised by the move. Third-party development for Windows 10 Mobile continues to shrink going into its third year and even Microsoft appears to be planning yet another reboot going forward. The release for Windows 10 PCs and tablets should still provide avenues for a majority of potential players to access the game, even if you may lose some of the mobility initially envisioned.
From the big screen to the app store
Despite the lack of Windows Phone support, Square Enix is still attempting to develop the game for support for the widest possible range of devices on other operating systems – even those with lower hardware specifications. Final Fantasy XV: Pocket Edition has been rebuilt within Unity – a much more flexible engine than Square Enix's internal Luminous Studio. With this, the team is attempting to maintain the scale of the game, while still optimizing for weaker hardware.
And when playing an in-progress version of the Pocket Edition on Tabata's phone, it's clear that in terms of the core gameplay experience, this is still Final Fantasy XV. Skill trees have been brought forward, the narrative follows the same line of events – even combat is still based on the same core values as the full game. Some settlements have been made, but it's still remarkable that Square Enix has been able to condense Final Fantasy XV into this mobile form factor.
Breaking apart the world of Eos
One of the biggest criticisms of Square Enix's portfolio in recent years has been its approach to established franchises, with a noticeable push for episodic distribution. Following the success of several episodic series in the industry, reputable names such as Hitman and Final Fantasy began to see a shift toward bite-sized installments in recent years. Although this move never proved detrimental to Hitman last year (quite the opposite), when the Final Fantasy XV's Pocket Edition's episodic structure came to light, it was still disappointing to see.
However, after speaking with Tabata, the approach to Pocket Edition seems to make more sense than other Square Enix titles to date. With all 10 episodes releasing at once, this approach should better suit the experience to the mobile market, where purchases rarely venture beyond a few dollars.
Adapting the price point of a traditional console triple-A experience into smaller installments might be the best approach for bringing the game over to mobile. However, there are still doubts surrounding how the flow of a 14-chapter console game will be affected when condensed into 10 cut-down episodes.
Final Fantasy XV: Pocket Edition is currently on track to release later this year, with all 10 episodes rolling out simultaneously. While the game will be launching on iOS, Android and Windows 10, those with the hardware will also be able to pick up Final Fantasy XV Windows Edition – a re-release of the full retail game taking full advantage of high-end PC hardware. However, for those on-the-go or simply using less powerful PCs, Pocket Edition is shaping up to be an interesting new way to absorb the world of Final Fantasy XV.
Will you be playing Final Fantasy XV: Pocket Edition on Windows 10? Let us know what you think of the game's direction in the comments.
Get the Windows Central Newsletter
All the latest news, reviews, and guides for Windows and Xbox diehards.
Matt Brown was formerly a Windows Central's Senior Editor, Xbox & PC, at Future. Following over seven years of professional consumer technology and gaming coverage, he's focused on the world of Microsoft's gaming efforts. You can follow him on Twitter @mattjbrown.