First wave of self-published titles hit Xbox One via the Xbox Live Creators Program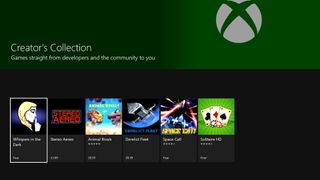 Earlier this year at the Games Developers Conference (GDC) 2017, Microsoft announced the "Xbox Live Creators Program" – a new system allowing independent developers to quickly publish titles on the Xbox One. Unlike the ID@Xbox program, which comes with its own concept approval process, limitations and procedures, the Creators Program was established to offer a more direct line to the Xbox platform and its offerings.
It now appears that the first wave of Creators Program titles has hit the Xbox One, via the Alpha Ring of the Xbox Insider Program. Accessible through a subsection of the Xbox Store called "The Creators Collection," players can now get hands-on with six independently published games from early adopters of the program.
As discussed during our interview with ID@Xbox Director, Chris Charla, the games published through the Creators Program undergo significantly less curation than other Xbox One titles. While ID@Xbox developers are subject to legal ties and a closer relationship with Microsoft, the new Creators Collection is a more open avenue, essentially open to anyone. Games will have to align with certain content policies, but ultimately these new titles mark the beginning of a more open storefront, akin to mobile app marketplaces.
For those wishing to get hands-on with the titles offered by The Creators Collection, Alpha Ring Xbox Insiders can now find the store page via the "Insider content" section of Insider Hub app. Right now, three paid titles and three free titles are available, as listed below.
Whispers in the Dark
Stereo Aereo
Animal Rivals
Derelict Fleet
Space Cat!
Solitaire HD
While there's a range of different titles on offer, their stability is still rather questionable. During our brief testing, several of the games were ridden with stability issues and that's if they started on the console. Although this could be attributed to the in-progress nature of the Creator's Collection, this is also a by-product of offering an open and somewhat uncurated platform.
It should also be noted that while developers can charge for Xbox Live Creators Program titles, the program does set some limitations on the games available. Xbox Live sign-on and leaderboards can be leveraged, whereas achievements and multiplayer still remain perks of formally published experiences. These titles will also remain in a closed-off section of the Xbox Store going forward, to still maintain the curation expected with a console experience.
For more information on the Xbox Live Creators Program and what to expect, make sure to check out our interview with ID@Xbox Director, Chris Charla, at GDC 17. Have you managed to try out the Creators Collection on Xbox One? Let us know what you think of the new store section in the comments section.
Matt Brown is Windows Central's Senior Editor, Xbox & PC, at Future. Following over seven years of professional consumer technology and gaming coverage, he's focused on the world of Microsoft's gaming efforts. You can follow him on Twitter @mattjbrown.
Anyway for these titles to migrate to the next level with achievements?

Yeah, Charla explained that if a Creators Program title is taking off or they want to add stuff like multiplayer and achievements, the developers can migrate to an officially published title via the ID@Xbox program (:

Space Cat! is very broken and no trial is disappointing for the other ones.

It seems like they are finally trying to get back to where the 360 was with game offerings.

I feel like XBPA should be a requirement so it builds the catalog and it will show big developers that people are interested in the service.

Or it could work the other way and put developers off entirely. Optional features are always the happy medium. At the end of the day you can't force a developer to only get paid once for their work. No matter how much you might think that's the right thing to do :)

I wish some of these games would come to Windows Mobile.

According to the store some of these already are.

Are this the UWP/Windows Store games that where told would be possible to come to Xbox in addition to Windows Store apps?
If so, does that mean they only go through the Windows Store publishing proces (hence them being less restricted)?
(I'm a bit confused what "self published" really means in practice. I thought ID@Xbox was also self published.)

ID@Xbox is a program that is curated, managed and promoted by Microsoft. Games in that program are subject to certain criteria, quality assurance, achievements etc. Creators Program essentially seems more of a free for all.

This is what they should do with all the crapware people put on Steam. Have its own category so it doesn't clog the rest of the store.

I'll get some hate, but no achievements is a big thing for me.
Windows Central Newsletter
Thank you for signing up to Windows Central. You will receive a verification email shortly.
There was a problem. Please refresh the page and try again.