Microsoft's Chris Charla talks Xbox Live Creators Program, UWP gaming and more
We sat down with ID@Xbox Director Chris Charla to discuss the Xbox Live Creators Program and what it means for gamers and developers.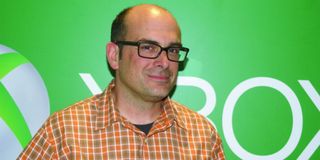 Earlier this month, as a part of the Games Developers Conference (GDC) 2017, Microsoft announced its plans to open up the Xbox One to a broader range of developers. Known as the Xbox Live Creators Program, this system will allow games to be quickly published on the Xbox Store, without the complexities of the existing ID@Xbox program for independent developers.
Unlike existing publishing programs, the Creators Program is a more accessible option that is open almost any developer. Provided a game has been built on the Universal Windows Platform (UWP) architecture with Xbox Live integration, games can be easily shipped to the entire Xbox Live user base. This bypasses some of the limitations currently in place for ID@Xbox applications, at the cost of losing online multiplayer, achievements and some social features. Although these titles will be split off in their own "Creator games" section of the Xbox Store, this is a great way for any developers to get started with Xbox One.
Following Microsoft's announcements at GDC, we caught up with Charla to discuss the Creators Program and its implications on Microsoft's ecosystem.
Windows Central Q&A with Chris Charla
Matt Brown: This week, you announced the Xbox Live Creators Program. What was the idea behind getting that started, and why do you feel it has a place on Xbox One?
Chris Charla: Honestly, the idea behind getting it started was the same impetus that started ID@Xbox, which is that we want to open things up to as many developers as possible and give developers as many options as possible to ship their games on Windows 10 and on Xbox One.
You previously promoted ID@Xbox as an open and accessible system. What was the reasoning behind separating these programs?
So the idea behind the Creators Program is really so anyone can take advantage of Xbox Live and potentially market their games to the millions of Xbox Live players that are out there. It exists outside of NDA, it's an open program and we just felt like that was a way that developers could ship a game really quickly and a program that's really easy to appeal to a really broad audience. We will certainly see professional game developers make games with the Creators Program, but I also think we'll see a lot of educators, hobbyists [and] experimenters. And we'll see a lot of games that come through the Creators Program that don't quite fit the traditional definition of a commercial video game.
So by having the Creators Program, alongside ID@Xbox and other managed programs, third-party publishing programs through Activision and things like that, it enables us to really have the full spectrum of development options out there, across both Windows 10 PCs obviously, and console.
If you look at a program like Steam Greenlight, they had a problem with bloatware and ended up getting a bad reputation for that. Because the Creators Program is such an open system, do you have anything in place to prevent a similar situation?
Yeah, absolutely. I think it's a really reasonable concern and especially on console, when players expect a curated store environment. We handled that problem by saying, "Let's not change what players want," and I think developers also like a curated store environment: "Let's leave the goodness of a curated store environment, and let's put the open store inside the curated store."
Players will open the Xbox Store, and they'll clearly see where the Creators games are and they can go in there and experience an open store environment. I think open stores bring a lot of good and as you mentioned, they can bring other things as well.
But we'll have programmatic curation in there, so players will be able to see, things like top rated, top selling, and so you know, things will be able to bubble up and people will be able to use user ratings to hopefully warn other players away from bad things and highlight good things.
Is there any form of curation whatsoever, in terms of the content going into that open store?
So obviously, any game that ships on Windows 10's store, whether it's on Xbox or PC, is going to have to follow certain policies. The games need to be rated through IARC [International Age Rating Coalition] rating, which will give them a PEGI [Pan European Game Information] rating, USK [Germany's Unterhaltungssoftware Selbstkontrolle] or ESRB [Entertainment Software Rating Board].
Games will have ratings, and of course we have policy prohibitions against inappropriate content, or offensive content. If some of that makes it through we also obviously have takedowns, and our store team does a really really good job with those things. I can't get too into the details of those things because it's quite proprietary. But we understand the realities of an open store and think it brings really good things, but we understand there are concerns and challenges and we're working to address those.
Is there going to be any form of promotion for the games that are in that open store? Or are you going to be keeping them cut off in that small area?
I think that the games right now will be in that Creators section, and I think once you click in there, it's not going to be a small area, it's going to feel like a store. And in terms of how things move back and forth, obviously we want to make sure that if a developer has made a game through the Creators Program and decides they want to add things like achievements or Gamerscore or implement live multiplayer, that they are completely able to by coming through the ID@Xbox program.
Say that there's a game that's really taking off in the Creators Program, will you help developers move into the ID@Xbox program?
Yeah, absolutely. We look for games everywhere. We look for games on Twitter, Kickstarter, blogs and Reddit. We're certainly going to be looking in our own backyard in the Creators Program store for cool games. It will be very clear for folks who are in the Creators Program about how they can get involved with ID@Xbox, and we'll probably be reaching out directly.
With Project Scorpio coming soon, there's been a mention of VR and how it may be one of the core pillars of the console going forward. How are ID@Xbox and the Creators Program, and the storefronts, going to account for VR titles?
That is an awesome question. We haven't said a lot more about VR and Xbox, but certainly we've let people know today. We've shown off the new Acer dev kit for mixed reality on Windows 10. If developers want to know more about VR they can get in contact with ID@Xbox, and we'll keep them apprised to what's going on. In terms of how the storefront will work for VR games, I don't think we've said anything about that yet, so probably won't say anything today.
So if you look at Microsoft's ecosystem as a whole, how do you feel the Creators Program is going to affect the ecosystem in terms of gaming?
I think it's great because it really opens up another avenue for developers to get their games out there and to get their games in front of folks who are using Xbox Live across Windows and Xbox and even on Mobile, the Xbox app and everything like that. What we've seen with ID@Xbox is that opening up Xbox One with ID@Xbox was the right thing to do. We think that being continually open is the right thing to do for developers, because ultimately what we want to do is provide developers as many tools and technologies we can, so they can really focus on their games.
We think that Xbox Live is really rad, honestly, and we think that players like it too and a lot of the social features – their Gamertag and presence and leaderboards – are great things to have as a player, and being able to provide that to developers for anyone to use is a big plus. And then there are things like connected storage and title managed storage that developers can use, that again we think of as a big plus for them. So we think this is going to be a positive thing for both developers and players.
Future of the Xbox Live Creators Program
Finally, we want to send a big thank you to Chris Charla for speaking with us.
Going forward, we can expect to see the effects of the Xbox Live Creators Program as titles begin to surface on Xbox One consoles. While the program is currently in preview for a select number of developers, a wider rollout will occur at a later date. Hopefully it will birth some interesting titles from a wider range of developers, making for unique Xbox One experiences.
We have more Xbox One coverage from GDC 17 in the works, so make sure to stay tuned to Windows Central.
Get the Windows Central Newsletter
All the latest news, reviews, and guides for Windows and Xbox diehards.
Matt Brown was formerly a Windows Central's Senior Editor, Xbox & PC, at Future. Following over seven years of professional consumer technology and gaming coverage, he's focused on the world of Microsoft's gaming efforts. You can follow him on Twitter @mattjbrown.
I hope it results in more Kinect games.

me too, still love my kinect sports rivals

Now that you mention it, yeah that might very well be posible, the Windows community has so many passionate developers, many of which just take it as a hobby. With this we might see some leet Kinect games.

So its basically Xbox Live Arcade indies section cos many of those games were experimental. But now that ability. Is opened more and anyone even Triple A companies can use it.

I wish they made a separate section like this with the Windows Store game section. The main splash page needs to show AAA and top quality games with Xbox Live integration; not a smattering of one or two quality titles with dozens of half-assed knockoff titles.

I have been... Since before Windows 10 launched...

thats a great idea. So...that makes me wonder how they gonna handle xbl creator's program games on windows 10 pc since the program allows games to be on xbox and pc..

The Xbox/Windows store is in dire need of a complete re-design we have been saying this in comments and on Xbox feedback numerous times. We have no clue if Microsoft is listening and I'm really hoping that come E3 a new storefront will be unveiled showing off Xbox Anywhere, HDR, indie, creators programs etc sections.

Not sure I would call it a open platform when you have to do it through a closed system and agree to additional terms... sounds like a closed platform to me. What is being described in the article is a closed system and whether or not the developer will be in a closed system within the closed system.