The first Windows 10 commercial is out, and it will make you smile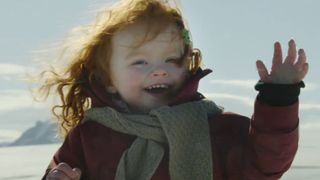 With less than 10 days to go until the launch of Windows 10, Microsoft has kicked off marketing for its milestone Windows release. The Redmond giant kicked off the campaign with a '10 Reasons to Upgrade' video yesterday, and we now have the first Windows 10 commercial on YouTube today.
Microsoft has earlier announced that its first Windows 10 TV ads will begin appearing on Monday, July 20 in the US, followed by an international promotion campaign on July 29.
The video — The Future Starts Now — has cuteness written all over it, with kids who use Windows 10 to create and share things in ways we never thought possible. It highlights how Windows recognizes you, responds to you and even learns with you. The video asserts that Windows 10 is a more human way to do. I guess that's a pretty good pitch.
That's enough of the synopsis from me. Go ahead, check out the video, and let us know how you like it, and what features are you looking forward to in Windows 10.
Source: YouTube (Windows)
I'm smiling already, and I haven't seen it yet

When will it air in Australia?

Don't worry about the commercial, when will Cortana be available in Oz?

They should make Localized Advertisements with local languages and local contents that touches people hearts more :) Right?

Well, they can at least do a different voice over without that accent. Actually, his wasn't so bad - it was only the way he said "passwords" that made me cringe

What was wrong with the way he said passwords?

If you're American it will sound normal... to me there's too much emphasis on the "a" and it's almost nasal. I would say it like "pahswurds". I've definitely heard worse US accents... such as the kind where they literally can't talk in a normal voice if they hold their nose.

As soon as your politicians confirm that the yellow brick road is nearing completion.

Uhh... Cortana is available in Oz. I've had it on WP8 for 4+ months

But you will not have it on Windows 10, nor will you be able to sneak through the back door on Windwos 10 Mobile. When I asked them about it at the Build event in Sydney last month, they said it could be quite a while. That rules this ad out for Australia, then.

I didn't know that... I assumed current Cortana countries would have it on W10?

You can only get it on WP8 by setting your language to English (UK) or English (US). If you set it to English (Australia), you won't get it and they have closed that loophole in W10. The only thing I really miss from Cortana in the preview is Quiet Hours.

Good news. I just read that Australia and a few other countries are next in line for Cortana and Insiders will have it "in the coming months". Interestingly, even Canada gets it's own version, so deep is the local integration.

Sorry mate, that's not true at all. Cortana came out on WP8 in Australia when the Denim update rolled out. It automatically pinned Cortana to the start screen, and once configured it's all baked in to the search key. My mum has it on her 920, a friend on his 930, and I have it on a little 530 I use for app testing (and I'm still waiting for a flagship). I checked and my language and region are all set to English (Australia). The only thing I can think of is that we are all on Telstra, so maybe other carriers didn't add it? None of us are on the Insider program either

http://www.microsoft.com/en-au/mobile/denim-software-update/ (compare with India without Cortana http://www.microsoft.com/en-in/mobile/denim-software-update/) http://www.windowsphone.com/en-au/how-to/wp8/cortana/cortana-alpha

I hear Cortana will actually be changed to use Paul Hogan's voice which is why The delay. I'm kidding I hope you guys get it soon.

The Australian commercial will be an iPhone 6 standing next to a Lumia. A voiceover will ask Siri a question and get a basic set of search results. The Lumia will then butt in (with Paul Hogan's voice): "That's not a personal assistant. THIS is a personal assistant" then Bing search results and all sorts of other Cortana goodness will explode all over the screen.

No delay, it's rolled out on WP8.1 already

Seriously! Lets not get excited over a commercial until we start seeing all these great features pushed out EVERYWHERE. (I'm in Canada)

Don't worry that girl looks Australian

Like I've said let's start printing commercials/posters on our own Lol :D Or riot with Microsoft Logo stickers in every on every surface.

I love Microsoft's ads. I'm looking forward to having Cortana and Windows Hello on Win10.

And ill carry on having no Cortana

Shut up Nathan. And take a bath

Well that was a downer... We cant really control what you do want don't have. If you're that desperate for it, change your phones language and region to USA/UK or any other Cortana supported region

Super cute commercial!
So excited for Windows 10! Posted via the Windows Central App for Android

Yes. It made me smile. I hope we keep this more adult type adverts for Windows 10. The return of the Start menu should be included in the mix. The dancing on the picnic tables and synchronized keyboard thing is only cool the first time you see it. After the first time it grinds my nerves.

Nice subject matter & message, but I feel like the music was all wrong. Should have been something more inspirational.

Well I saw the ad here -- will I ever see it anywhere else?

An article just before this one mentioned an international promo campaign from July 29 onwards.

Don't think anyone has read it properly. It states this is the first YOUTUBE commercial, and the first TV commercial will begin in the US on 20th. I think nearly everyone will see this commercial as long as they use youtube. :)

On TV until you get sick of it.

So.... Did they rename Cortana into Fatima, or was that just the username?

So Fatima, who evidently lives in Africa somewhere, can use Cortana? And is given temperatures in Fahrenheit?

She will in some years when she grows up :)

Rodney is gonna love this!

I find this commercial very strange. It depicts cute children in far-flung reaches of the world, with no apparent computing technology ever on screen. It says these children will use fantastic devices, but doesn't show any of them within a stone's throw of one. It's like, the theme of this spot is that W10 is so easy it's child's play. But they felt they couldn't show kids glomming onto pcs, tablets, and phones, because that would be off-putting. Theys hould have just shown a kid using a computer.

And most of those features are only available in US

And this will never, ever change. For the next 10 years, Windows 10+ will only be US only. In fact Microsoft is cutting off support for anything non-US, so this commercial is totally misleading. I mean, there is just no way in the next 12 months Cortana could go to other countries. And let's be honest, Cortana is "most of those features", so that makes sense too. /s

It's showing how future children in the expect having something that they can interact with and have good security. It's not about the current generation Posted via the Windows Central App for Android

This. It's cutesy, yes but the message is that when these kids are old enough to use a computer they will be immersed in a Windows 10 environment. Hopefully the kids who grow up in slums and straw huts will want more for themselves and move to developed cities or countries.

Or help to make where they live a better place, however that is easier said then done...

The implication is that these are features you will be able to use now, no company advertises features that will be available at an undetermined future time as that would be misleading and completely ridiculous.

This was Microsoft making a vision statement. Its a look into what Microsoft sees in the future. They are saying that 10 years from now (until the end of Windows 10 support) these kids will have a much different world then we lived in... and hopefully, these kids in 3rd world countries will all have access to advanced technology and a surplus of natural resources.... that's the hope, and that's what Microsoft is alluding to. And Cortana will be universal by that time, hopefully... The ad isnt a making a statement about these kids today frozen in time... its making a vision claiming. Maybe it should have been more clear....

Bit of a strong plosive "p" at 0:38. I would have done a re-take.

Hey, I work in TV. I notice these things. :-)

This just goes to show that Windows 10 might well be the final Windows OS.

They've said before they are making Win10 more as a service now. So they will continue to add more features all the time and improve it (and also squash bugs in the process). It's why the insider program will continue after release :) so you could say that windows 10 will be a continuously evolving OS. So kinda the last one? Maybe the last windows name, but the OS may continue to grow. :)

Little cheesy but it's very nice at the same time

Can't wait to try it out on my laptop finally. I skipped all the Insider builds and haven't watched any UI videos so I literally know nothing about how Windows 10 looks. Hope I won't be disappointed!

You won't be! It's gonna be awesome!!

Thanks azer. I hope that's an informed statement, because even I've been holding off till 29/7.

Very nice ad. Bring it on, Microsoft! BTW, I'm using build 10240, it's awesome!

Always loved that "windows 8 title song"....and here it is win 10 first ad full of cuteness...always a big fan of Microsoft ads

Great ad. The universality theme makes it unique. Bravo Win10.

I thought it was quite cute tbh. Especially the adorable kid at the end

It's a little odd that they use babies for this add but okay, I guess this system is supposed to be easy to handle.

It implies that these kids grow up and use Windows 10 in near future for all the exiting things they could do..

I am using the tech preview version of this unpublished win10 for less than a week now. It's pretty awesome.

Looks like MS is telling the world that the new Windows 10 is still in its INFANCY stage.... Don't expect much from it except keep on smiling if things screw up..... What kind of advert is this man?! There are tons of new features added yet nothing much is showcased at all. This is how you showcase the features: https://www.youtube.com/watch?v=qQcFvamzdno Another fail marketing from MS..... duh.

Its about future users I.e. those kids and what they will get from Windows 10!

Indeed! It will takes years to get useful - till the kids grow up.

No this is how you show that your watch is too small to touch (and look at)

And Windows 10 is for kids only?? Seriously??

@chmun77 If you say so. I like the cute kids better. I'll remember the kids making me smile. All I'll remember about the Apple watch commercial is that they want over $300 for a horribly small screen that does the same thing their phone does. I kept squinting trying to figure out what they were using.

I'm not talking about the price tag. I'm saying the way to showcase or advertise a product. Is Microsoft selling kids products here? Totally making no sense!

"When they grow up, these kids will be using windows 10" - a reminder that there will be no windows 11, even 15-20 years from now?

Yep. This is the last version of Windows. Updates and features will keep coming.

Did we ever get a release date for W10 Mobile? Posted via the Windows Central App for Android

No, not yet but it's anticipated to be launched later this year.

Go home....but come back in October. Date would *probably* have been announced by then.

What I find rather ironic is that all these "cute" accessibility features (like Cortana and her indexing) are the first things being uninstalled or turned off - though I'm buying Enterprise licenses but still: Would rather see less cute and more relevant to what the new features are, not this abstracted stuff... But then they've got massive billboards in London of a woman in a sun hat, just her face, with the word "peroni" (the beer) underneath... Lifestyle sells...

Haha, I've seen that.... Made me think what on earth. Guess some one loves beer made by Peroni, abit too much..

I thought it was an advert for Zara or something lol

Someone who uninstalls Cortana is really missing out, I can't see why anyone would do it (other than the usual tinfoil hat type dudes). Also, that's the way advertising works, yeah. And in the end, the product is that, a way of improving life and enabling people to do more, not just a list of features and specs.

Cortana is still missing for my region so I not missing anything at all....

Oh dear, oh dear. That's awful. Im actually quite embarrassed by this. Whoever is in Charge of marketing needs a big old slap to the chops.

Totally agree.....To me, this commercial is Bill Gates telling everyone '''Let me raise your children, I can do it better than you"" There is nothing 'cute' about this ad; it is offensive, but I am sure it will be gobbled up. Sad..

Cute, it will make people talk about it I guess.
In a way it's the laymen way of saying Windows 10 is the last numerical number of Windows. There will of course be iterations and new versions "upgrades" in the future.
Never the less this advert won't wash with people, who would rather see features showcased more predominantly lol.

Will current games work on windows 10 ? I think NO..

Every current game will work, not only that, with Directx12 and the new Xbox gaming app I think it will be even better.

Will Win10 be rekeased in India on 29th itself?..Any idea what time?

Wow. These babies made my day :) windows 10 (y)

These babies are part of the hype

windows 10 starts with kids, perfect2 start.. :)

No matter what people on this website will cry. Cute commercial btw. The first of many I'm sure.

Well... Ms have tried targeting every other age group in previous campaigns, I guess babies and the animal kingdom are the only ones left...

Interesting, but it doesn't really say much

Are you kidding? It talks all about new features of Windows. It mentions features of Cortana, Edge, Hello, and even mentions the product name. All without being irrelevant, or negative. This is the best work they have done in years!

The voice-over only waffled on about kids not having to remember passwords, being able to touch screens, sharing things, and growing with technology. That could apply to any technology in the world. It didn't say anything about new features of windows - just flashed up a few quick bits of Cortana which normal people wouldn't understand (maybe think, "Is that Siri?") as there's no context or explanation. Edge looks like any other browser in that vid, and most people will be using Chrome or Firefox anyway. Yeah, they did get the "with Windows 10" tagline in, but I still didn't see or hear anything in there that would make anyone think "oh wow, so that's why I should get Windows 10". The "10 reasons to upgrade" video was much better.

I agree with you. This is not a good commercial. The average consumer will have no idea what they just saw. However I'm sure the point is to just make a start of getting the Windows 10 name out in the world. Posted via the Windows Central App for Android

The first 40 seconds is wasted, really. If this was a YouTube ad, it'd get skipped before anyone realized what the ad was about, in my opinion.