Fitbit Versa and Ionic pick up Quick Replies and female health tracking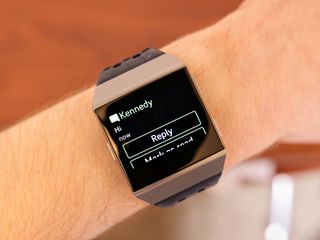 During Fitbit's spring product event in March, the company announced two big features coming to its smartwatches – Quick Replies and female health tracking. Those two items are now rolling out to Fitbit's user base, and they help make the Versa and Ionic even more compelling.
Quick Replies are currently exclusive to folks using a Versa or Ionic with an Android phone, and just like Fitbit said earlier in the year, this allows you to reply to texts, tweets, WhatsApp, and more using five pre-loaded messages. Fitbit defaults these to Yes, No, Sounds good!, Can't talk now, will reply later, and What's up?, but you can go in and change these to say whatever you'd like up to 60 characters.
You can have your five default replies no matter what notification you receive, but Fitbit allows you to go an extra mile by customizing these five replies on a per-app basis. In other words, the Quick Replies you use for texts can be different from the ones you use for a Twitter notification.
However, Fitbit didn't stop there. Along with also including a few emojis you can send as a reply, notifications you receive on your watch now sync with your phone. As such, clearing a notification from your watch now also clears it from your phone (and vice versa). This makes handling notifications much easier, and it helps to eliminate the redundancy of swiping away notifications on your phone and then also having to clear the same ones from your watch.
In regards to female health tracking, Fitbit's rolling this out on-device for all Ionic and Versa users, as well as the Fitbit mobile app for Windows and iOS (it'll be available on Android "later this month"). Fitbit users that identify as female and are 13-years-old and over will automatically have access to the service, or it can manually be enabled by tapping the Edit button at the bottom of your Dashboard.
With female health tracking, users can log information about their periods to get estimations on when their next period will begin, when they'll be fertile, etc.
Lastly, Fitbit is also releasing new apps and clock faces that all aim to help people live a healthier life. These are available in the Fitbit App Gallery right now, with some of the highlights being Walgreens, One Drop, Diplomat Pharmacy Inc., and Fitabase.
Checking for updates!! Getting closer to the Band! If only it had a keyboard too ;-)

"identity as female" can track periods and fertility.... /facepalm

The big news for me was that Chase Bank is finally supported in the Wallet app for tap-to-pay

Yep... I can now easily buy a snack from the vending machine at work with the wave of the wrist!
Windows Central Newsletter
Thank you for signing up to Windows Central. You will receive a verification email shortly.
There was a problem. Please refresh the page and try again.