Fitbit for Windows Phone update brings Cortana features to U.K., Australia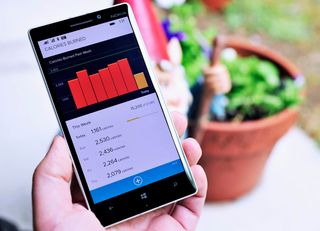 Fitbit has updated its app for Windows Phone, bringing it to version 1.4. The update adds support for more languages, and brings Cortana integration for U.K. and Australian users. The update also marks the launch of the app in China.
Here is what's new:
4 new languages support (Japanese, Korean, Chinese Simplified, Chinese Traditional)
Cortana features for UK and AU
Bug fixes
Launching the app in China
You can read our review of the Fitbit app here at Windows Central.
Chuong's passion for gadgets began with the humble PDA. Since then, he has covered a range of consumer and enterprise devices, raning from smartphones to tablets, laptops to desktops and everything in between for publications like Pocketnow, Digital Trends, Wareable, Paste Magazine, and TechRadar in the past before joining the awesome team at Windows Central. Based in the San Francisco Bay Area, when not working, he likes exploring the diverse and eclectic food scene, taking short jaunts to wine country, soaking in the sun along California's coast, consuming news, and finding new hiking trails.
has Cortana officially launched here in the UK yet? Cos I've still got region set to USA with no intention of changing back unless we have Cortana...

Ok, well from what you're saying, if Cortana is available in Alpha testing and on 830, that suggests to me that UK Cortana should be part of future Lumia Denim update (I've got an 820 with Cyan installed).
Anyway, as a Halo fan, the idea of having a Cortana PDA without Cortana's voice and instead replaced with a British accent would be a bit odd...

Cortana is in Beta in the UK. It/she is only available if you're running WP8.1.1 (with or without Denim).

They advertise the 735 and Cortana all the time.

Yes but only on a few devices. I believe it's 930, 830, 735 that have her officially

Maybe background sync will work. Not working in my 920.

If you're currently having issues with background syncing then unfortunately this update doesn't have a fix for this. We're still working on this with Microsoft. Sorry I don't have better news.

I gotta say I really appreciate you commenting here. It's definitely nice to see some support.

Thank you for acknowledging the problem. Hopefully it can get fixed soon, so I can buy the latest fitbit.

You could still buy a Fitbit tracker now and it will be able to sync with the application. You just need to open the app for it to begin syncing.

Probably no go for us on Verizon & Lumia 928's since we don't have Cyan yet, right?

Yeah.. pretty much. Sorry we can't help with that. We're also waiting for Verizon to release the update for WP. Soon I hope..

I advocate switching to AT&T if its possible for you. That's what I did, and I am so pleased.

What about call notifications, what is keeping u guys from implementing it for Windows Phone? Proud owner of Lumia 1520.

1520 user here too! We'll have a more official update on caller ID for Windows Phone soon. I can currently say that we're working on it in collaboration with Microsoft.

Is there a list of the Cortana commands somewhere?

Inside the application there are some examples of the voice commands you can use. We'll be updating this quite a bit in the next release (not too far away!).

Even so, caller ID is still not supported.

I'm a Fitbit fan and if they are adding Cortana support, MS can now take their time building enough Bands. No rush.

Does Cortana integration with fit work directly from Cortana on only in-app?

You can use Cortana in the app and also straight from the OS. Anywhere you can use Cortana you can use the Fitbit functionality.

I have got to get around to taking my charge back to the shop as it can't be found by either my 920 or surface pro.

Sorry to hear that you're having issues with the device being discovered. For Windows Phone it should definitely work as long as you have 8.1 and the Cyan update. We'd like to help figure out why this isn't being discovered if you don't mind taking the time. Feel free to email our support windowsphone@fitbit.com . For the Surface Pro, were you using the USB dongle? Unfortunately it's not possible to sync using Bluetooth on Windows currently.
Windows Central Newsletter
Thank you for signing up to Windows Central. You will receive a verification email shortly.
There was a problem. Please refresh the page and try again.