Fitbit for Windows Phone updated with Surge Run support, reduced app size and more!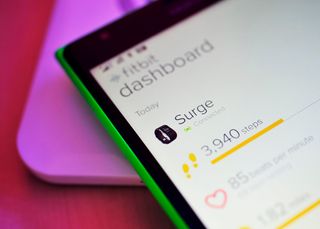 Fitbit for Windows Phone keeps getting better and better. Today, version 1.6 has landed in the Store bringing with it numerous fixes, changes, and improvements. Fitbit was last updated in late December and after some behind the scenes work the next iteration is now ready.
Much of the focus for today's update is enhanced information for Charge HR and Surge users, where heart rate data and GPS tracking is of value. However, even for regular users, there are numerous changes including the app shrinking from 26 to 14 MB installed.
Fitbit 1.6 changelog
Surge Run - View maps of your GPS tracked activities.
Friend Finder Improvements - Add friends from Facebook, email
Reduce App Install Size - We've cut the size of our app almost in half!
Custom Heart Rate Zones - You can now create custom Heart Rate zones for your Charge HR and Surge.
Exercise Heart Rate - Heart Rate will now appear for your tracked exercises.
Tooltips - New tooltips to help get you familiar with the app.
Improved Setup Flows
Miscellaneous Bug Fixes and Improvements
Unfortunately, notification support for Windows Phone owners with the new Charge, Charge HR or Surge is still not there. Tristan Rice, Product Manager for Windows at Fitbit, took to the Fitbit forums (opens in new tab) to explain the issue a bit, noting it is a technical issue that they are working on:
In other words, stay tuned! For now, head to the Store to grab the latest update and let us know in comments what you think.
Daniel Rubino is the Executive Editor of Windows Central, head reviewer, podcast co-host, and analyst. He has been covering Microsoft here since 2007, back when this site was called WMExperts (and later Windows Phone Central). His interests include Windows, Microsoft Surface, laptops, next-gen computing, and arguing with people on the internet.
Quieter: They fixed the multiple notification bug (where you get several notification toasts for each event).

Thank goodness I thought I was the only one experiencing that

Wow... now I cannot wait to upgrade... those multimple notifications are really anoying!

Great, hopes WP10 will bring more updates

W10fP will certainly bring "more updates" to your phone, though not to FitBit. Fitbit themselves however will bring more updates to Fitbit, not Microsoft.

Sorry for not being clear, I meant more apps updates.

I love their continued support. I'm glad that they understand the halo effect. I bought a fitbit upon app release and have since talked six other people into buying them. However, none of them are on Windows Phone, so while the WP usage didn't go up, the other ones did because of their WP support.

Much better velocity. I use this app every day, so each improvement is very welcome :)

I hope one of the bug fixes stops the app from sending 50 million notifications

If Microsoft doesn't do something with the Band, we may soon be talking about Fitbit as the best option for WP users.

It kind of is, considering you can't find the Band anywhere.

They should buy fit bit...

This is great news! I'm looking forward to your fitbit article this week :)

That's so cool that he uses a 1520 daily love it great endorsement

Is it just my 930 that doesn't work with background sync and live tile? App must be started to sync, live tile updates sometimes. Still a 9.5/10 on my app scale, but could be an 11 if it worked as well as on iOS.

Nope, not just you. Background sync and live tile updates are broken, but fitbit has said they were looking into it.

How can you have 11 out of 10? :)

Well, you need to account for the magic, and this scale goes to 11. #spinaltaptour2015

The auto sync not working existed before the December update. I hope it is fixed today. If it is not Fitbit is not trying hard enough. I think they are trying pretty hard though, it's a good device with good software. I have a Flex and a 1520.

There are some improvements to background sync and live tile updates. Please enable all-day sync and let us know if it has improved for you!

I disconnected my pc Bluetooth dongle. I flex kept connecting to it and would then not automatically connect to my phone. Now it stays connected all the time. Have to see if live tile updates, but is looking good.

The developer using a 1520 bodes well for continued WP support.

Until he switches to another platform..... :)

I've had a 710, Titan, 8X, 920 and a 1520 as my personal phones. I'm not going anywhere. ;)

Thanks so much Tristan I really enjoy fitbit and I am not going anywhere because of the scale I purchased (along with 3 flex and a charge hr). Look forward to you getting the notifications fixed so that when I am at the gym my wife doesn't lose it when I don't respond lol. In all seriousness great app when power was out last night I set some alarms on it to check fireplace so that I coudl conserve battery on mobile devices and it worked flawlessly. Again great job.

I will be purchasing an 830 today with the fitbit (for my wife), I am happy to see this support! Thank you!

I'm also getting an 830 today and super excited to see that Fitbit! Thanks for developing on this platform and participating in this community!

Is background syncing fixed?

So, I was a little ambiguous about this in the patch notes. We have made several improvements to background sync. There are still some edge cases where we see failures after a certain period of time or certain condition losses.. When we have those fixed we'll probably default All-Day sync to on instead of off. Let me know if you notice improvements in background syncing and live tile updating!

Tristan, When can we expect to be able to use the phones GPS to track runs and why didn't you guys utilize the WP Facebook app for auth in place of the website?

I think I just responded in our forums.. but WP Facebook app was a choice for "reasons". GPS run tracking (Mobile Run).. hopefully a closed beta in a couple weeks. :)

With my L920, the issue is that my Flex never re-establishes connection to the phone after connection is broken. Or the other way around. The app launches and gives a warning that background sync has failed. This error message is currently not happening. I will post further comments today in how it goes.

So I just went out of range of my phone, and come back. A Bluetooth connection did not re-establish. So background sync still broken.

Also forgot to say, sync dongle is in my computer that is near me and my phone. Guessing that the flex may not try and connect to the phone when the dongle is nearby?

All I want are call/text notifications on my HR.... like the ios/android versions can do. Glad they're working on it at least

I bought FitBit Charges for me and my wife because of the WP support. Happy to see they're updating them and still working on a notification solution. Good on them!

I like updates which reduce the app size.

I use the Band but bought my wife the Charge HR. Although I like the Fitbit software generally, there are far too many open issues right now to consider further investment. It is disturbing that their customer service department is expressing disinterest in addressing any of the legitimate concerns, ie. Charge display scratching even with soft material contact ( ie. shirt sleeve ), HR measurements being highly inaccurate, steps and stairs inaccuracies, band failures ( splitting ), and more. Fitbit may be an alternative for Windows phone users, but I would suggest anyone not already owning their devices wait until the issues ( including notifications ) are actually implemented and fully tested. In the meantime, other devices may well exceed the capabilities Fitbit claims, but has not yet achieved.

Background sync always stops! Fix that!!

Tristan Rice is not the app's 'developer', he is the Product Manager for Windows at Fitbit.

Absolutely correct! I have an excellent team of devs who deserve a lot of credit for the great work they do.

Thanks for responding to our questions here.

what's this gotta do with att denim ? :P

Wen in India? Wen for 520???

Excited for the update. Hopefully we can catch up the features of the ios and android counterparts.

Notification support (or lack thereof) is the main reason I haven't decided to stop waiting for the MS Band yet here in the UK. If notification support comes before the Microsoft Band comes, then I'm getting a FitBit.

I just got my surge last week and love it. I guess now I can love it even more. :) They just need to update device itself so we can program functions on each of the 2 unused buttons when on the main level menu.

Idk how you could have something so big on your wrist.. I'll stick with my Charge HR

I want the surge, but for the amount of money they want for it i need it to have notifications working. I know they are trying and I will get it when they get it. 250 is a lot for a pedometer.

This is a great app, and I cannot be happier with my fitbit charge. It has helped me keep myself motivated and I am achieving my weight reduction goals. Hope this update resolves some of the issues of the current version (takes too long too launch, and a gazzillion "goal met" notifications)

Well I've just ordered my surge from fitbit uk. Only place I can get an XL from. I was tempted by a charge hr because of lack of notifications but cant get a XL. Tristan.rice has now convinced me.

Awesome developer support! Thank you

The app won't update on my 8X. I get error code 80073cf9. I've rebooted, but it still gives the error.

I'm also having issues trying to update. Lumia 830

Thanks for the heads up! I was able to update it on my Icon without any trouble. This was the first app I downloaded when I upgraded to Denim/8.1 and I use it many times a day. So glad they are continuing to support it and make it better.

Glad to hear they finally fixed the notification problem. Unfortunately I recently updated to the Win10 preview and this version of the app crashes and burns on launch attempt. At least the previous version with the notification problem ran on the Win10 preview

deleted the fitbit app and re-installed from scratch. that seemed to solve my Win10 Preview crash problem

So, just got a Charge from my wife for Valentine's day. I have a Lumia 928 on Verizon running denim, and this newest version of the app. I cannot get my Charge to sync to my phone to save my life. Rebooted the tracker and the phone multiple times, but to no avail. Any suggestions?

Hei Tristan, Thank You and your team for making WP app for Fitbit Charge HR. Just bought it as a present to my wife and she is very pleased with the product. Both the app and design of the device. Was also trying it out and noticed that gps tracking doesn't work on Lumia 1020 (8.10.14226.359). Other tracking apps like sportstracker work fine. Fitbit app gps tracking works fine on my Lumia 530 (8.10.14234.375). Also noticed that someone else was complaining this in the feedback section of the fitbit app in the store:
"Tracking exercise does not work on my 1020 :( It starts and then just stops and never displays any stat changes" Any tasks in your backlog for this? Please fix it before my wife notices it ;) BR, Olli
Windows Central Newsletter
Get the best of Windows Central in in your inbox, every day!
Thank you for signing up to Windows Central. You will receive a verification email shortly.
There was a problem. Please refresh the page and try again.