Flipboard for Windows Phone 8.1 is released in error [Updated]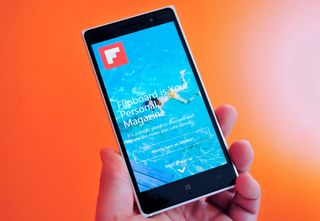 Update: So that Flipboard app in the Windows Phone Store? Apparently it's not the official release and instead was an early, incomplete build. That's what the Flipboard team is saying on Twitter. So hold off any final judgments until Flipboard officially releases for Windows Phone. Just keep in mind, it was announced 441 days ago... Source: [@FlipboardCM]
This morning, the official Flipboard app for Window Phone has gone live in the Store. Previously caught as a private beta, users can now download the popular news magazine app to their Window Phone 8.1 device. Unfortunately, those with 512 MB devices cannot yet get the app due to lack of support.
No official announcement has yet been made to our knowledge.
Flipboard arrived on Windows 8.1 late last year, but it has taken nine months to arrive on its Phone counterpart. The delay is likely due to the company waiting for enough users to be on Windows Phone 8.1, as the app is not compatible with phones running the 8.0 operating system. Following yesterday's OS update for the Preview program, and it now makes sense to release the app to a wider audience.
We will have more Flipboard coming soon, for now, you can follow the link below to grab it for your device.
Thanks, Rohan P., for the tip!
Windows Central Newsletter
Get the best of Windows Central in in your inbox, every day!
Daniel Rubino is the Editor-in-chief of Windows Central, head reviewer, podcast co-host, and analyst. He has been covering Microsoft since 2007 when this site was called WMExperts (and later Windows Phone Central). His interests include Windows, laptops, next-gen computing, and for some reason, watches. Before all this tech stuff, he worked on a Ph.D. in linguistics, watched people sleep (for medical purposes!), and ran the projectors at movie theaters because it was fun.
Let people with 512 MB RAM complain! :P
Update: The app seems to be pulled. I've already downloaded it but the store says not available for my device.
Edit: Works great!

WHY IS THIS NOT AVAILABLE FOR LUMIA 820 I HAVE 1GIG OF RAM

Same here with my Lumia 822. I'm wondering if it's because I'm still on the WP8.1 Update 1 Dev Preview?

Ugh. Ditto on a 1520 with Dev Preview. Bother.

I have it on my 822 with 8.1.1. :)

Yeah! My 822 is not downloading either

No, 822 on Preview for Devs here and I got it.
As the article reads, it was a mistaken release. So, its probably been pulled again.

Trust me, you don't want this version of the app anyway. The dev team for Flipboard replied to a rant I had on Twitter and said that this was not the official app but a placeholder app.

Exactly why do you need 1GB of ram to read news!?

Exactly to read news we need 1GB ram lol!!! Are they serious. Ahahahahah

You are not "newsworthy" if you don't have 1Gb of RAM :)

Quote!! I just don't get it!! Plus, why don't you start making the app compatible with 512mb devices from the beginning!! Thus the app will work even better on devices with more ram...i don't think this approach would make things much harder...
It's so frustrating to have just 512 Mb of ram.... :(

Obviously it is easier to develop an app for devices with 1GB of RAM than it is to optimise the same app for low memory devices. If you think you know any better then you really should change professions and become a developer yourself. Posted via the Windows Phone Central App for Android

It's just the approach. Just like some peoples prefer eating their favourite dishes first or last. The devs can spend lots of time and efforts to optimize it first so they don't need to do it later. Or they can make it first and optimize later. Besides, for Flipboard, they can get the same reaction ("finally, what took you so long") even if they do this release in 2015.

Well what's so special about it? I find Plash really nice!

Agreed, I have tried Flipboard for Android already and didn't much care for it. Also, it's not yet available for my UK 1020. And I don't really care one way or the other. Posted via the Windows Phone Central App for Android

+920 +620 +nokia 5130 +nokia 1600 +nokia 1100

got the error code c101b000 when trying to update my apps... Plz help!

I got that error also trying to download on 925 T-mobile US

Hey!! Found a solution to error code c101b000!!! Use cellular instead of WI-FI!!!

Hey! Found a solution to error code c101b000!!! Use cellular instead of WI-FI!!!

I've read that this has hit the Windows phone store before, but it got solved quick, hope it does again. Please confirm that this error is recent for u :)

Same error downloading :) Made it ok the cellular yes :) Thx

Im just came here to be one of those complainers ;) Lumia 520 waiting for support!!

Missing the most important feature of Flipboard.. It doesn't flip..

I would like to respectfully point out a typo in the 512 graphic. "does not supports."

Guys, let them know that we want this for our 512mb ram devices too! support@flipboard.com

Lol, I have never even noticed that. Good eye.

I think the WPC 512 MB banners are silly and ugly and awkward in general. Looks really amateur.

Sometimes I really Love my decision to choose 525 over 520

It days app not available for my device. #1020

Getting the same notice for my 1020 as well. Wonder why??????

The app seems to be pulled from the store... :/

Why are people shocked that "budget" phones cannot do the same thing as higher end phones? They are "budget" phones for a reason....... Are people also shocked their Toyota Tercels cannot go from 0-60 in same time as a Porche??? =/

Gee. That must be why it is not available for my 930. Danced budget phone! ;)

Yeah, app is definately pulled. No available for my device (1020)

Yup. Says not available on the 930 too.

NEARLY 500 DAYS IN THE MAKING!! THIS SHOULD BE EPIC!!! Oh it's not done yet?

Newsly is just as good, just flip differently.

The store is fucked up right now (1:40pm EST). Had other apps to update, no go...any ideas?

Same problem! I got the error code c101b000 when trying to update my apps, just gotta wait, others have the same problem right now

Yeah me too, it says attention required, thought it was from the update yesterday, glad I'm not alone!!

Hey!!! Found a solution to error code c101b000!!! Use cellular instead of WI-FI!!!

Finally although I like Weave more.

Dear Weave, it was great while it lasted, but it just wasn't working, so I've moved on to bigger and better things. It was a pleasure and good luck with yourself and your future endeavors. You will always have a special place in my heart. Peace.

Somebody pinch me for I must be dreaming.

Let us hold hands and rejoice, Our Alien Overlords have returned bearing Gifts.

Wow,been waiting for it,but magnify is great too

Magnify is great ... A bit buggy though. Those 3d cube animations are absurd with no option to disable. The parallax image scrolling should come with a warning for dizziness. The prompt for webview is silly, as articles that can't be fetched should just auto open in webview. Dev could have put more effort into squashing bugs than inserting cheesy animations IMO. Also, I think she's dropping WP. Shame because the app is really the best newsreader on WP, it just needs some polishing.

You can turn off the 3d effect when reading a multi-page article by disabling "Article swivel view". Still has a 3d effect when swiping right and left between articles. I agree completely with the diziness warning. I actually got nauseas reading one article! Having turned off both those features I'm pretty happy with it.

Yea. She clearly put a ton of effort into Magnify. Overdeveloped the animations but the design is gorgeously on point.

It doesn't flip. And I can't create my custom news and sources... I can't believe it took them so long to come up with this crap! Converge is awesome, though it only supports a couple of sources.

Indeed, i was shocked... Flipboard doesn't Flip!

Not released in beta? Colour me surprised! ;-)

Can't install. Lumia 1020

Try to get off of WiFi...

I turn on data (off wifi) and nothing :/

Nah, that didn't work either for me.
I am working in an AT&T building though, maybe they are sabotaging my Verizon service. LOL
Edit: It works now on WiFi, I think we just got ahead of ourselves.

Thanks Daniel, that worked for me

I get the error code c101b000 when trying to update my apps... Plz help!

Everybody's getting the error code.lol Just relax as I'm sure a fix is in the works.

I downloaded on WiFi with no problem at all on my 925.

It's ridiculous.. Dear Devs it's not android, we have 512ram phones with fluid UX. Idiots.

I have a Lumia 520 and says is not compatible with my phone.

If you read the article you'll notice that 512MB devices (like the 520) are not supported.

You don't even need to read the article, there is a fairly large image indicating that!

I wonder how many people are now buying a phone without knowing the RAM size. There will be more people turning up on this site who have bought budget phones, and may have no clue about the specs of their device.

Yup, it's 1 GB memory only and yours is 512 MB.

All I am getting on my L1520 At&t is the error c101b000

Same phone & problem here

Need to mention that I'm running Cyan with the latest DP on top

Same phone, network, and error here.

Same here, but on my L920 ATT...

Same. Was too good to be true.

Try again I was getting the same error message, now its working +925 DP 8.1.1
Update: IMO pages doesn't flip like the Android app, and it takes long to load the articles.

Apparently it's a store issue as AoE update shows the same message.

Same here. UK Lumia 1320, 925.

1020 isn't working either . I turf both WiFi and 4G

Same problem here, Lumia 928.

928 - not available. Not sure if the store thinks I'm not on 8.1?

Wouldn't allow download. NL1520.2 on ATT.

One of those rare apps which require 1 gb ram in wp except games. Anyway my 520 can wait..
..

I am getting some error while downloading the app anybody else facing the issue

this is so odd... Even an app needs 1gb ram???

Trying to download on L920 but I keep getting error code c101b000

Lumia 620 not supported yet :'(

So no 512MB devices, and no 8.0 devices. That excludes virtually all US users. Nice job.

One of the smallest market share for WP. Majority WP users go it eg India, UK, EU. ;)

Good for them. Too bad most there have 512 MB devices so they can't use this app anyway.

Percentage wise, yes. Actual number lf users? Nope. Still millions of active US WPs

There is still much more users on WP8 than WP8.1, but it is what it is, We can't complain! :) Good thing is, it's finally here :)

Can't download. I'm using 1520 on Tmobile

As a winner I could have, but this time I won't cry foul! My 512 MB phone went for repair and I am not sure what the board used for anyway. Next app please.

Getting error code c101b000, when trying to download

Error code c101b000 on Lumia Icon

Same here on the same phone (and I tried both cellular and Wi-Fi). Can't imagine this app will work very well even if it would start.

Error code for L1520 AT&T

Surprise release and wth 1gb neede to read the news? Srsly? Posted via the Windows Phone Central App for Android

Finally getting Benefit of upgrading from Lumia 520 to 1320

C101b000 error code on l820

So they were waiting for more users on window phone 8.1 before they release it yet they do not support 512m phones :/

I am assuming there will soon be a update to the article. Looks like everyone is just getting the same error. Did anyone have success in installing it? If yes, respond with phone, SW, carrier, so we can provide some details for the WPC team to follow up.

You need to cancel the initial download completely and then go back to the store page and hit "install" again. Hitting "retry" will not work. (Verizon, ativ se, dp 8.1.1)

My Lumia 1020 with 8.1.1 with Black showed an error while downloading. I hit retry and it downloaded fine.

HTC 8x getting the error as well. Also had the error earlier when trying to download some other apps.

Not being able to download..... I've got a Lumia 920

It wont download. Oh well.

Asphalt 8 runs so well on 512MB RAM Devices & this news reading app needs 1GB RAM.

Exactly. That's why I just cannot wait for this to be official available! The year-plus wait is so worth it!!

I got a damn error code, Lumia 1520....

was excited when i saw the notification...den i came here n i see "512MB NOT SUPPORTED" shit.. totally dissapointed..

Download error :( - Lumia 925

Getting error c101b000 on my l920

Won't download on my 925 in UK.. Finally nearly here though.

Can someone explain what's so special about Flipboard compared to other apps like NextGen and Weave? It seemed to be an app that many people wanted, but based on what I'm seeing I'm not seeing what's so special about it.

It has good animations and more features then nextgen reader

Flipboard is not an RSS reader even though everyone and their uncles dog on here compares it to the RSS apps. Flipboard has "curated" magazines that people make and then share. You can subscribe to the magazines based upon content you like and other people (or even you) adds contents to their magazines and when you go into their magazine you can read what they have put in there. For example, an RSS reader gives you every article that is posted to a blog that is in that feed or category. Flipboard has people adding content so there is a bit of a human filter. I have a magazine that I "curate". I add articles that I have actually read and find to be of good content. I usually fish through 10-15 blogs every week for 5-6 good articles that I think other people would benefit from and put them in my Flipboard magazine. Hopefully my explanation helps.

Thanks for explaining that very well! That makes sense. I'll give it a try for a few days, but so far based on use I'm thinking of just sticking to regular RSS feeds. We'll see!

I can't see the point either after trying it. Just random pages that take ages to load too. And the cars category for example are all US.

Getting an error on my 928. I'll try again later.

Ummmm.....like others....getting an error.

in this way, is better fot microsoft eliminate the 512 mb ram and launch only 1 gb ram devices even the apps is getting this restriction now, it's outragerous and disrespectful for what is the biggest sales of the company (low end devices - i think, don't judge me)

I'm getting the same error code as well. "There has been a problem completing your request. Try again later" Error code c101b000

I got the error code c101b000 when trying to update my apps... Plz help!

Fails to install L930 Cyan DP

Getting an error c101b000...for any app installation from store...glad to know i am not alone...seems like this happened last year as well...its some problem with Store...
Wp Central Folks can you tip MS about it?

disappointed of this 512 not supported :(

It works on Samsung galaxy y(Android less than 300mb ram) and doesn't work on wp!?Wth!

This app actually sucks. I'm not sure what the issue with the development process for WP apps, but after viewing this app, there doesn't seem to any reason this requires 1GB of ram and it took over a year after its initial mention to come out. It's missing the flip portion of the flipboard experience, the scrolling is jittery, and the images aren't in hi-res. There is a better 3rd party implementation of this app that's been out longer and functions better than this one. I think Flipboard dropped the ball on this app.

Gonna have to agree, they can't even live up to their name and have the ability to actually "flip" through stories. It works that way in Windows 8 and iOS FFS!

Exactly! This is a horrible version of a great app. It's very confusing compared to the Windows 8.1 app, and the iOS version. Another example of Windows Phone users getting shafted. Should be named "Scroll-badly_Board"

Getting an error: C101b000

Another premature installation... * sigh*

To read news I stick with Bing news. I love it now it's gonna replace by msn brand I love it more

For some reason, it gave me a "reinstall" option instead of install. I had never installed it before. Wierd.

Hope now we can see the damn Instagram "out of beta" update, the WP8.1 Twitter update, the WP8.1 Whatsapp update and everything there were saved for the WP8.1...

C Seeing all the exciting new features in Windows Phone 9, they have decided to postpone the big update so it can use all the great improvements of Windows Phone 9 when it has reached 90% adoption rate.
At least until more exciting new features arrived for Windows Phone 9.1 and they decided rather than making one update for Windows Phone 9 and later for 9.1, why not just roll the apps up into one more amazing update to make use the even more advanced upcoming OS.

Same error 1020 devprev 8.1.1 uk

cant download in lumia 1520

Not able to download it on Lumia 525 plz help

Jesus. Read the bloody comments. Nobody is able to download it, its not just you.

Guys, just sit and wait, 512Mb is coming soon. By the same date in the next year probably.

Maybe its compatible with only 801 chipsets. I know it's stupid but why only the HTC one.

Downloaded fine to the Lumia 920

WTF.......biggest, best, most fantastic, humongous Surprise ever.
I'm done working. Good day.

Off wifi didn't work. Boo.

there is a thread about this error in Microsoft answers http://answers.microsoft.com/en-us/winphone/forum/wp7-wpapps/what-does-the-error-code-c101b000-represent/c21bdc0f-4160-44b3-818b-be4139cfe0b6?page=2

Ok, so a 512MB RAM phone can't run this... Back when I had my damn Galaxy Gio (278MB RAM) I could run it so smoothly...
That sucks, that's why I'm switching to iOS...

Did anybody try downloading the appx file from windowsphone.com and then installing by putting it on the phone?

Yep, gives the same error.

Oooohhh....good point. I think that's why I'm getting an error. Good eye there.

This is going to be super flop on windows phone

By the way forget this overhyped sh*t and use Nextgen Reader, the best news reader in the Milky Way Galaxy

Soft reset my L920 (ATT), switched from LTE to WiFi and was able to download.

Sadly, that trick did not work for me on either my 1020 or my 920.

File size is just 1MB...Interesting huh!

INSTALLED IT ON MY 1520 on WIFI... wohoooooooo

Getting error when trying to install from store.. Downloaded the xap file and installed manually. You guys can try that workaround. Using an ATIV S running WP 8.1.1 DP

Downloaded fine...lumia 928

I restarted my phone and it installed!

Just retied and it installed

I don't understand why almost all APPS gives you the BROWSER instead of redirecting you to Facebook app for authorization... o.O

Now I can really salute my data's mb.

I went to the Windows Phone website and pushed the install from there. It worked after getting the error directly from my phone. Nokia L928

I spotted it in one of the new Lumia's ads. It was either that or a demo of one of them.

Just installed on my 920 after I tried downloading it through the browser in the windows phone store

Finally downloading over wifi, after about a million tries. AT&T 1520

wow, only 11 months later!

Got it on my 920... Where the flip is the flip???

a FLIPboard that doesn't FLIP... o.O WTH?

I know, WTF? Horrible Port!!!! :(

Install Weave and forget about this bad joke. A year+ in the making and not compatible with 512MB devices, my god.

Finally installed after 7 tries :P

Downloaded to my Lumia Icon now. I was getting install errors for first few tries, then it magically started downloading. :)

this thing doesnt even "FLIP" FTS man!

Flipboard locked and loaded +1520.

WTH, 1gb??? Really! I can run subway surfers but not an news app??? Please do something about it because I really want to use it on my 520!!!

Meh, there are better alternatives. Nextgen Reader and Magnify both are very good.

It seems to be working now...just installed on my 1520...

Downloaded fine on my AT&T Lumia 920 over Wi-FI.

For everyone who is getting the error, close the store, reopen, and try again. It worked on my L1520.

No problem installing on my 1520.3. The live tile is amazing!

Download worked now on my L1520, but the app itself is performing pretty badly. Overall quite slow...

Installation worked now. Glad it's on WP, but I don't see myself using it much. With the People integration in WP I get my news off of the FB and Twitter feeds anyway. Good to have it though.

It's alive...ALLLIIIIIVE!!

Where's the flip in flipboard???

I like it. I'd love if the pages actually flipped instead of scroll.

Finally....... Oh wait.not for 512mb ram phones. Exactly why 1 GB ram is needed?

Why do we need more than 512mb ram to read news??? I want this on my 520, is it possible?

Working fine on 1520.3 Fido. Never used it before but I'm checking it out.

Glad to have it. But why NO landscape mode? Dumb!

This is one reasson why you will not be able to have a decent share in the market people.All the iphones (with 512 RAM) can open this Flipboard.

If you look closely you will notice that this is complete nonsense -520

Why the hell does it scroll and not flip like every other version? No flip.No landscape.No cache for later like ios & android. So I guess we moved from alpha to beta.

I'll wait for the next update, may be it'll support 512MB RAM devices. Btw, waiting is mainstream with windows phone users

I tried this when it came out on WIndows 8, but wasn't overly impressed. I didn't get it :( I love adding interests to Cortana and having them show on my phone and Bing, then use nextgen reader for various feeds.

It doesn't flip!!! Great Flipboard!

I'm glad its here, I'm sad its very unpolished, it doesn't feel natural at all (like the iPad version in used to) but its something...

It'll probably never be updated again.

Yeah, I doubt it ever sees another update. The official Instagram app is *still* in beta for crying out loud.

The truth is that with the excellent newsreaders from MS like Sports and News, and with WP 8.1.1 live folders and People hub... you can easily create a great (I'd argue superior) alternative to Flipboard yourself, with integration with FB, Twitter, and continuously updated live tiles on your Start menu. This app clearly is great for iOS where this isn't possible. On WP it just doesn't feel necessary.
Not to mention we already have several great newsreaders, and at least one (Magnify) that actually flips. LOL.

Welcome to 2010, Windows Phone.

Bastards! very late and with no support for 512 mb devices, get the funk out flipboard!, Im staying with Nexten Reader. Good to have it on the WP store tho. One more popular app finally ¬¬ added.

After this long of a wait since it was announced you'd think they would cut less corners and fully develop the app to feature parity. I am glad we finally have it, but at the same time it is half-assed and disappointing. 1gb Ra to read news? Pages don't flip? Come on Flipboard!!!

GUI isn't that great and app is pretty laggy.

It's not bad, but for a photo-centric news reader, you can't beat Collector. (just my opinion)

The app is garbage anyway...nothing special and nowhere near the quality of NextGen. Hell, it doesn't even flip. Uninstalling immediately.

Wtf!!! Now do v really need to think that only 2mb of app is differentiated btw 1gb and 512 mb ram!!!! Common man it doesn't m make any sense!!! -_-

I ran it. Its not that great. No flip animation. Seems bulky rather than smooth. Weird because this was the app I've been waiting for all along

it's a horrible app IMHO which has been long past its prime but I'll download it just so they get the stat counter up and maybe WP won't be snubbed yet again.

I'm bummed there is no actual flipping going on here!

Interesting. Installed and tried linking it to facebook. Strange enough I get an email from facebook stating that an attempt was made to login via "Android on Nokia Lumia 1520) like iPhone". The linking never worked btw. Uninstalling...

Still scratching my head as to why a news magazine would require 1 GB ram. Games & some important features I can understand but for this... can someone enlighten me please ??

And it still lags even with 1g. Just use nextgen reader or collector

LOL, that didn't take long at all. Once step forward, two steps backwards.

It freezed my Lumia 820 on installation.It is not optimised.btw I installed on SD card.But for the first time my Lumia freezed so had to take out the battery and insert it remind me my android days.

Such a good news ! Will test it right away.

1gb to read news only on windows phone hhhhhjjhjhh

Mine wasn't downloading with the error code that most had. But NOW it worked!! So give it a try!!

I dont know. Weave works pretty good for me. Sort of.

At least, but feel a little dissapointment... This is not the App i remembered in my iphone4. No flip animation. We'll have to wait for coming updates.

There is no "Flip" that's the only reason I liked the app. It makes it unique. Without it it just another news source.

Flipboard your app is not flipping it I scroll board another half baked app like true caller which made my Lumia 820 freeze.uninstalling after giving worst review.

Downloaded this app on Android a week ago. It looks attractive and works very smoothly but I found it out a bit pointless and messy. It's better to look through favourite sites in Internet. Posted via the Windows Phone Central App for Android

Some may see this as a trivial thing, but without flipping I'm not going to use this.

Can not download it. Receiving any kind of error code

The navigation is not that good. I like the implementation of Windows 8 app better.

Uh, would be great if I could edit my magazine choices.

I can't wait for my 830 sad 520 user.

Same error..
Den tried 3-4 times n success!!

1gb of ram required??
Are they having a laugh lol... I hope they release a version that can support 512mb devices sharpish.

I'm using L1020, and it's slow. Not sure if it's the network issue or the app that is slow. I have Flipboard on my Surface Pro 3, and loved it!

Um... it doesn't even have the signature "flipping" animation when going through articles. You just scroll down... wtf?

http://www.windowsphone.com/en-us/store/app/magnify-news-reader/82f68ad7... Magnify and Feedly. Great alternative for those on 512 MB. And it flips!

FLIPboard... "Now eventually you might have dinosaurs on your dinosaur tour, right?"

Haha, I definitely heard Jeff Goldblums voice in my head when I read that.

Flipboard and it doesNOT FLIP!!!!! :|

Ahah just post a similar one!

How to use the App in India because it always show contents from USA

Must be some news articles when they have 1 GB size. A 6 hour read :P

Why flipboard doesn't FLIP? That's really incredible! All other Systems flip... WP scrolls... It's clear!

It looks bad and performs worse. There are much better alternatives available. At least we can now say that we have Flipboard. One more item ticked off the list.

Oh, come on Fliptart.
The year we waited for this app, should've given you lots of time to optimize the app for 512 MB RAM devices.

Since switching to WP last year from android, this is the one app I missed. I know theres a ton of other really good news apps, I just really liked flipboard. The animations, the way it organized thing, etc. But now they FINALLY release and it doesn't FLIP? Pretty disappointed. I cant believe this took a year to complete.

Would love to get this, but my Lumia 928 is still at version 8, for the foreseeable future.

This is interesting... While the app performs well.. It doesn't have any flips to it... Guess it should have been called scrollboard..... :p

So slow to load anything. And am I missing it, or is the flip effect that gives it its name completely missing?

Even the cover story image is static and doesn't rotate through the stories. Bug disappointment for something that has taken so long to be released.

This is the worst version of flipboard ever -.-

Ya not impressed yet. I need some opinions on the best news reader apps until flipboard gets better. Any ideas?

Amazing!!! I was waiting for this app!!!

Wasn't it supposed to have flipping pages animation? Since it doesn't I don't see why it shouldn't work with less than 1 Gb of ram.

Can't download, says not available for my device/region. Using Lumia 920 in US, with WP8.1

Sorry, but this is a poor, awful app.

I Have an ICON with DP8.1.1 and it says not available for my phone.

Says its not available for my device, its a 920.

So, WP again gets the gimped, less functional version of a popular app.

Is this Flipboard or Slideboard? We waited all this time for this?

Do we need more RAM for this?? =_=

Why I can not download this App for my Lumia 930?

Btw.. Didn't I have 2 GB RAM?

It doesn't flip... Better calling it Scroll board...
2 stars from me.. Max

Not to mention you can't pick your sources, nor interests. If all this wait was for this, we'd be better off without it. I hate that devs are like "Oh let's create this awesome app for iOS and Android!" "What about WP?" "Yeah... Let's just focus on the other two, then we'll port the app to WP, but without all the good features the others have. It'll be excellent!!"

Not supported on my UK 1020 on 8.1 update 1... Why?!

Deleted, bad app. 1 star given

Not available for my 930 in Canada


Not available for my Lumia 930? Wut?

Not available for my Lumia 1020? Did it get pulled or something? I've got the latest dev preview

Says not available for my 1020

I can't download it yet..

Still not available for Nokia 1520! Why?

Did they pull it? It says I can't downloaded it on my Lumia 1520.

Not available for my unlocked 930 in Ireland... :/

Still says unavailable for my tmo 925. Wtf?

Is it available for Lumia 630?

Gee talk about getting excited about nothing. Not available for my 1520 per the store. Epic Article Fail (EAF).

Guessing it won't work for Icon users with the Developers Preview of 8.1. It's showing the "This app is not available for your device. Tap here for more info." message. Big bummer.

Not available for me, with 920. I guess they took it down from the store.

Dailyaha fan on my WP. Sorry flipboard. I waited in the rain for months and I've found another. But I'll keep ya around on my devices that don't yet have DailyAha. The Windows 8.1 version of DailyAha is simply better than flipboard on Windows 8.1 Doesn't matter anyway. Turns out flipboard isn't available for my device. lol. AT&T on a 920? This is sad. Waiting for flipboard continues into the 412th day since the announcement.

Ok it was available now it isn't what the fudge Microsoft?

I'm getting that clipboard is not available for my device. International 1520

Still can't download it. Says it's not available.

What's up with "This app not available for my device". Lumia Icon????

It's probably not available in Nigeria. I use a Lumia 1020. Too bad, back to magnify.

I goto the link provided thru wP central app and it says its not available for my phone. I have 8.1 and its a 1520. When I search myself on the app store Flipboard isn't found. What kind of news post is this? A big April fools?

Says its not available for my device which is a Lumia 1520 with the most recent build of 8.1

It says that it's not available for my phone . Nokia Lumia 820 , united states region.

I have an icon on the latest dev software and clipboard is not available. Getting annoyed that cyan is not available on my high end hardware. Love windows phone but getting very frustrated with this. I also know that it is more of a Verizon issue than a Microsoft problem.

Can't download either! AT&T 1520 w/ dev preview.

Lol, they pulled it from the store.

This app is not available on your device... Dafuq??? LUMIA 920 Unlocked, Netherlands... Bizarre...

I'm in USA. I'm so finished with posts of Flipboard. They made their little chump change with android and iOS... The build for WP users is like being treated as second class citizens.

Not available for my device... Lumia 920 c/w preview update error 308... :-(

Flipboard for Windows 8.1 is balls. The pages sometimes take ages to load, whole sections say "No stories found" and videos don't play. They should fix that one before releasing another half baked, pisspoor port

Why do they ask to log-in??? Uninstalled...

I wonder if I can see flipboard for possibly causing "checker" syndrome because I have searched every news and forum almost daily since Nokia said Flipboard was coming to WP!!!!

I just reached out to them and they said it was am early, incomplete build staged as a placeholder. Has it been fixed for you all?

No it don't run nice, it's even difficult to write data for the first login, pages scroll, don't flip

Not available for Lumia 1520?? India

Perhaps everyone should read this... this is not an official release. https://twitter.com/FlipboardCM/status/515220740736819201 But it runs nicely for me on 1520...

I'm getting the not available in my device message, using a Ativ S Neo with 8.1 dp

Unable to download on Lumia 920 w/1GB RAM and 8.1 OS w/update 1.

App not available for my device (lumia 920 WP 8.1 update 1)

This app is not available for your phone. WTF ? I have a 920.

Lumia 1320, store says it is incompatible with my phone, why?

Shit app...size is 2 mb...and compatible for 1 gb device...r u mad or what.

"Not available" for me-fully updated ATT 1520 Colorado WTF

At this rate I'll be off to iOS or Android soon!

A few posts up is a link that explains our big tease. Who ever put the article on WP central app now owes me a big ass blunt because now I'm stressed because clipboard isn't even ready yet. Thanks WPCentral!

It says it is incompatible with my phone...which is the HTC One M8 for WIndows. Pretty confident it has more than 512Mb of system memory. Anybody know anything about this?

It was removed from Store. Probably an internal made a mistake.

Damn!! Doesn't let me download on my 1520

They have removed it from the store now Max

HTC 8X Not available what's the problem? We have 1 Gb ram...

Runs perfectly on my Lumia 820

I'm enjoying it... It's pretty good...
Nokia 1520...

Looks like apple's prefect new device release event lol

Not available on 1520, Norway

It was removed from Store. Probably an internal made a mistake. https://twitter.com/FlipboardCM/status/515226010300997632

is it me but using a WP device is getting rather tedious. first lack of high end devices apps that dont work on all WP devices. yet i can walk into a t-mo store and find a bunch of high end android devices and now even apple has the large screen devices. heck T-mo has yet to dish out the 8.1update i've been using WP from day one i don't know but i came very close today buying a iphone+ it just always waiting always coming soon always exclusive even with this new app doesn't work on all 8.1devices.

Actually its the IFLEX 6+,

Good grief this is talking a while. We'll probably see vlc before this lol

So it was another tease?? Are they f**ing releasing the damn app or not? Just like those instagram idiots, too much noise and we end up with a subpar app that hasn't been updated in a while by the way...

Sadly as usual UK is not part of this currently!

What an absolute joke. Over 400 days from announcement to release, then its an app that scrolls instead of flipping (its called flipboard for a reason flipboard devs...). Then it gets pulled because its not ready yet... NOT READY! They are having a laugh aren't they? Why doesn't anything ever go smoothly for WP? It's constant waiting and disappointment where official apps are concerned.

WP is probably the toughest standards to build for and even tougher to port to. Which is why too many developers simply don't bother. How long has VLC been around on Windows but for whatever reason, it has yet to materialize on WP and ModernUI? No different than flipboard. Which is why I'm glad we have DailyAha. Its just done well.

Its taken more than a year to release a news reading app... There is no excuse for that.

From experience as a developer, iOS has more stringent requirements than Windows, and Android has less (none). Windows Phone is super easy to code for, Microsoft have done an amazing job there. Issues such as VideoLAN are having are true edge cases -- in their situation they are trying to port an entire set of x86 codecs into managed ARM code which is incredibly challenging.

Thanks for the comment Nik. I don't think that makes me feel any better btw. :) But, if what you say is true about coding for Windows, and I am not doubting you, then it makes absolutely no sense why we are dead last in innovation.

Agree, HTC 8X have yesterday got the long waited update, there's always something wrong. When does it stop?

For 8.1 D'uh... Verizon, wake up. They've put a man on the Moon already


Why does this require 1gb of ram?

No high resolution images in apps' "following" page

I'm buying nexus 5. I don't have nervs for this microsoft anymore.

Im getting the galaxy S5, I am sick of all the BS of Windows Phone too ...

I'm thinking about Nexus 6 .. Consider that one I advice.. Wish that Moto X 2 would be available with all custom modifications outside US too hah. However I'm still into WP

Flipboard, more like scrollboard now. It doesn't flip. Lmao

Hello brother im using it soothly on Lumia 1520, wp 8.1.1 preview for developer, India. Kudos! Looks so beautiful and slick

Announced 441 days before? Flipboard does have a bunch of freakin lazy developers.

Like it better than the flipping Android version already, incomplete build or no.

Not available for the 1520 either

Whatever, works fine on my 1520 so far. :-)

Flipboard ain't that bad on my 1520 it has some slight lag and it could be faster but remember people this app was made in a rush it took them only 441 days to make the app. Wow people just take it easy..

Seriously, getting fed up with big app developers just not caring about this platform at all. Not sure if I can really blame them or its just the reality. Flipboard was announced so long ago its a joke that its still delayed. Also so many apps that even if they do get released they never get updated - at all - or never get out of beta!!

Says not available for my Lumia 1320 :(

Failed on my AT&T Lumia 820 on 8.1.1, Lumia Black, Developer's Preview

One of the most overrated apps... Right now I can't download but I'm not sure I will either. And that freaking hamburger menu, hard to reach and just looks awful...

Oh, well. Sometimes you break the news, and sometimes it breaks you. :)

The whole handling of this app is a joke. I stopped caring months ago.

This is unjust. Why not 512. My only option is to go for 730

Awesome! One of the last WP apps I've been waiting for... Works so far on 1020-AT&T

Why not 512mb support?!.smh for Windows

Not available for Lumia 1520 8.1 too...what is this???!!!! come on WP........!!!!!

Well I've got it. It is a bit clunky but going on what's in the article that would explain it.

Wtf?! Release it. It's been years since it was announced. I'm getting ducking pissed on some Microsoft vision on windows and one screen since the release and things that will never be. Wtf?!

They are seriously fing with people now, WTF!! RELEASE THE DAMN APP ALREADY!!! Flipboard has gone from my number one most wanted news app, to a complete joke!

Installed and using it without any problems. Nice app.

Just to read news 512mb not supported... Are you kidding me?!!!Apple devices with 512mb ram can run high-end games and whatever you throw at them with no issues.Ms and wp teams have a long way to go.Can you imagine!!

Whatevs, Weave is just fine for me anyhow, plus the Windows 8 version crashes way too often to be any use anyhow

The douchebaggery is unbelievable. "Hey lets announce Flipboard for Windows Phone then not release it for over a year and a half". Maybe this means that they are ready to finally release it....... Probably not, it'll at least be another 350 days from now, they are waiting on Windows Phone 10.

It's just a placeholder, they replied to me too on Twitter :)

Not able to download on my Icon running 8.1 DP

Why an app needs 1GB of RAM?

It's just a placeholder and not an official app. They do reply on Twitter pretty fast :)

Well done Flipboard, 441 days since you announced it and you release the wrong version!!!!

The app doesn't feel like Flipboard. There's no flipping, its very flat. Another halfassed port. This is getting old. It's wears on you sticking with Windows as much as I love and want it to succeed but these devs are killing us.

So not working for ATT Lumia 1520 "wtfuuudge", I'm sure I have more than 512 ram,,,

Man, they gotta stop releasing their app accidentally ...

Flipboard pulled from the Windows Phone Store

Or, just use Weave instead, which I wish wish wish was available on Android since it is far superior to Flipboard, which is slow, and a memory/battery hog on my Sammy GS3.

Not supporting my 1520. Lol. Country restriction? I set my region to US tho

I know its pre-final release, but I am not all that impressed with it... A.

This whole situation and the post here make for one amusing evening, lol

Not really that worried, Weave is a great reader and WPCentral App of course for here

When you download a sweet loading animation app :D

I managed to get it today. Seems to work ok, is a little slow at times. I have the 928 with 8.1, but no cyan.

I checked in the store now and it says it's not available but I've had chance to download it before they locked it

Hope the final versión actually FLIPS the pages.

Cant download it on my Lumia 920 f*cking damn

This kind of thing is ridiculous, so this is app is not official. What is taking so long?? I was very excited to download this and it was fine at first, now I just keep getting a loading screen.

Not available for Lumia1520

Weave is still better. :P

Managed to grab it before it was pulled...hell yeah

Its working on my 820. But nothing interesting... Just uninstalled after playing with it for some time. I thing Bing news is much better and neat news app then this.

No available for Lumia 1520 Mexico.

My Lumia925 is 1G.Hope it come soon

Can't download on my 1320

We want justice!!!!!!!
Either support 512MB or Stop manufacturing these s#!ttY phones

Great. Now a simple news reader cant work on 512MB

1 gb ram for a magazine app. Thats disappointing.

Not able to download on my lumia 820 in India.

It says not available for my Lumia 635. This is a joke when my 635 runs faster and smoother than my galaxy s3. This should be compatible with my 635. I hope it doesn't end up like Instagram which is still in beta and has not been updated for donkeys' years

The app is still "not available for your device".

Fuck this! I hope they will update this sooner or later. Because us 512 Mb users need this app also

It only takes a good developer provided with an API to make a decent app. Is it that hard? This is what happens with almost every official app on Windows Phone. Microsoft should really stop letting crapware like this in the Store and learn from Apple.

Don't know why this sucker app takes so long after MS an Nokia endorsed it.Anyhow mandatory login requirement to see the boards will stink if so.

It shows as not available on my Lumia 1520 :/

Non-512 again? Seriously?

Not avaliable in my country -_-

Can't install on Lumia 930

My phone update on Friday
512 Ram can't download flipboard

Ashpalt 8 with high end graphics is supported for 512MB RAM devices and this newspaper app needs 1GB RAM? Logic?

Newsly is just as good, just flip differently.
Windows Central Newsletter
Thank you for signing up to Windows Central. You will receive a verification email shortly.
There was a problem. Please refresh the page and try again.